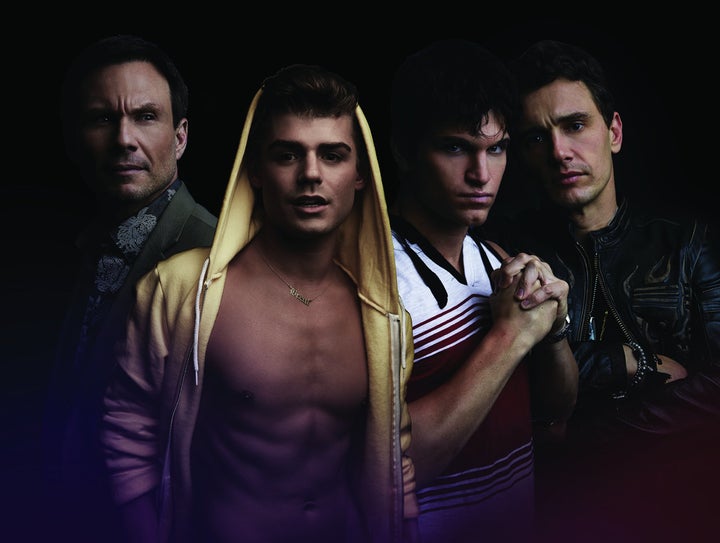 Last weekend, James Franco climbed into bed with me.
That's the most salacious opening sentence I could write, but it makes all too much sense. We were at a luxe Manhattan hotel to discuss "King Cobra," a gay-porn biopic that premiered at the ongoing Tribeca Film Festival. Madonna's "Girl Gone Wild" blew through the room's speakers. 
Actually, before Franco entered, I was sitting on that same bed with Justin Kelly, the movie's writer and director, because, well, I'm not really sure why. The publicist took us into a room that only had a bed, so that's where we sat. About 10 minutes into our conversation, Franco and his co-stars -- Garrett Clayton and Christian Slater -- entered to join the interview. Franco rushed over and hopped onto the bed where Kelly and I were perched. "Do you want to spoon?" he asked Kelly. 
Picture it: conducting interviews for a movie about gay sex while sitting in bed with Hollywood's most sexually ambiguous multi-hyphenate.
Alas, as quickly as Franco and co. made themselves cozy, the publicist ushered us into a room that had what I suppose most would consider proper seating (couches and chairs). So that's where the zany, anecdotal portion of this story ends -- for me, at least. 
For the guys involved with "King Cobra," the anecdotes probably won't stop anytime soon. As we know it, they began with an Instagram photo that garnered attention last October. Franco posed shirtless alongside underwear-clad co-star Keegan Allen, the "Pretty Little Liars" actor who also appeared in the adaptation of The Sound and the Fury that Franco directed in 2014. The snapshot became yet another marker in the ongoing narrative surrounding Franco's enigmatic sexuality, exacerbated by the quadruple punch of 2008's "Milk," 2010's "Howl," 2013's "Interior. Leather Bar." and 2015's "I Am Michael," another Justin Kelly-directed movie, in which Franco plays Michael Glatze, the gay activist who renounced his sexuality to become a Christian pastor. ("I Am Michael" premiered at last year's Sundance Film Festival. Kelly said it is slated for theatrical release this June after struggling to find a distribution company because "people don't know how to handle a religion-meets-homosexuality movie.")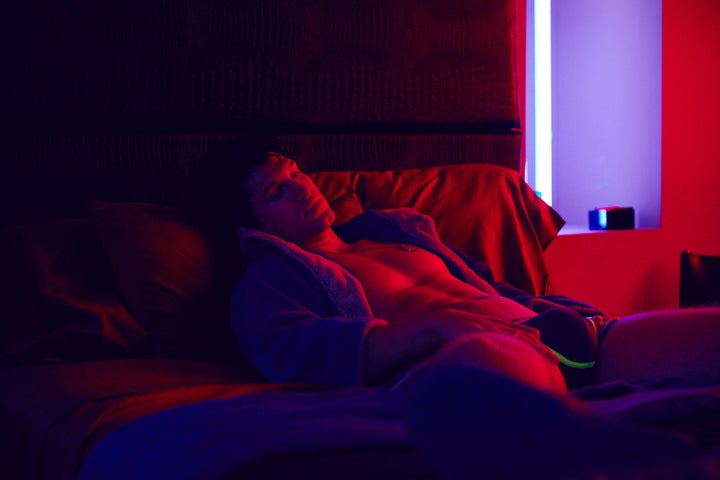 "King Cobra" was a far easier project to get off the ground than "I Am Michael," even if -- or perhaps because -- it sounds more scandalous on paper. The story of Sean Paul Lockhart -- better known by his stage name, Brent Corrigan -- became mainstream fodder in 2007 when Bryan Kocis, the 44-year-old founder of gay-porn empire Cobra Films, was murdered at the Pennsylvania home where he documented taut young men engaging in sex acts.
Kocis had contracted Lockhart, a 17-year-old who claimed to be 18, and turned him into a substantial star within the online gay-porn world. When two bankrupt hustlers, Harlow Cuadra and Joseph Kerekes, sought to poach Lockhart, they encountered a problem: His stage name was locked in with Cobra Films. Cuadra and Kerekes wanted to get rich off the Brent Corrigan brand, but when Lockhart couldn't escape his contract, they took matters into their own hands. Cuadra stabbed Kocis dozens of times and set fire to his home to cover up the crime. (It didn't help: Lockhart helped investigators find the suspects, and Cuadra and Kerekes both went to jail.) 
Kelly wanted to turn this stranger-than-fiction episode into a feature film, an endeavor that moved forward quickly. Franco and Kelly had already made "I Am Michael" and were batting around other potential projects when Kelly suggested the Lockhart story. The director then met with Lockhart, who was "skeptical" because others had also approached him about film projects. But Lockhart granted the rights to his story, and Kelly optioned Cobra Killer, Andrew E. Stoner and Peter A. Conway's 2012 book about the incidents. Kelly also secured Lockhart's approval on the script, which "finessed" specifics by compressing the characterizations of those involved and eliminating certain details, as most biopics do. After the first photo of Garrett Clayton portraying him emerged online, Lockhart -- or Brent Corrigan, technically -- said on Twitter that he "was not able to correct the many inconsistencies included in this film's screenplay," lending the project an air of controversy.
"It's not like it was that negative, but I was a little bit surprised because he did sign off," Kelly said of Lockhart's social media response. "I did give him the script, and I gave him the chance to write notes. If he hated it, he would have told me."
Minor scandal aside, as Kelly, Clayton, Franco (who plays the temperamental Kerekes), Slater (who plays Kocis, though the Cobra maestro's name was altered for the film) and I discussed "King Cobra" last weekend, one theme emerged: Franco was not shy, as a producer or an actor. 
Slater and Clayton both expressed hesitancies in accepting their roles -- Slater because it was such a "departure" for him, and Clayton because it was, well, such a departure. 
"Honestly, when I first read the script, I said, 'I'm not doing this,'" Clayton, the 25-year-old who established himself via Disney Channel's "Teen Beach Movie" and ABC Family's "The Fosters," said. "For obvious reasons: my background. You wouldn't think, 'Oh, this kid's going to go do a movie about the gay porn industry.' ... The one thing I've learned from the whole experience is that you do these young-adult things and you get a notoriety, but you don't get as much respect from the community. I've been working really hard to gain respect."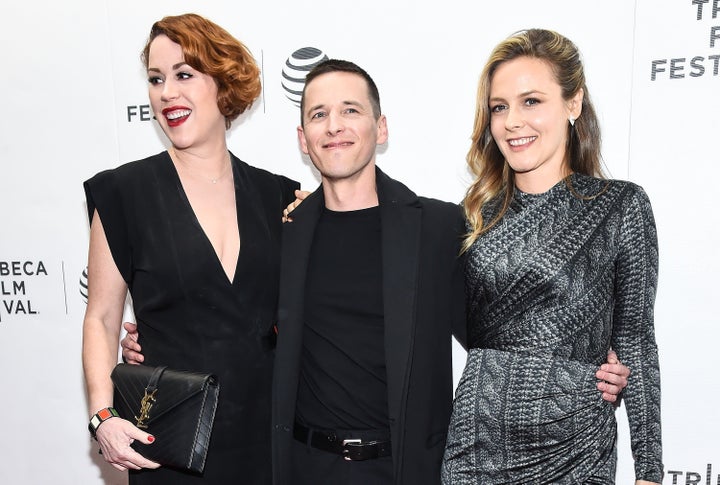 It was the "Boogie Nights" tone that appealed to the actors. Kelly consciously drew from Paul Thomas Anderson's 1970s-set Los Angeles porn-industry drama, which uses dark humor and "ridiculous" dialogue to heighten its surreality. Kelly also cited David Lynch's "Wild at Heart" as inspiration, and I offered up the concerted vapidity of Sofia Coppola's "The Bling Ring" as another point of reference, given the frequent images of Franco and Allen (who plays the volatile Cuadra) pumping iron and glistening shirtless in the sun. The events in "King Cobra" unfold with a droll remove that is at once sensual and smarmy. 
But "Cobra" contains no full-frontal nudity, begging the question of just how much further Franco suggested they go. ("James wanted to," Kelly ostensibly half-joked when I brought up the lack of penises on display.) Franco mostly laughed off the question when I pressed him, instead recounting a bizarre "Rebel Without a Cause"-inspired performance-art piece in which he wrestled naked with the artist Paul McCarthy. 
"After that, I just felt like I could kind of do anything, as long as I trust the filmmaker," Franco said of the 2013 effort. "If I sign on to something, I'm all about doing whatever is necessary for the project."
Even without full-frontal imagery, Kelly acknowledged that audiences -- and potential distributors -- may find the movie shocking, whereas sexual violence toward women sometimes doesn't receive the same objections onscreen. Regardless, two of the film's producers -- Jordan Yale Levine and Scott Levenson -- told me in a separate interview that they've taken meetings with many top-tier independent studios interested in acquiring rights to the movie and releasing it theatrically, including A24, Bleecker Street, CBS Films and The Weinstein Company. (It probably helps that Alicia Silverstone and Molly Ringwald also have small roles in "Cobra.")
And, of course, everyone involved recognizes that Franco's puzzling sexual image only attracts more interest. 
"It's not surprising to me," Franco said. "I don't hate it. It's a weird question because it's not like I plan it, like, 'Oh, I need this project to do this for my image,' or whatever. It's more about working with Justin on what seemed like a really interesting and fresh story that I hadn't really seen before. If my persona or my body of work helps get attention for this project, I think that's all the better. But I see myself as a supporter of Justin's vision, both as producer and actor. That's what I'm in it for. It's just weird that if I do projects that are about LGBT subjects, then who I have sex with needs to become part of the conversation."
As of this writing, "King Cobra" has not inked a distribution deal with any studio, even though Tribeca added an additional screening of the film after the first three sold out. Regardless, everyone involved with "Cobra" seemed to have the same intent: humanizing Kocis' murder and Lockhart's fame.
"He's trying to get ahead," Slater said of the late Kocis. "Money is the operating system of the world, and he's found his way into a business that a lot of people look at with phenomenal judgment. They think it's degrading and disgusting and gross. Who are we to judge? I think [in the movie he says], 'I'm just trying to get by and build my life and be creative in the field that I find the most interesting and exciting to me.' That's what I'm doing in my life. I'm just doing it in a more acceptable manner, according to society."
Calling all HuffPost superfans!
Sign up for membership to become a founding member and help shape HuffPost's next chapter
BEFORE YOU GO
PHOTO GALLERY
Tribeca Film Festival 2016 Preview