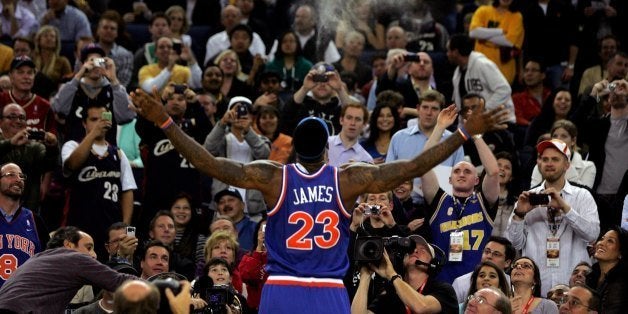 LeBron James is going home. What an amazing story. His return is the most important thing to happen to Cleveland in 50 years.
He made his announcement in a moving letter published Friday on Sports Illustrated's website. "Before anyone ever cared where I would play basketball, I was a kid from Northeast Ohio," he wrote. "It's where I walked. It's where I ran. It's where I cried. It's where I bled. It holds a special place in my heart... My relationship with Northeast Ohio is bigger than basketball. I didn't realize that four years ago. I do now."
How can anyone argue with these sentiments?
At 29 years old, LeBron James is the biggest superstar in the world. Yet this kid from Northeast Ohio, who had a difficult childhood, is a doting father, a loving husband and a wonderful son. His Akron roots run deep. Located 40 miles south of Cleveland, Akron was once known as the "Rubber City," but it has bounced back from a major loss of manufacturing jobs. Like many other cities, it has struggled with crime and illegal drugs, either one of which has ruined the lives of many young men. LeBron emerged from a tough childhood because of his exceptional basketball skills. In short, he is the American dream come true, a man of great character and generosity.
LeBron explained his decision, "I always believed that I'd return to Cleveland and finish my career there. I just didn't know when. After the season, free agency wasn't even a thought. But I have two boys and my wife, Savannah, is pregnant with a girl. I started thinking about what it would be like to raise my family in my hometown... The more time passed, the more it felt right. This is what makes me happy."
His departure four years ago from the Cleveland Cavaliers led to great acrimony and anger, especially from team owner Dan Gilbert. "The letter from Dan Gilbert, the booing of the Cleveland fans, the jerseys being burned -- seeing all that was hard for them. My emotions were more mixed," LeBron wrote. "But then you think about the other side. What if I were a kid who looked up to an athlete, and that athlete made me want to do better in my own life, and then he left? How would I react?" In the end, LeBron said, "Who am I to hold a grudge?"
I met LeBron Raymone James in a Ralph Lauren's men's department in Manhattan almost a decade ago. He had just completed his rookie year with the Cleveland Cavaliers. I walked over to him; he was seated with his back to me. I introduced myself and said, "I am from Chicago, I have met Michael Jordan and watched him play." As he turned to look at me, I continued, "From what I have seen, you could one day be better than Michael Jordan." LeBron stood up, as if I had mentioned God almighty, and was visibly moved by my prediction. He leaned over and said, "Thank you sir, that means a lot to me." We chatted briefly as he shook my hand.
A while later, while I was at the store's checkout counter, he walked all the way across the store, considerably out of his way, and approached me. He reached out his hand and said, "Thank you again sir for those kind words." He was already making millions as a Cleveland Cavalier and drawing accolades, but he was humble through and through.
I had no doubt over these past couple weeks that the young man I had met years ago would decide to return to his home, only now as a giant of a man. The trappings of stardom, the nightlife scene (pay attention, Johnny Manziel) or what most other people think are not a priority for LeBron. He is his own man. He is thoughtful, strategic, focused on his goals and objectives, and he is highly motivated to achieve them. He has already accumulated two championships, with the Miami Heat, two NBA Finals MVP awards and numerous other great honors.
Nonetheless, there is something even bigger in LeBron's life. In his words, "I feel my calling here goes above basketball. I have a responsibility to lead, in more ways than one, and I take that very seriously... Our community, which has struggled so much, needs all the talent it can get...In Northeast Ohio, nothing is given. Everything is earned. You work for what you have. I'm ready to accept the challenge. I'm coming home."
LeBron will now carry the Cleveland Cavaliers and this community on his shoulders. While he warned that winning an NBA championship would take time, today the people of Northeast Ohio feel like they won a championship. They have their native son back home.
Calling all HuffPost superfans!
Sign up for membership to become a founding member and help shape HuffPost's next chapter