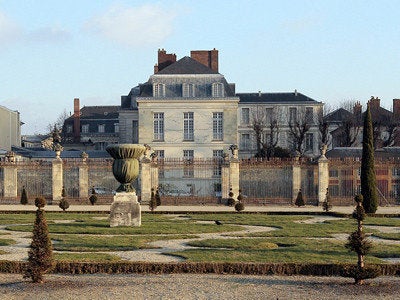 For anyone who's ever fantasized about the opulent life of French royalty in the Old Regime -- minus the Revolutionary bloodletting -- Jean-Jacques Aillagon, president of the Château de Versailles historic site, is going to make your dreams come true. A mansion on the château's grounds, the Hôtel du Grand Contrôle, will undergo renovations to become a luxury boutique hotel, expected to open at the end of 2011.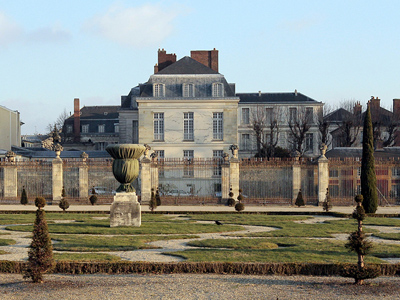 Château de Versailles's Hôtel du Grand Contrôle will be converted into a luxury hotel. / Courtesy AFP/Getty
Located about 100 yards from the château, the mansion has fallen into disrepair and will cost $7 million to renovate, NPR reports. Without sufficient funds in its budget, Versailles formed a partnership with the Belgian hotel company Ivy International, which will turn the 18,000-foot space into a 23-room luxury hotel. Ivy International will have a 30-year lease on the site, with Versailles receiving a portion of the profits. The redesign will respect the building's historical character and will be overseen by Frédéric Didier, who was in charge of the overhaul of the château's Galerie des Glaces from 2004 to 2007.
The building is part of the early history of Versailles, but underwent a downward spiral in later times. Built in the late 17th century, the Hôtel du Grand Contrôle was used by finance ministers in the 18th century and became a mess-hall for French officers in the 19th century. The French army only recently handed the site over to Versailles. In a press release, the Château of Versailles states that the building has not been maintained or heated in six years and is in danger of being irreparably ruined without prompt attention.
Like what you see? Sign up for ARTINFO's daily newsletter to get the latest on the market, emerging artists, auctions, galleries, museums, and more.
The mansion, which is on the edge of the Versailles site, with its entrance on the rue de l'Indépendance Américaine, will offer views of the Orangerie, the building where Louis XIV once stored almost 2,000 orange and palm trees during the winter, and the Pièce d'Eau des Suisses, a large pond popular with picnickers.
Popular in the Community