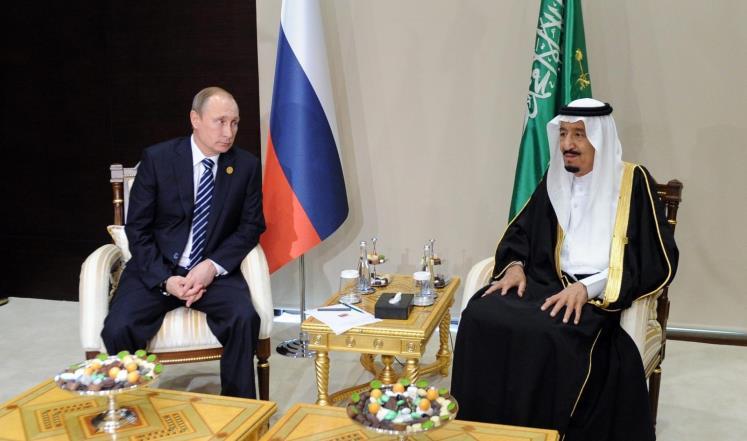 As though there aren't enough surprises in the Middle East, consider these: King Salman of Saudi Arabia will visit Russia tomorrow, China will continue its import of crude oil from Iran, the Organization of Petroleum Exporting Countries (OPEC) meets next month, and Russia, well it plays all sides depending on which way it wants to tilt the balance. What all these dynamics have in common? Oil!
Only a year ago, energy analysts argued that China's oil demand that fueled the world economy in the last decade is slowing down. Could Chinese demand for oil, mainly from the Middle East, peak again? Absolutely! China is the main importer of Iran's oil. On average, the Chinese have shipped in more than 600,000 barrel per day (bpd) of oil from Iran. Beijing is estimated to raise its oil imports by another 2 million bpd and Tehran is well-placed, following the lifting of sanctions, to further increase oil sales to the world's second biggest economy. Thus, challenging Maryelle Demongeot's, a senior reporter and deputy Singapore bureau chief at Energy Intelligence, argument that China's demand of oil from the Middle East will decrease.
And if that is not enough reason for you to believe that China's demand for oil will continue to grow, consider this, "China's oil demand rose by 690,000 BPD in July, marking a 6% year-over-year (YOY) increase. China's total oil demand reached 11.67 million BPD in July. Year-to-date data indicates an average growth of 550,000 BPD, more than double the 210,000 BPD growth recorded during the same period in 2016," according to Forbes. I see the writing on the walls as China's oil demand, at least in the short term, will continue to grow. That growth, will eventually peak by 2035. China's oil consumption by then will be about 7 million bpd. One sees, I hope, why China is investing heavily in Iran.
My analysis comes on the hills of Saudi king's upcoming visit to Russia. The royal visit highlights not only Saudi Arabia's anxiety about China's economic investments in the kingdom's archenemy, Iran, but also Russia's economic concerns over China's growing oil demand from the Middle East, especially when adding natural gas to the equation. China's oil import from Iran is cutting into oil profits of both, Russia and Saudi Arabia.
While diplomatic norms suggest that both leaders, King Salman and Mr. Putin will discuss global/regional issues of mutual interests, there is an economic agenda at the heart of this visit at this specific time. Of interest is the announcement by both KSA and Russia of launching a billion dollar investment in energy projects. Mind you that both countries are the world's top oil producers; thus, this joint economic cooperation (mainly from KSA's perspective) aims, in my opinion, at undermining Iran economically.
Equally important, king Salman's visit to Moscow comes prior to (OPEC)'s meeting next month, presumably to discuss extending oil output reduction agreement which led to better prices. As I argued in my previous writings that despite Saudi efforts to undermine Iran economically, the kingdom failed to foresee that the demand for Iran's energy (gas and oil) following the lifting of sanctions will continue to grow especially in countries like China and India.
I predict that China's demand for energy from the Middle East (mainly Iran) will continue to grow. As I argue in my forthcoming book, Volatile State: Iran in the Nuclear Age, China's acquisition of major oil contracts in Iraq exemplifies its strategy and pragmatism. From China's perspective, it makes economic sense to expand its presence in the Middle East, and the perfect conduit to do so is through Iran.
King Salman's visit to Russia highlights both countries' [KSA & Russia] anxiety and concerns over (a) Chinese's demand of oil and soon natural gas from Iran, (b) supply abundance, and (c) ongoing drop in oil prices. What's important to highlight is that natural gas is expected to grow faster than oil or coal, with consumption increasing by 1.6 percent per year between 2015 and 2035, according to British Petroleum (BP). Taken this into consideration, I can see why China's investments in Iran's energy sector makes economic sense.
And in case you did not know: Iran holds the world's fourth-largest proved crude oil reserves and the world's second-largest natural gas reserves. The world's biggest gas field lies between Qatar and Iran. As ties between Qatar and Iran are improving, Saudi Arabia is becoming less and less relevant. Saudi Arabia needs to accept that it can't influence oil prices as it once did. That's a bygone era!
One thing is sure: My analysis herein serves as a reminder of why Saudi Arabia is doing all it can to undermine Iran, even it means siding with Russia. Alas, the Saudis never cease to amaze!
Calling all HuffPost superfans!
Sign up for membership to become a founding member and help shape HuffPost's next chapter
This post was published on the now-closed HuffPost Contributor platform. Contributors control their own work and posted freely to our site. If you need to flag this entry as abusive,
send us an email
.