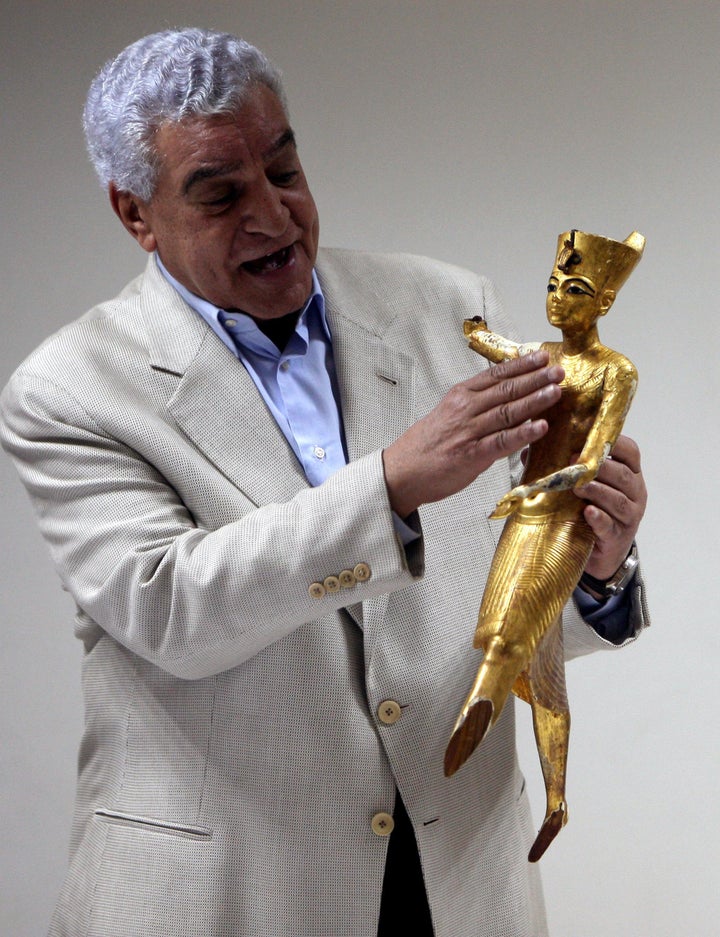 At a press conference on Tuesday, recently re-appointed Egyptian antiquities minister Zahi Hawass showed looted artifacts which had been recovered. The objects were among those stolen from the Egyptian Museum in Cairo during the protests in Tahrir Square on January 28. Many of the several dozen objects which were taken have since been recovered, but 33 remain missing from the museum.
We brought back four pieces first, then 12 pieces after that and five pieces after that and four now. What we are missing now are only 33 objects, are mainly from the late period and I'm very happy to announce that this came to us this morning are very beautiful artefacts from the collection of Tutankhamen.
The recovered artifacts, reportedly found in an underground metro station, include a gold statue of King Tutankhamen. The object, which was broken off of a larger statue, is slightly damaged with small pieces of the crown and legs missing from the figure, which will be reunited and restored.
The other objects include Tutankamen's fan, part of which was broken; a gilded bronze and wooden trumpet belonging to the boy king; and a shabti figure of Tutankhamen's great-grandparents Yuya and Tjuya. Both the trumpet and the shabti were returned in good condition and will be returned to display immediately.
Although the Egyptian Museum has recovered many of the dozens of objects stolen from them in January, Hawass told El Mundo that around 1,000 artifacts looted from around the country remain missing.

Calling all HuffPost superfans!
Sign up for membership to become a founding member and help shape HuffPost's next chapter