 AMSTERDAM, April 24 (Reuters) - The Dutch will have their first king in more than 120 years when Willem-Alexander succeeds his mother Queen Beatrix this month, bringing a more hands-off style to the throne at a time when the royal family's political powers are already in decline.
April 30, or Queen's Day, is a popular celebration of the House of Orange when the Dutch dress up in the royal colour and party on the streets from dawn until late at night.
This year, it will mark the abdication after 33 years of Queen Beatrix, 75, and the investiture of her eldest son Willem-Alexander, who turns 46 on April 27 and takes office as the first modern Dutch monarch without a formal political role.
Unlike many of their European peers, Dutch royals have combined their influence and wealth with real political power, while appearing to lead an almost middle-class lifestyle.
But last year, for the first time, Queen Beatrix did not appoint the mediator who conducts exploratory talks to lay the ground for the coalitions so typical of Dutch politics, after parliament voted to take that power away.
The new king will still be influential, meeting the prime minister regularly, but in future parties will form coalitions on their own, meaning the king's personal preferences will make far less of a mark.
Hague insiders say that Beatrix once excluded a politician whose views she disliked from the process, something Willem-Alexander does not expect to be able to do.
"You can have a meaningful kingship without a formal role in the formation" of governments, Willem-Alexander said in a television interview he gave jointly with his wife Maxima, a former Argentine investment banker. "Time has moved on."

While helping to shape the coalition has formed the backbone of the monarch's political power, the royal family has also always had an influential role behind the scenes, both at home and abroad.
Bernhard, Beatrix's father, was instrumental in 1954 in setting up the annual Bilderberg conference which brings together political and business leaders from Europe and North America.
Both Beatrix and Willem-Alexander regularly attend, giving them the opportunity to discuss politics with movers and shakers such as John Kerry, now U.S. Secretary of State, Henry Kissinger and the chairmen of Deutsche Bank and Barclays Bank.
"The royal family involvement helps put the Dutch at the heart of quite an important meeting," said one analyst.
Known for her feistiness, Beatrix also held regular dinners for hotshots and opinion-makers - invitees included a British newspaper editor and historians - to pick their brains.
While Willem-Alexander will doubtless continue some of these high-profile engagements, many expect him to be less politically involved than his mother was. He appeared to acknowledge this in his interview, when he stressed the importance of the ceremonial aspects of his role.
"Even what some people sarcastically dismiss as 'cutting ribbons' can have real substance. If you are careful about choosing which ribbons to cut ... which events to attend ... these choices can have real substance, showing what you stand for and what you think is important for the Netherlands."
Little is known about his personal views, though people who know him say he is less formal than Beatrix. In his interview, he said he would not expect to be addressed as "Your Majesty", adding he was "not a protocol fetishist".

It was Willem-Alexander's ancestor who invaded England and installed himself as William III. Despite that shared history, the Dutch monarchy is much less in the public eye than its British counterpart.
The Dutch monarchy "doesn't have the pomp that the British monarchy can trot out," said James Kennedy, a historian at the University of Amsterdam who has advised Willem-Alexander.
Dutch monarchs do not have coronations because, in the absence of a state church, there is nobody to place the crown on the king or queen's head. Instead, the crown rests unworn beside the monarch throughout the investiture.
Even the relatively low-key nature of that ceremony has its critics these days, however. Sixteen lawmakers say they will either not attend the gathering of lawmakers in the New Church, where Willem-Alexander will swear to uphold the constitution, or they will refuse to swear an oath back to their new monarch.
As the Netherlands grapples with recession and implements budget cuts, some would also like to see the monarch be paid less and pay taxes.
"She (Beatrix) is very rich, she earns a lot of money, she doesn't pay taxes. She's laughing at us while we pay," said Hans Maessen, leader of a republican campaign to cut the head of state's pay. Forbes in 2011 estimated the net worth of Beatrix and her family at $220 million.
A petition calling for Willem-Alexander's salary to be cut to 150,000 euros, down from his mother's 850,000 euros, has collected more than 19,000 signatures.
Willem-Alexander said he was happy to be paid less or pay tax, but warned that cuts would result in job cuts in his staff.

Known as "Prince Pils" in his youth because of his hard-partying lifestyle, Willem-Alexander specialised in water management after graduating from Leiden University, a crucial topic in a country where much of the land is below sea level.
His marriage to Maxima in 2002 was controversial because her father, Jorge Zorreguieta, served in Argentina's military dictatorship more than 30 years ago. He did not attend their wedding and will not attend the investiture.
Maxima, now an adviser to the United Nations who campaigns for the poor to have better access to financial services, won over the public by quickly picking up fluent Dutch. The couple have three daughters, whose privacy is closely guarded.
Grumbling about the royal family should not be seen as a sign of republicanism in a country where the role of the monarch has always been ambiguous, according to Henk te Velde, professor of history at Leiden University.
A Maurice de Hond poll found that 73 percent think the Netherlands should remain a monarchy and 89 percent said they liked Willem-Alexander.
"People say the Dutch are Orangists but not necessarily monarchists," te Velde said.
The hue of the House of Orange has become central to Dutch identity, te Velde said, pointing out that it is what the national football team wears and has become an emblem of Dutch patriotism.
On Queen's Day, the republicans want their supporters to dress in white to show their ideology and disrupt the monarchists' celebrations.
As Willem-Alexander surveys his subjects from the palace balcony in Dam Square, he will doubtless be checking their colours. (Editing by Sara Webb and Sonya Hepinstall)

Before You Go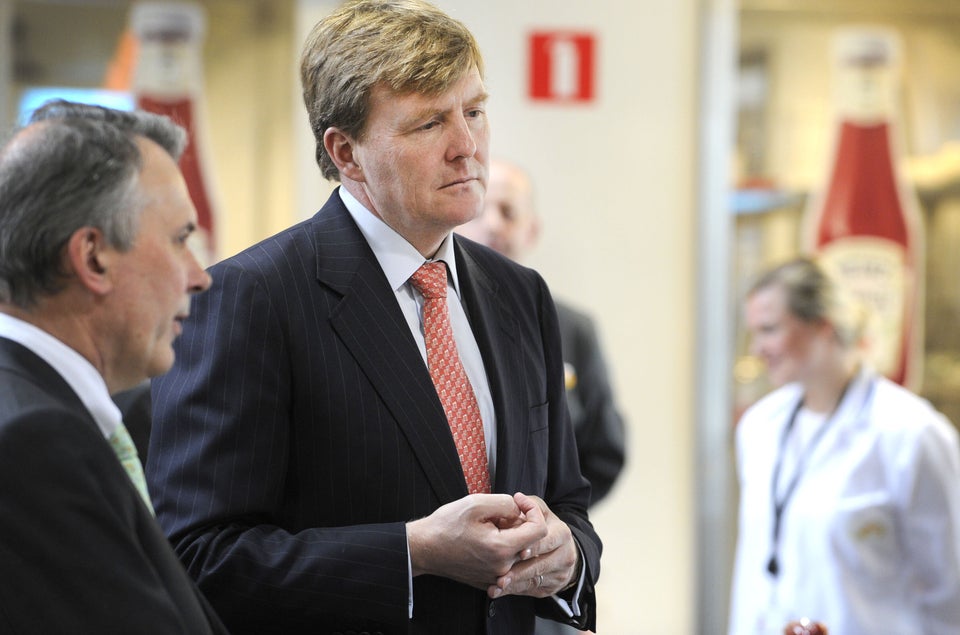 King Willem-Alexander Of The Netherlands
Popular in the Community