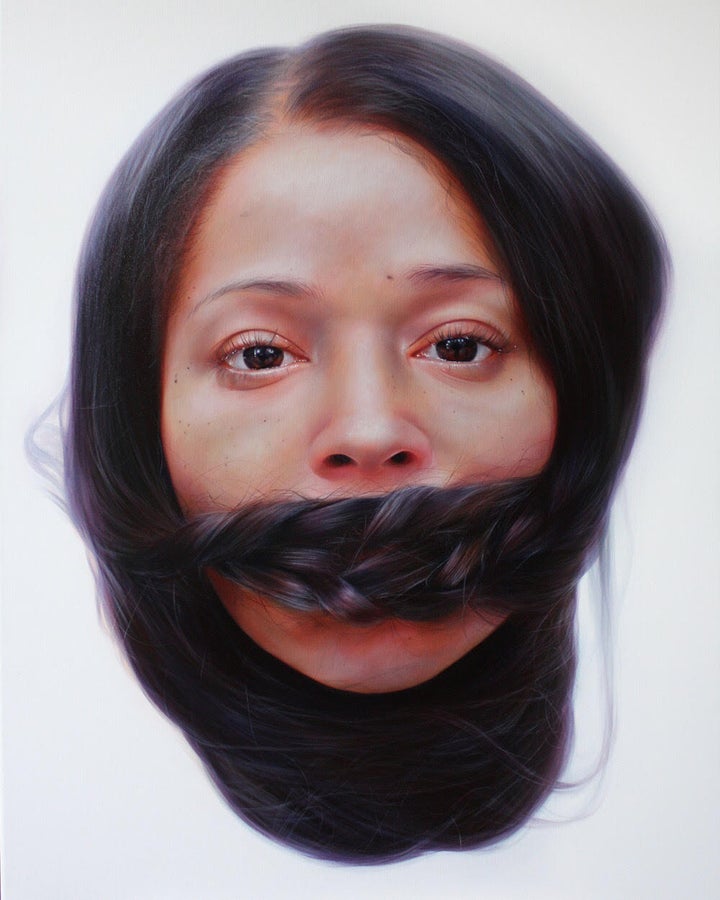 I had a sneak peek at Pen & Brush's new show curated by Mashonda Tifrere and it is marvelous. "King Woman" is a moniker a random admirer dubbed Mashonda for the Renaissance woman she is and so she lends her nom de guerre to this survey of the female aura in all its dynamic and diverse glory. Pen & Brush's devotion to presenting the "she" voice embodied through writers and visual artists acutely address all the depth and brightness of the womanly spirit set aloft in inspired flight. This exhibition is fertile with pensive beauty, but not for the sake of beauty alone. It is through its appealing collective presentation that the sometimes fragmented and challenging terrain of women is borne in more than superficial terms; as can be seen in the work of Kit King and Lacey Mckinney. Two artists clearly illustrating the complications of womanhood and yet in total defiance remaining harmoniously together, layered intellect, emotions, and spirit gel completely, not allowing vulnerabilities to eviscerate the complicated world in which "she" lives. In the case of Lacey McKinney's captivating portrait "Double Blind" in which she references the term used to describe a dilemma often faced by women and marginalized people. "The paradox of double-blind is a form of ambivalent sexism."
For "King Woman" Mashonda selected from many of the Pen and Brush submissions as well as from her cadre of favorites. During coffee, we spoke about the differences between how men view things and juxtaposed to women. "When men talk to each other, they stand side to side. Women stand face to face. They look into each other's eyes," a friend had said to Mashonda during a recent show. She tilts her head looking at me as if to say Right? Am I in agreement with that? "So that just says so much about the work because a lot of pieces which were figurative or hyper-realistic, convey power in the direct transmission of feelings through the eyes. Did you see the one of Roos Van Der Vliet, the painter from the Netherlands did of me, with my hair around my face? Those eyes! I feel like I'm really looking at myself, into myself. So, it's a whole experience.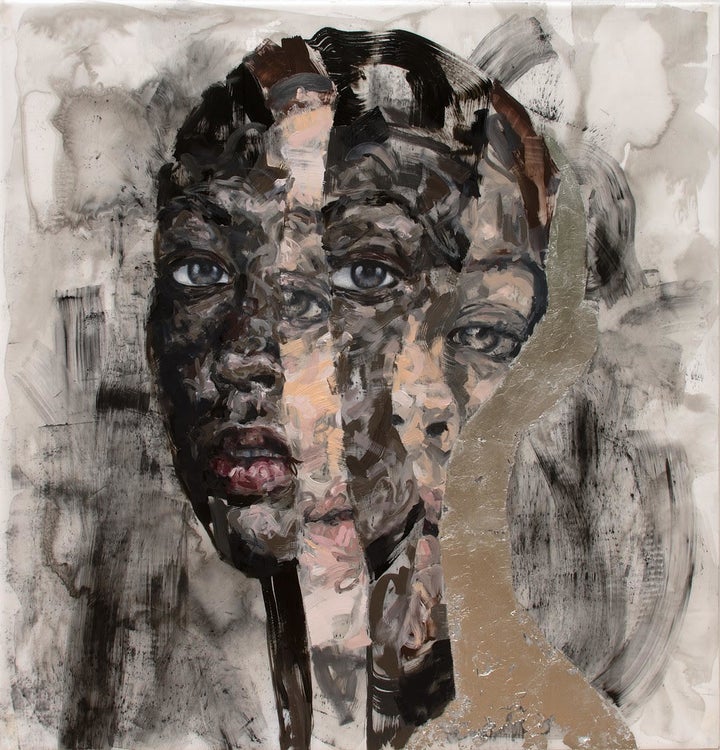 It is indeed. Van Der Vliet covers the mouth of her subject with their own hair symbolically presenting women stifled into silence. The artist's intent is strong but sensitively delivered with great power and nuance, illustrating with gorgeously rendered shadows while using flamboyantly unambiguous light, enveloping the face of her muse. The ever entrancing work of Carole Feuerman sits contemplatively in prayer not far from the entrance at Pen and Brush. There she is parked, the closed-eyed swimmer in her shiny black bikini while her sparkling bathing cap of diamonds closely cloaks her hair from getting wet, while keeping it in abeyance as she prepares her mind for the swim. It is all a metaphor for the unfoldment of the journey and a meditation on enlightenment, hence that sparkling bathing cap. Who can turn away from Yvonne Michiels photograph of a quietly impressive and confident young woman with a halo of painted flowers taken from a classic old painting and digitally composed on her head while stunning blue glossy lips draw us to her sensuality and uniqueness? That nimbus is not there for an inconsequential reason, the halo of flowers from the cracking old painting speak of her old soul and her weathered life, but the models' beauty is in fragile bloom. According to Michiels, in the fading-series," the short life of flowers reflects the short life of mankind. She incorporates the flowers of the old masters in the modern portraits.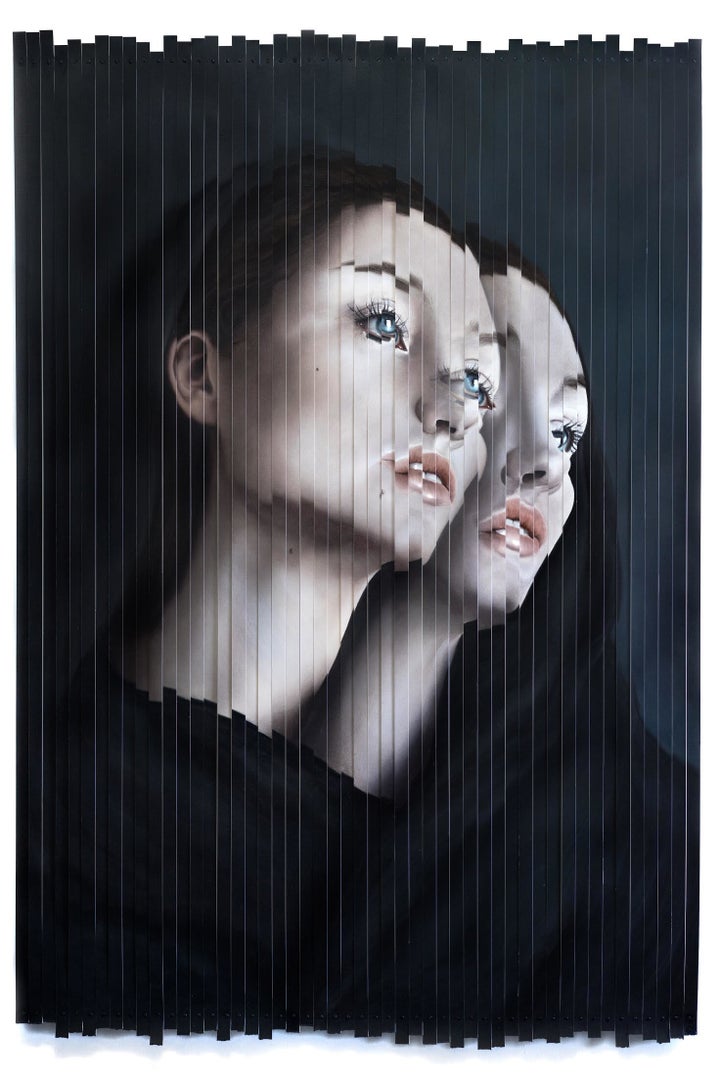 There is also the work of Kharis Kennedy whose point of view originates from the direction of the female who wants or is defined by the stuff of superficial life, the haughty nature, and the exaggerated countenance tell another story of womankind. SWOON personifies the connection between women and specializes in life-size wheat pastes prints and paper cutouts her work impresses its purpose on a wall nearby. A not to be missed ode to the feminine flow of 25 artists who are diverse and complement each other well enough to say that "King Woman" takes the crown and is a not to be missed show.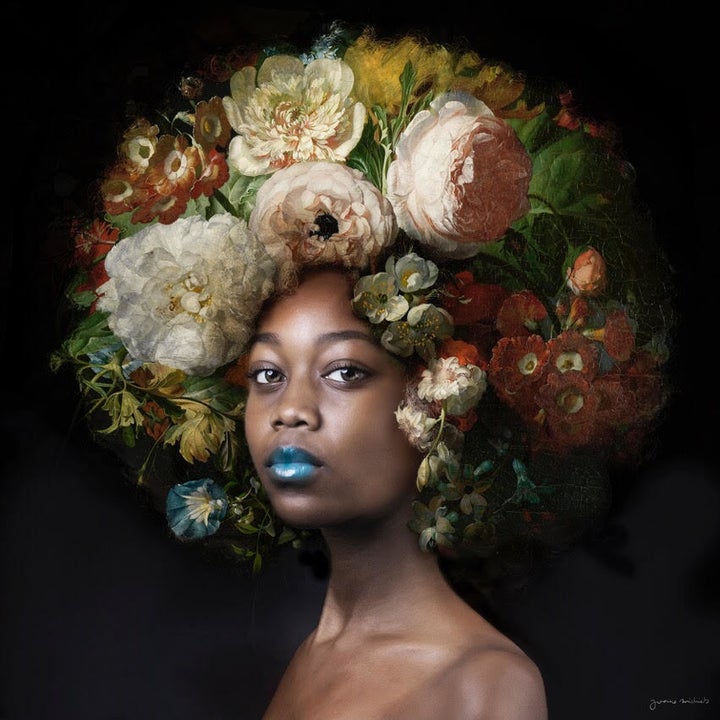 "King Woman" artists include: Rebecca Allan; Azi Amiri; Ingrid Baars; Hunter Clarke; Donna Festa; Carole Feuerman; Lola Flash; Meredith Marsone; Yvonne Michiels; Stephanie Hirsch; Kharis Kennedy; Kit King; Jane Olin; Reisha Perlmutter; Renee Phillips; Trixie Pitts; A.V. Rockwell; Victoria Selbach; Lynn Spoor; Swoon; Roos Van Der Vliet; Elizabeth Waggett; Lynnie Z
Popular in the Community