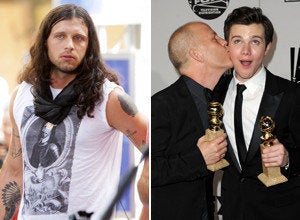 The 'Glee' vs. Kings of Leon rivalry just grew serious.
A number of months ago, the rock band declined to allow the FOX series 'Glee,' about a high school choir, to cover its songs in a future episode. 'Glee' creator Ryan Murphy, in a feature in The Hollywood Reporter published Wednesday, hit out at the band.
Here's how Nathan Followill, the drummer of the band of brothers, replied via Twitter: "Dear Ryan Murphy, let it go. See a therapist, get a manicure, buy a new bra. Zip your lip and focus on educating 7yr olds how to say fuck."
Murphy is openly gay, and the show deals with many issues faced by homosexual students in high school.
Realizing how his comments could be seen, Followill later tweeted: "I'm sorry 4 anyone that misconstrued my comments as homophobic or misogynistic. I'm so not that kind of person. I really do apologize."
Still, he hasn't taken down the original post.
Followill was enraged by this quote from Murphy:
"F--- you, Kings of Leon," Murphy said via the magazine. "They're self-centered assholes, and they missed the big picture. They missed that a 7-year-old kid can see someone close to their age singing a Kings of Leon song, which will maybe make them want to join a glee club or pick up a musical instrument. It's like, OK, hate on arts education. You can make fun of Glee all you want, but at its heart, what we really do is turn kids on to music."
Popular in the Community