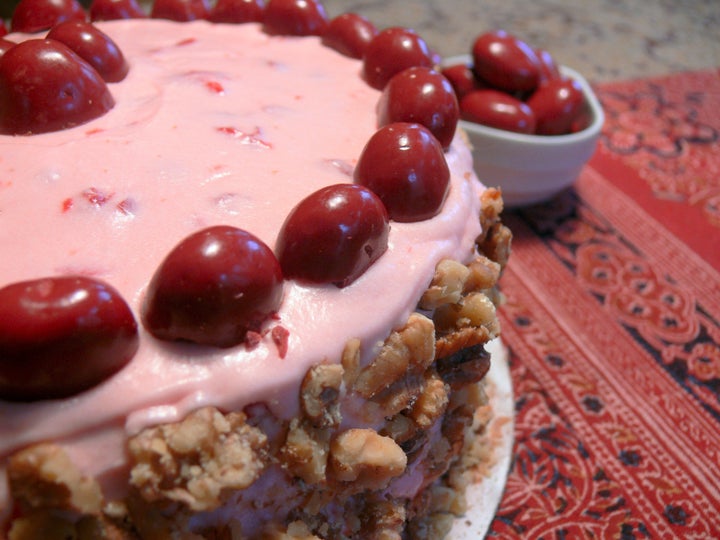 I cannot bake. As a food writer for more than five decades, I have a passing expertise in cooking... I can pretty much dissect and analyze a dish and often faithfully recreate it. But I can't bake worth a damn. And I am in awe of people who are master bakers, because they possess a talent of which I am in very short supply... the ability to precisely measure ingredients and follow a recipe to the minute. Baking is an art and a science rolled into one, and it is all beyond me. Which is why I was delighted to be invited by Spago's executive pastry chef Sherry Yard to a screening of the much-heralded film documentary, Kings of Pastry.
Produced by Frazer Pennebaker and Flora Lazar and directed by the same husband-and-wife team who made the much-acclaimed political drama, The War Room, Chris Hedges and D.A. Pennebaker, it is the gripping (and I really mean that!) tale of a group of experienced pastry chefs competing in the grueling once-every-four-years competition held in Lyon, France for the coveted honor of becoming a M.O.F. (Meilleurs Ouvriers de France -- Best Craftsman in France) and being allowed to wear the red, blue and white collar band of this exalted station. It follows an Alsace-born Frenchman, Jacquy Pfeiffer, one of the founders of the French Pastry School in Chicago, as he decides to compete... and what he went through in the process. An ideal choice for the role, he is astonishingly good natured and likeable. This is not a TV Top Chef... oh, no, this is more like training to be a Marine Corps squad leader in war or an Olympic long-distance runner. The World Cup of Pastry. As one European critic said, "This is the culinary equivalent of The Hurt Locker." Excruciating in every aspect, both emotionally and financially, success is only achieved through passion, sacrifice, and extraordinary skill... and yes, as you see in the film, even a little bit of luck.
The actual event takes place over a marathon three grueling days in Lyon, the home of Paul Bocuse and the French city which is the heartland of Gallic culinary tradition, but the preparation entails months (and even years) of preparation. It is a lifelong dream for many French artisan bakers which can only come through seeking unparalled excellence. As Jacquy says in the film, "The M.O.F. is not about doing 'the best that you can do' but rather 'the best that can be done.'" Period.
Opening the film in Chicago where Jacquy begins preparing for the competition, we learn that the theme of this year's pastry contest is "marriage," so we see him designing a complex raspberry caramel, vanilla mousse, hazelnut wedding cake shaped like a half-dome, which he hoped would impress the judges with its originality. Every competing chef has to design and construct a complete buffet presentation suitable for a wedding, using only edible materials to make fragile sugar sculptures that tower elegantly above the cake and pastries. Jacquy estimates his buffet would require forty different recipes!
They followed Jacquy to his family home in Alsace, where he has to practice doing his entry. The basic ingredients of flour, butter and sugar are actually different in France, and humidity comes into consideration. Out of some seventy chefs in the semi-finals, sixteen are selected to compete, the crème de la crème of French patisseries. We pick up the story of two other of the final sixteen contestants as they all devoted months to rehearsing their presentations. One of them had competed four years before, and he lost his balance climbing the stairs leading to the buffet area and dropped his sugar sculpture. End of the game. The spun-sugar Brancusi-like sculptures are as fragile as glass... and can shatter without any warning. (One does during the contest, and we see how the chef recovers and goes on to win his stripes.) I kept thinking that they looked like a Frank Gehry design for a museum.

Spago Pastry Chef Sherry Yard with Jacquy and filmmaker Chris
It's exhausting to watch as the tension builds toward the days when they arrive in Lyon for the actual competition. Incidentally, all competitors and judges are men, no woman has ever been allowed to enter... yet. The film is steeped in anguish, disappointment and tears; yes, real tears from grown men of steel. I found it fascinating yet somewhat disturbing, even old fashioned, to watch a group of grown men devoting so much effort for a fleeting ego-driven prize. So much effort, so much energy, so much... too much... unproductive endeavor. I wanted one shot of someone eating a cream puff and just enjoying it.

Bon Appetit's departing editor Barbara Fairchild with spouse Paul Nagsl.
I won't spoil the ending for you, since I hope that you will get an opportunity to see the film when it opens a limited run in Los Angeles shortly. All I will say is that the top judge is weeping for the losers as he announces the five successful entrants, and the final scene is at the Elysee Palace in Paris, where French President Nicolas Sarkozy awards the diploma to the five as the others look on.
After the screening, Sherry had a small reception at Spago, and had invited many of the pastry chefs in attendance to bring along a pie, cake, cookie or two for the buffet table. Jacquy was in attendance and had prepared his signature spun-sugar six foot high sculpture... I was very careful not to breathe near it for fear it would shatter. The movie and its eventual outcome had been shattering enough.
To subscribe to Jay Weston's Restaurant Newsletter, email him at jayweston@sbcglobal.net