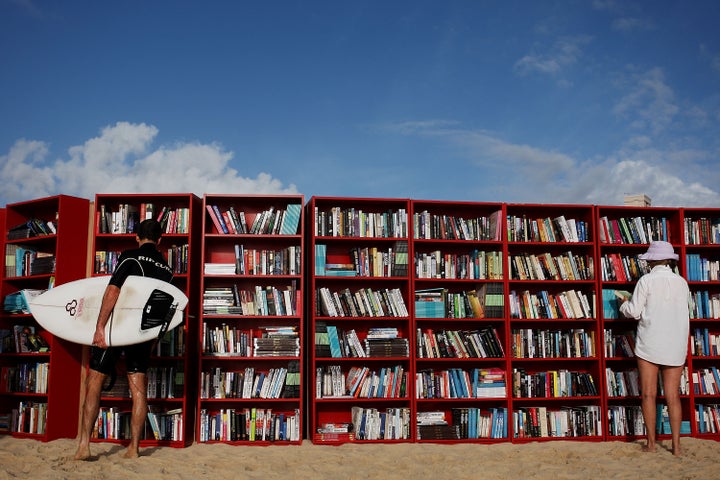 So much I read these days has a touch of noir in it, everything from Chris Belden's Carry-On to Charlotte Rogan's The Lifeboat (to that which I have not read, Fifty Shades of Grey). I don't know if Akashic Books' Noir series has anything to do with the trend in nasty characters and dark situations, but I wouldn't be surprised. As an addict myself -- addicted to Akashic Noir -- I understand the thirst for occasional despair and evil. But Akashic's latest, Kingston Noir, goes darker and deeper than any before. Kingston Noir might be the one that pushes me out of the darkness on my hands and knees, craving light (in a fetal position) and laughter for a very long time.
Not that I didn't love the stories collected by editor Colin Channer in Kingston Noir. I did, I really did, and Channer's own contribution, "The Monkey Man," takes the cake on depraved despair. All the stories share themes: societal complicity in evil, the empowerment of corruption, and the infinite hold of a certain type of fear. Only "54-46 (That's My Name)" by Christopher John Farley, with its story of two brothers joining up to find a missing track star, offers a beam of hope and satisfaction shining through a morass of corruption and superstition, while "A Grave Undertaking" by Ian Thomson, in its story of an American woman trying to repatriate the dead body of her father, offers just a taste of humor (but not the slightest glimmer of a possibly happy ending).
Kingston Noir is the purest of noir, and the richest of depictions of Jamaica -- only not the Jamaica you are probably familiar with. This is not the Jamaica of sunset boat trips fueled by rum and reggae, or the family all-inclusive beach vacation, or the Church fests of singing and tea, and friendly gossip under the mango tree.
Instead, Kingston Noir conjures up a Jamaica of hopelessness and frustration, far from tourists and no problem, mon. This is a world of very big problems, mon, and no way out. Tension burns at a slow boil, pressure (and fear) building between those who left Jamaica and return changed, and those who never left and are even more changed by staying close to home; between those who have hope for their country and those for whom hope has been wiped out; between the haves and the have-nots; and between those who understand evil, and those who never will.
Do I have a greater understanding of evil for having read Kingston Noir and so many of the others in the Akashic Noir series? I certainly have a greater fear of the dark side, both the one within and without. For if the Noir series shows us anything, it is that dark and light exist everywhere in the world -- and in ourselves. For now, I need to recover from Kingston Noir, and take in some sun, soak up some sweet literature to release the fears built up inside. But I should be ready within a week or so to reach for Venice Noir, another new release from Akashic. And face the dark side, once again.
REAL LIFE. REAL NEWS. REAL VOICES.
Help us tell more of the stories that matter from voices that too often remain unheard.