 Kink.com, San Francisco's largest fetish pornography company, has expanded into nothing short of an empire as of late.
Not only does the sexy organization, situated inside the city's historic Armory building, offer its infamous guided tours, but this year alone they opened a sister bar across the street and expanded operations down to Los Angeles. Their exploits have captured the attention of multifaceted movie extraordinaire James Franco, whose documentary "Kink" was recently selected to premiere at the Sundance Film Festival.
And in perhaps Kink's most titillating venture yet, the company has been quietly rolling out a series of sex workshops since summertime. The classes have begun to catch on with the community, and recent ones have been popular enough to sell out.
"The workshop series helps us educate people who are interested in exploring their sexuality, but may not know where to start," Kink spokesman Mike Stabile told The Huffington Post. "We bring in experts and create a safe space for people to learn, ask questions and talk about sex frankly and without judgment."
Sometimes the workshops even include live demonstrations, like last week's oral sex tutorial with porn star Rain DeGrey.
"They have to sit through a lecture before we get to the good stuff," she said in a statement. "We do techniques, physical response and have a question and answer period before moving on to the demonstrations."
According to DeGrey, her clientele has varied widely across demographics. "It's young and old, married and single, men and women, gay and straight," she said. "We get a lot of people who are newbies, who are really curious about the scene."
Indeed, workshop curator Nic Rathert told HuffPost that the initial idea for the classes came from folks who had been previously unexposed to the fetish world. "We were getting a lot of people on the tours who were kink-curious," she said. "We could direct them to some of the BDSM clubs and organizations, but there wasn't much out there for beginners, for people who were interested in exploring slowly."
Upcoming classes include a lectures on g-spot stimulation and "bedroom bondage." Click here to learn more, and scroll through some photographs of Kink's sets in the slideshow below: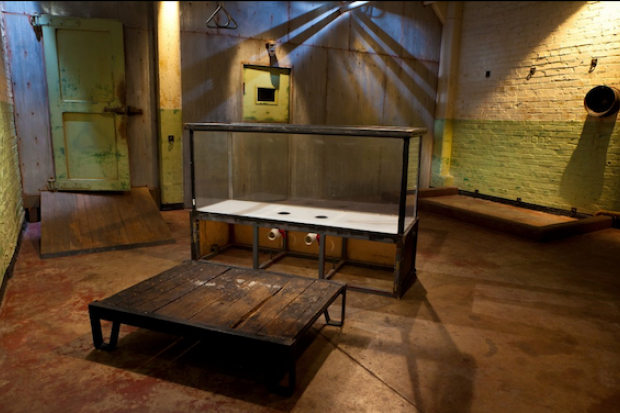 Touring Kink.com
Related
Popular in the Community