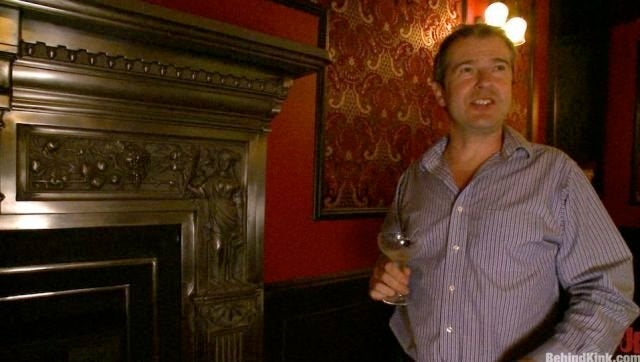 Who: Peter Acworth, founder of the world's largest fetish pornography company, Kink.com. (Caution: Link NSFW.)
Neighborhood: The Mission
Current Gig: While pursuing a PhD in finance at Columbia University, Acworth started an online BDSM porn site in his spare time. When the site became profitable, he ditched finance for full-time fetish and moved to San Francisco. Before long, Kink.com became too big for its bondage and moved into an unexpected new location: historic landmark the San Francisco Armory.
Acworth now runs the largest fetish porn production company in the world from his Moorish-style castle in the Mission, and has recently opened its doors to the community, offering guided tours that end in Kink's brand new bar, the Armory Club.
Acworth took a break from filming to talk about the new bar, the future of pornography and sexy San Francisco.
When you decided to launch a pornographic site, what made you decide on fetish? The initial site was hogtied.com, (NSFW) and this was a reflection on my own sexuality. I grew up fantasizing about bondage from a very young age, and it was only as a teenager that I realized the feelings were sexual. When we launched the site, I was publishing material that appealed to me personally, and I was sure there was a whole community of people to whom it would appeal.
You left a PhD program at Columbia. Was there ever a moment when you doubted what you were doing? Yes. Shortly after I left my PhD to start the business full time, sales were waning and I wondered if the market would become saturated. I half wrote a letter to the professor who I had been working with at Columbia Business School. But subsequently I ramped up production and, most significantly, created a revenue-sharing affiliate program which really started to turn things around.
The Huffington Post reported on a boycott against Kink.com and Groupon back in April, in which an anti-pornography group argued that Kink exploits and degrades women. How do you respond to claims such as these? This is exactly the kind of misconception we hope to demystify and resolve. I think there's this idea that women couldn't possibly enjoy BDSM, or that there's no way a woman would do this if she had a choice. Well, they do and they do. I think the "50 Shades of Grey" phenomenon is turning a lot of conservative notions about what a woman enjoys on their head. All of this goes back to traditional misconceptions about women's sexuality, that women are these delicate creatures that like nothing more than chocolate and cuddling. I think that's the more degrading notion.
If you look at the sites, you'll see that in many of them, the woman is the one in control. It's the femdom who dominates the men. Kink is role play, it's fantasy, it's sexuality. And it's complicated. That's what makes it interesting.
Do you think Kink would have been successful somewhere else? There are a few cities where I could have been successful, including parts of New York City. But I don't know if any, even LA, would have been progressive enough to allow us to buy a registered historic landmark as our center of operations. We are very fortunate to be here in San Francisco.
So tell me about Kink's current projects. The Armory Club has just opened across the street. This is a watering hole for Kink.com employees and a friendly local bar. It certainly has a Kink aesthetic, very Victorian Industrial, but it's not overt sexually. I think a lot of people expected that because we were Kink, we were going to create a bondage club. But what I really wanted to create a place that I would want to go when I'm done with work. A place that knows how to make a great cocktail, a place that you can get dressed up (or down) for. Something that is reflective of San Francisco as well as Kink.

We recently started hosting tours of the Armory, which will now start and stop in the Armory Club. We are also in the process of rehabilitating the Armory Drill Court to make it suitable for community events. We have already received a Place of Assembly permit to legally host up to 3997 people, and we are now replacing the windows and installing sound insulation and a new floor. The ultimate goal is to be able to offer a community space that is fit for a variety of uses such as markets, sporting events, farmers markets, performance art, etc.
Why the desire to reach out into the community? Kink.com's mission statement reads "Kink.com demystifies and celebrates alternative sexualities". Our message is that sex is nothing to be ashamed of, and as a result we run a very transparent business and welcome community involvement. Indeed, contact and collaboration with the local community serves our mission.
I heard about a James Franco documentary. We met James when he starred in a movie being shot at the Armory, "About Cherry," which comes out this weekend. He became instantly fascinated by the operation and worked with us to have a documentary shot. I am not sure when it will be released, but I assume quite soon.

Any projects that you are still brainstorming? We would like to run a thriving kink-centric online social networking site around our products and services. The challenge is making this appealing to both men and women, and to provide safe spaces for exploration and interaction. Some people have very specific idea of what they want in Kink. Others have a more vague sense, and are looking for a way to articulate it. We want to create a space that allows for both.
What are some of your other favorite spots in the city? I love Nihon and Chez Spencer; both are within a few blocks of the Armory. And though it's currently on hiatus, Teatro ZinZanni.
What is your favorite thing about San Francisco? The fact that David Campos, the City Supervisor who represents my district, is willing to come to the Armory to meet me.
Check out photos of Kink's new bar, the Armory Club, in our slideshow below:
Related
Before You Go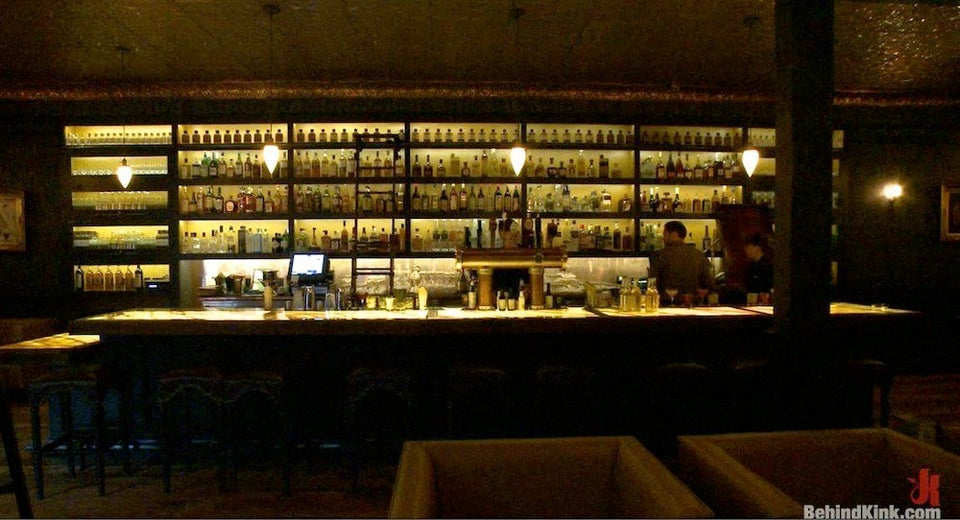 The Armory Club
Popular in the Community