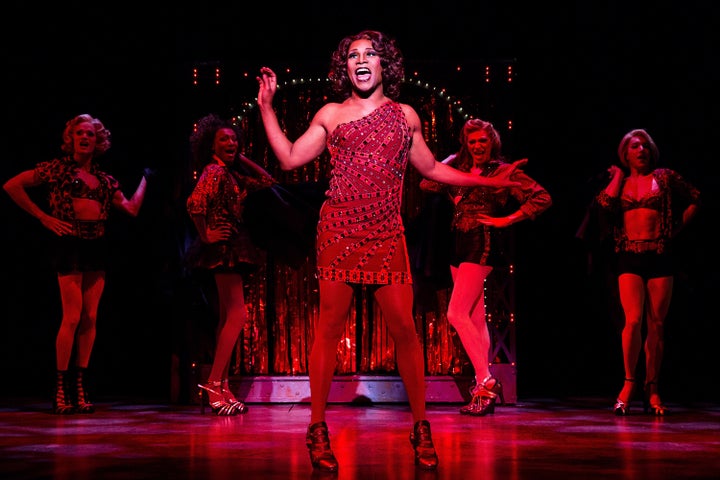 As the star of "Kinky Boots," Billy Porter sways, struts and sashays across a Broadway stage in sequin-studded gowns and 6-inch heels on a nightly basis. Tackling choreography in stilettos may require him to soak his feet in ice water each night after the curtain falls, but the actor says his personal journey with the new musical has already made those aching calves and sore toes seem insignificant.
"People don't see me in traditional roles; I'm not getting cast in the revival of 'Company' as Bobby," says Porter, who was last seen on Broadway in "Miss Saigon" in 1999. "It's unbelievable to have this role and this show come along now, and literally make the last 25 years of my life make sense."
Opening April 4 at New York's Al Hirschfeld Theatre, "Kinky Boots" is truly a labor of love for much of its eclectic cast and crew. Based on a 2005 film, the musical tells the story of Lola (Porter), a British drag queen-turned-designer, who partners with struggling shoe factory owner Charlie (Stark Sands) to produce women's footwear optimized for men's feet. A genuine, if emotionally charged, bond between the pair forms as Lola's designs help the factory avoid bankruptcy. ("It's a bromance between two men with daddy issues, one of whom just happens to wear a dress," jokes Porter). Featuring a pop-inflected score by Cyndi Lauper and a zippy book by "Torch Song Trilogy" scribe Harvey Fierstein, the show has already generated solid buzz among Broadway theatergoers; at a March 27 preview performance, the cast was greeted with thunderous applause and a standing ovation at curtain call.
Check out photos from "Kinky Boots," then scroll down to keep reading: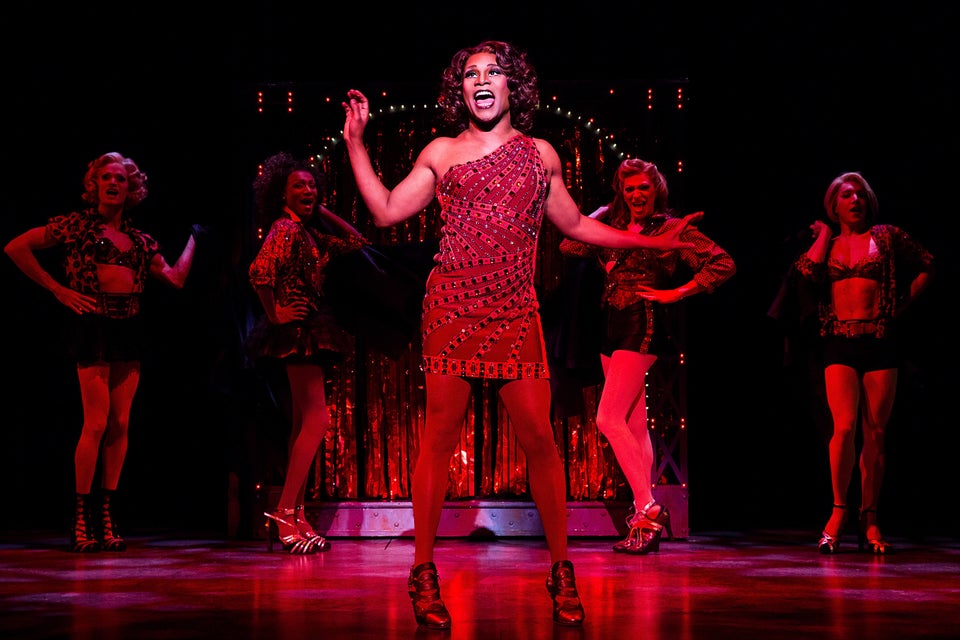 'Kinky Boots' On Broadway
Though he'd only "dabbled in drag" prior to the show, the Pennsylvania-born Porter says Lola's individuality "definitely" resonated with him directly as an openly gay black performer.
"It's easy to be who you are when what you are is what's popular," he recalls, pointing to his own experiences with estranged family members while growing up in Pennsylvania. Turns out, dancing in high heels wasn't as challenging as it seems: "I was in my aunt's closet waiting for the day when my feet would grow big enough to fit into her high heels since I was six. The difficult part was just how long I had to wear them."
The presence of drag queens on the Great White Way has surged in recent years, after the Tony-winning 2010 revival of Fierstein's own "La Cage aux Folles" and 2011's "Priscilla, Queen of the Desert." Still, Porter credits Fierstein's text, Lauper's lyrics and Jerry Mitchell's direction with granting him ample opportunities to make Lola stand apart from her Broadway predecessors.
"First of all, Lola is black and Lola is the lead, and that has never happened on Broadway," Porter notes. Citing Whitney Houston and Chaka Khan as his influences in the role, he adds, "What I love about the story is that it's the black person who ends up rescuing the white people. It's subversive, it's not something that's discussed, it's not preachy -- but it's still something that rarely happens in storytelling."
Whether or not "Kinky Boots" will become a colossal, "Book of Mormon"-style hit remains to be seen, but Porter says he hopes the show's message will resonate well beyond opening night and the Tony Awards. "Everything that we go through in this life that's negative is based and rooted in fear," he observes, before quoting one of the show's concluding lines: "'You want to change the world? Change your mind first.'"
"Kinky Boots" opens at New York's Al Hirschfeld Theatre April 4. For more information, click here.

Popular in the Community