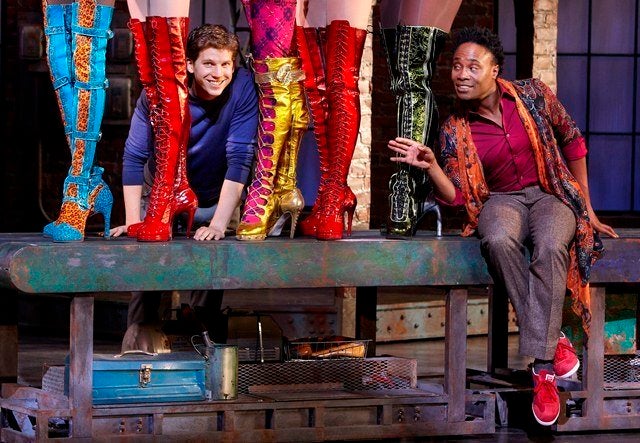 Forget fancy names like Cyndi Lauper. If there's a single compelling reason to see Kinky Boots, a lively new musical based on a 2005 British comedic film that's currently making its pre-Broadway tryout at Chicago's Bank of America Theater, it's Billy Porter's bravura turn as sassy drag queen Lola.
Lola serves as both muse and catalyst for breathing life into a failing rural England shoe factory -- a family businesses handed down from the beloved and deceased owner to his reluctant son, Charlie (the likeable but bland Stark Sands) who, in a last-ditch effort, transforms their outdated product to fill an untapped, niche market: transvestites.
As embodied by Porter, Lola is a star-making performance that gives this full-voiced, explosive performer something to sink his stiletto heels into. Mark my words: look for Porter come Tony time.
That said, Lauper is no louse. As her first (and hopefully not last!) foray into musical theatre composition, Lauper's score is filled with catchy pop tunes and earnest ballads that get straight to the heart of the piece: acceptance needs to come from within.
In one of the most effective moments, Lola (out of drag and exposed as his male counterpart Simon) sings an anthem to Charlie entitled "I'm Not My Father's Son," where he reveals the pain of discovering that who you are might not fit others' expectations of who you should be. Arguably, the other heart of the show -- the sassy, red, blood-pumping heart -- is represented by the hook-happy "The Sex Is in the Heel," where Lola and her merry band of queens (who are each AMAZING) explain that it's more than just (heel) size, baby. It's attitude.
Aside from Porter and Lauper, the show has the added benefit of Jerry Mitchell's high-spirited direction and choreography. Mitchell, a dancer by trade, knows how to keep things fluid, fun and human-scale, which is essential for retaining the core of this fast-moving show. And I couldn't imagine a more perfectly suited book writer than Harvey Fierstein, who knows a thing or two about crafting heartfelt, theatrical stories involving queens, comedy and community.
There are a few things I'd suggest fixing between Chicago and New York. First, Lauper's opening number, "The Most Beautiful Thing," gets the job done, but fails to set the tone. As it stands now, it efficiently presents the main players and their back stories, but it's a bit of a snore. And following a rather tightly focused Act 1, Act 2 gets sloppy: an 11th hour blowup between Charlie and Lola seems to come out of nowhere before it's all too quickly resolved. And the budding romance between Charlie and coworker Lauren (Annaleigh Ashford) needs more lead-in. In other words, give Ashford, a clear crowd favorite, more to do beyond her hilarious (and hilariously delivered) Act 1 character song, "The History of Wrong Guys," where she laments over her bad decisions when it comes to love and men.
But all sins are forgiven by the end of the show, where the cast kicks up their kinky boots (fabulously designed by Greg Barnes) in a sparkly chorus of acceptance and celebration.
"Kinky Boots" plays through November 4 at Bank of America Theater. More info here.
Related
Popular in the Community