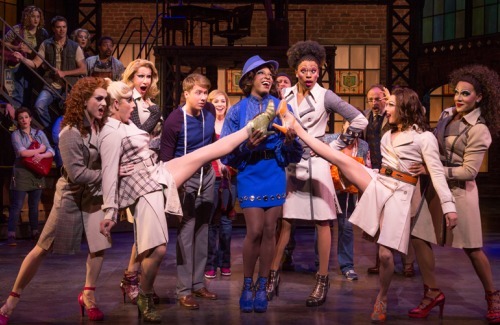 Whenever you are trying to make sense of something troubling in the world, musicals might not necessarily have the answer, but they may have a fun and out-of-the-box way to think about it. Kinky Boots -- the Tony Award-winning musical featuring a book by theater legend Harvey Fierstein and directed by Jerry Mitchell along with music penned by pop icon Cyndi Lauper -- is a joyous story about a man who finds an interesting way to save his family's shoe factory all through the idea of the unlikeliest of new friends, and forever shifting the futures of everyone involved. It's a tale of compassion and about truly understanding one another for the greater good, all while rocking some fabulous boots!
Recently, I chatted over the phone with Kinky Boots cast member Lauren Nicole Chapman, a Michigan native who attended West Bloomfield High School along with Interlochen Center of the Arts, and who made her Broadway debut as a part of the Kinky Boots ensemble last April, then joined the touring company in September. We talked about the inspiring aspects of Kinky Boots, how she got into theater, and working with Cyndi Lauper.
What is it about Kinky Boots that sets it apart from the others?
I think what sets it apart is the message that our show carries. It's one of acceptance. One of the main themes is you change the world when you change your mind. I think that is so important, especially on tour, to see these audiences reacting to that. It leaves everyone on their feet at the end of the show and every time without fail.
What's the return to Detroit signify to you?
This is a dream come true. I'm so lucky that we are coming to my home town, especially with such an amazing and fun show, one with a great message. I think I have 85 people coming one night so it's really important to have that support. It's so overwhelming and amazing.
How did you get into theater?
I started out dancing when I was young. From middle school and high school, I started doing theater and doing the shows, and participating in choir. I went to Interlochen Arts Camp for three summers for voice. At the end of my third summer, I said to my parents "I think I want to go boarding school for my senior year". They kind of looked at me like I was crazy, but supportive of course all the way. I auditioned and got in. I went to Interlochen for my senior year, that's how I got the tools I needed to get to college and all that stuff. There's was never a question that I wasn't going to do theater. I always had the support from my parents. They were willing to go along with me along the way, with all the classes, and all of the schooling I went through.
Talk about your experience going to Interlochen Center for the Arts.
I started out dancing, and then from there I picked up singing along the way. I did a lot choral singing at first in school. Interlochen sort of changed the game for me in the sense that it really showed me what it took to go to school for theater and the discipline that was needed. It really cemented for me my decision to go to college for theatre. I went to Emerson College from there for four years and I graduated in 2013 with a BFA in Musical Theater. It was cementing that notion of wanting to do this for the rest of my life. It was no longer just a hobby. It was what I wanted to do. It's been an amazing ride since then.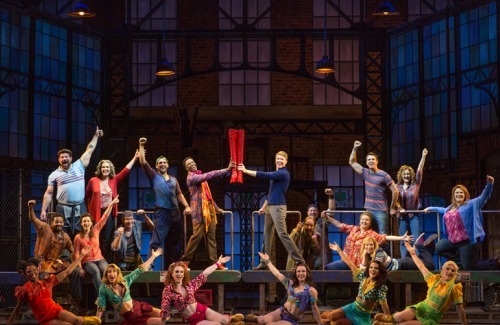 Does being a part of a show like Kinky Boots spark any sort creativity that you can bring to your own life?
For me, it's just been cool to be a part of this show because it's all pop music in a way, and Cyndi Lauper, who wrote the music, drew from a lot different styles that she's heard in her career and growing up. For me, it's been really rewarding to sing a score where every song gives you a flavor of something new. That's been really fun. It's made me want to sing more pop music. It's made me want to get to know that side of music a lot more.
What has been your most inspiring experience during your time with Kinky Boots?
It's whenever we're in the room with all of our creative's - Jerry Mitchell, Harvey Fierstein, and our producers Daryl Roth and Hal Luftig, and Cyndi. Whenever we're in a room with all of them it's been really touching to see how much the project has meant to them and still means to them to this day, and how supportive they are along the way. I'll never forget the first day of our tour rehearsal, and I was leaving the Broadway company and coming into this new family of the people that were going be on tour. We had this little speech and they just wanted us to know they we're part of a family and that has really stayed true throughout. I promise you, it's literally been a family. It's very cool to see how we interact with the people we see on Broadway with that family because it's the Kinky Boots family and we're all about that message. We're all truly wanting to get that message of "you change the world when you change your mind" across. I've had a lot really amazing theater experiences but that has to be number one to have all of those amazing people in a room that I've admired for so many years just letting you know that you're a part of something that's kind of bigger than you are.
How was it to work with Cyndi Lauper?
She is a dream! I have to admit, I was very star struck the moment I got to see her for the first time. You realize she's a really down to Earth person and she's really good at her job. We all take what she has to say seriously for sure. The first day, it was overwhelming in the best way possible.
What's your favorite moment of the show?
The finale because we come out and without fail, in every city thus far, everyone is on their feet. To see an audience take that journey with you and by the very end, without fail, I tell you there has not been one show where they haven't been a complete standing ovation. That's just really powerful and really cool they understand the message, and what it means to them, and that we've touched them in some way. That's why I think we do theater is try and if the audience can take one thing away from it is the message of the show. If we've done that, then we have done our job.
(Photo Credit: Matthew Murphy)
Calling all HuffPost superfans!
Sign up for membership to become a founding member and help shape HuffPost's next chapter