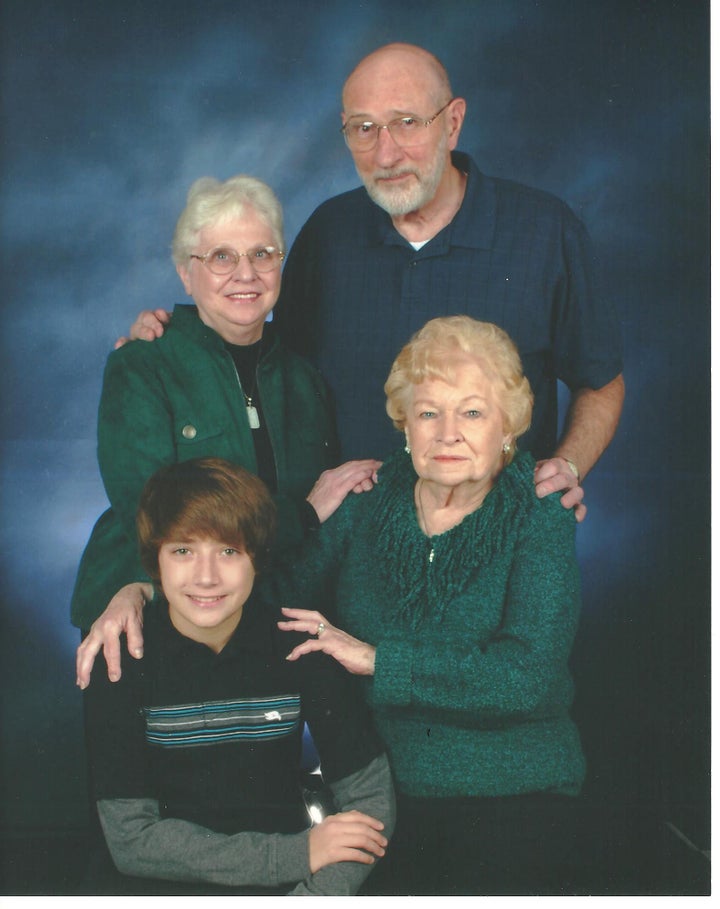 Adrian Charniak's grandson was born with cocaine in his blood. That's the first reason the Illinois child welfare agency decided the boy's parents weren't fit to raise him. Charniak eventually won custody, but the court battles dragged on for more than a decade. Somewhere in her house are receipts for $100,000 in legal fees. "That's my pension," she said.
Charniak, who saved up that money during a 30-year career as an orthodontist's assistant, is among a growing number of grandparents who care for their grandchildren at some point in their lives, according to a new report from the Annie E. Casey Foundation. More than 2.7 million kids in America have lived with grandparents, other relatives or close family friends, an increase of 18 percent from a decade ago, the study found. An estimated 9 percent of young people will live with extended family members for at least three consecutive months before the age of 18.
The Casey Foundation makes the case that the rise of this longtime practice -- "kinship care" -- demands public policy attention. "Research shows kids fare better when they remain in the safe, stable and familiar environment that relatives can provide," said Patrick McCarthy, the head of the foundation. "We urge state policymakers to make crucial benefits and resources available to kinship families so that their children can thrive and have the best shot at becoming successful adults."
Donna Butts, the director of the advocacy group Generations United, said grandparents and other relatives are often unaware of the support services and benefits available to them. "Often times, grandparents take children on unexpectedly, not necessarily having much time to prepare," Butts explained. "And it may have been a while since they have raised children on their own, so they might not be familiar with school-lunch programs or individualized education plans or some of the other supports that are there for families."
"Sometimes they feel a stigma," Butts continued. And sometimes, she said, "things are just so chaotic that they don't even know where to start." That was the case for Charniak, who said she was completely in the dark about how to get help for her grandson until he turned 5 in 2003 and she learned of a rally in Washington, D.C., for grandparents' rights. "Up until that point, I was a grandparent who was losing my mind," she said.
Charniak said she learned about Generations United and other grandparents' groups, and through those groups she found out she was entitled to Temporary Aid for Needy Families, a federal benefit. Even so, the benefit pays no more than $117 per child monthly. Foster parents may receive $700 per kid. "If the grandparents could get the same that foster parents get, that would be nice," Charniak said.
According to the study, only a fraction of people who care for their grandkids are formally recognized as foster parents by the child-welfare system. The study urges state and local lawmakers to make it easier for relatives to get foster-home licenses and promotes stable housing, access to child health care and community-based services for older relatives.
"The federal government already has a solid framework in place for serving these families, and several states have taken steps to actively support extended family and friends as they assume their new care-giving roles," said Robert Geen, director of family services and systems policy at the Casey Foundation. "Every state and community needs to adopt such changes, especially addressing the needs of lower-income families."
Butts, the head of Generations United, offered several theories why so many more grandparents find themselves in this position than a decade ago. "People have lost homes, they've lost jobs, they're struggling to live in poverty," she said. "We also have the reality of the fact that we're fighting several wars simultaneously." She pointed out that the parents of the first woman killed in Iraq took in the woman's son.
Butts said that grand-families are more likely than foster families to keep brothers and sisters together, and that children who grow up in those homes are more likely to report that they feel love.
Charniak said her grandson is turning out just fine, but she wouldn't turn down some extra help. "Because he does want to go to college," she said.
Popular in the Community