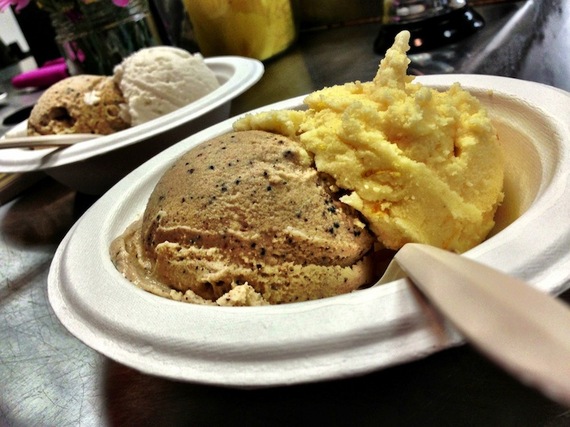 Kippy's! Non-Dairy Organic Ice Cream in Venice has us singing, "Oh, Kippy. You're so fine. You're so fine. You blow my mind! Hey, Kippy!" A vegan creamery scooping non-dairy dessert, Kippy's need not masquerade as "ice cream". The use of raw organic ingredients of the highest quality capturing classic flavor combinations creates a taste even more intoxicating than the original connotation. It's a Seinfeld episode. Thankfully, without the ironic twist. Expectations of a deliciously cold-creamy-sweet treat, excluding the calories, fulfilled.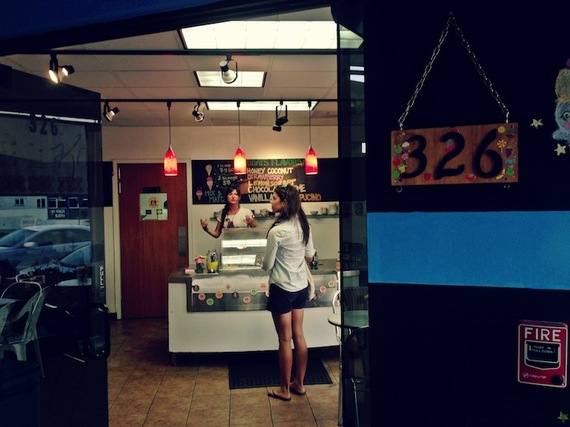 At sunset, a serene filter washes over Lincoln Boulevard, an area otherwise ripe with imagery of concrete jungles. "All ice cream is made right here on the West side premises; eco-consciously in the commercial kitchen," stated the clerk eager to sell what did not need selling. She continued, "The ice creams contain no dairy, soy, nut or gluten. Never frozen, freshly picked Malibu fruit." That and other ingredients are kept to a minimum -- five or less.
Never dipped or treated, the organic coconut water and meat churned into "cream" healthfully incorporates saturated fatty acids -- coconut being the number one source for the much-desired nutrient. Raw honey works into each flavor, boasting essential vitamins and minerals. The natural sweetener also spawns a measurable energy boost. Kippy's! even raises their own honeybees with beekeeper (and partner), Max Wolf.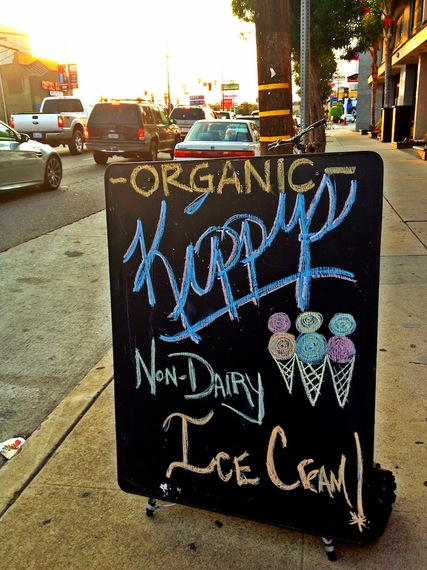 And while the honey gives you a jolt, Kippy's popular Cappucino flavor is caffeine free and in fact carries no trace of coffee at all. Instead, the pits inside fruit from the Guatemalan Ramon Tree are ground into Ramon "dust." Incredibly, the dust mimics the flavor and texture of Espresso without the acidic after taste. Mixed into vanilla and chocolate, the result is a smooth coffee flavored cream that refreshingly and naturally heals and cleanses. Hey, Kippy!

Although we missed meeting creator Kippy Miller in person, her passion for the product is apparent. The shop is cheerfully decorated with chalkboards. Colorfully, descriptions tout the benefits of each ingredient and announce the oft-changing flavors such as Orange Creamsicle. Kippy's devotion rises from her original brand Truly Raw Ice Creams and Sorbets sold in local health food stores such as Santa Monica Co-Op and Whole Foods. Kippy and Max launched Truly Raw in 2009, serving entree to the brick and mortar ice cream shop opened in 2013. Enjoy Kippy's ice cream everyday except Thursday when the entire operation closes for fresh production on premises.
Calling all HuffPost superfans!
Sign up for membership to become a founding member and help shape HuffPost's next chapter