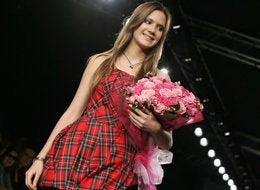 All 12 Kira Plastinina stores in the U.S. will close their doors today at 6 p.m., a scant seven months after the first units opened.
On Thursday, a sign outside the Kira Plastinina store at 22 West 34th Street read, "Going out of business, best deal ever!" "Tomorrow at 6 p.m. is the last day," said a store employee. "Everything is 70 percent off. All the stores in the U.S. are closing tomorrow."
Calls to the company's corporate office, KP Fashion Company in Los Angeles, went unanswered Thursday.
The Kira Plastinina collection is designed by 16-year-old Kira Plastinina, whose father Sergei Plastinin, a tycoon in the dairy and fruit business in Russia, has bankrolled the concept. There are about 40 Plastinina stores in the Russian Federation. Sergei Plastinin has said he'd like to have 500 stores internationally. The plan for the U.S. was to open 50 stores in the next three years.