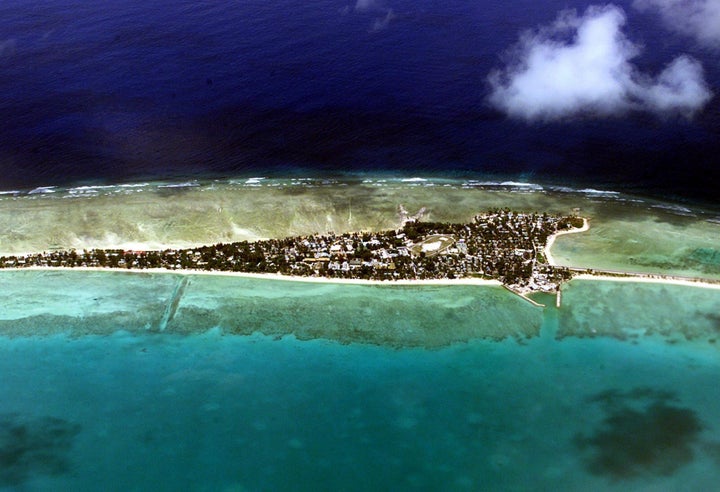 If you're not satisfied with how the leaders of the world's major powers including the U.S., China, India and Brazil are addressing climate change or protecting the ocean maybe you could direct their attention to Kiribati (pronounced Kirr-i-bas). Luckily this tiny islands nation has responsible leadership, which is why this year's 2012 Peter Benchley Ocean Award for Excellence in National Stewardship is being given to President Anote Tong of Kiribati. He will be joining seven other outstanding award winners in San Francisco on June 1 at the 5th annual awards named after Jaws author Peter Benchley. While most people are familiar with his novel and the Steven Spielberg movie that was made from it that scared a beach-going generation and inspired some retrograde people to go out and kill White Sharks, few people know that most of Peter Benchley's life was dedicated to protecting sharks and the marine environment. That's why the ocean conservation group Blue Frontier Campaign and Peter's wife and adventure companion, marine conservationist Wendy Benchley, created the award (the award statues themselves were created by the famed marine artist Wyland).
Kiribati's President Tong was in the news recently over his government's negotiations with the nation of Fiji for a 5,000 acre land purchase to provide new opportunities for his people in the face of inundation from rising seas linked to fossil-fuel fired climate change. These opportunities would include the beginning of population relocation, as well as farm production and landfill for export to the low-lying atolls nation of 100,000.
President Tong, recently re-elected for a third term of office, has become a globally recognized figure for his work on climate response, ocean protection and regional collaboration. He was instrumental in creating one of the World's largest and most biologically rich marine protected areas, the Phoenix Islands Protected Area, that was recently declared a UN World Heritage Site. He has also been an outspoken global advocate for climate response given the threat sea level rise poses to his nation and people. He is also a key player in the Pacific islands Forum of 16 independent states that are taking control of their marine resources.
I got to interview President Tong on his last visit to the Bay Area during the 2010 California and World Ocean Summit. Here's part of what he had to say at that time.
Q: What motivated Kiribati to set aside the largest marine reserve in history?
A: Earlier at the United Nations I was bitter at the international community for not listening [on climate change]. But then it became clear that if we made a contribution this large, it was also a statement on our part. So, this was a significant contribution to the world community in the hope they would also act.
Q: Kiribati was the first nation to greet the new millennium [because of its location on the international dateline], but it may not be around to greet the next century because of rising sea levels.
A: This is exactly right, and this is the challenge for the global community to act. I went to [the 2009 global climate negotiations in] Copenhagen and I was extremely disappointed. There was not what we'd have liked to see there. Where will our people go [if our land is submerged]? No one has come forward with an offer [for relocating Kiribati's population]. We would take what's available. The former president of Zambia told me "we have plenty of room," and we could move there, but he's since died. New Zealand allows 75 [Kiribati] people in its annual quota. A scenario like that is doable, but it would have to be greatly expanded.
Q: Can you envision your people being relocated intact, the whole population staying together in another place?
A: That's hard to envision.
Q: Returning to the more hopeful subject of the new marine reserve, you're also working to create a linked system of protected areas across the entire Pacific Ocean, aren't you?
A: We're looking to work with others on a Pacific oceanscape framework and again moving ahead, moving forward. You cannot do one of these in isolation. We need to link with the rest and beyond because the ocean does not stop where political boundaries are drawn. It's a dream, and if we all dream alike, we can make it so.

REAL LIFE. REAL NEWS. REAL VOICES.
Help us tell more of the stories that matter from voices that too often remain unheard.