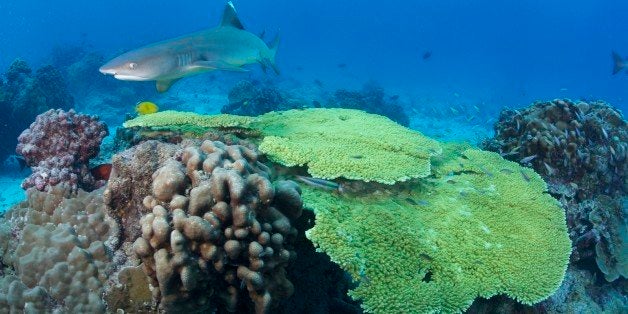 In September 2015, UN member states are set to adopt the Sustainable Development Goals (SDGs). Pacific Island countries have played an active role in these negotiations, and have successfully led efforts to advocate and secure a stand-alone goal on oceans. In particular, and because of its importance for our region, I would like to reflect on SDG 14 to "conserve and sustainably use the oceans, seas and marine resources for sustainable development."
I come from a region that is more than 98% ocean, where our countries are spread across approximately 40 million square kilometers of ocean and have jurisdiction over areas of ocean that are, in some cases, thousands of times larger than their land area. We are large ocean island States, and while we derive significant economic, social and cultural benefits from our ocean, there is scope to improve and increase these benefits.
Pacific Island nations identify ocean resources as a major opportunity for economic development, not just through fisheries but through non-extractive practices, such as tourism and transport. As large ocean island states, the ocean plays a pivotal role, not only in our sustainable development, but in the very fabric of our lives. The ocean is very much a part of our daily existence, our culture and heritage. The ocean not only provides for our daily sustenance, but also defines who we are. For the Pacific, the ocean is our lifeblood -- it sustains us and it provides for us. A secure future for Pacific Island Countries and Territories based on sustainable development, management and conservation of our ocean is the vision articulated by Pacific Leaders in our regional Framework for a Pacific Oceanscape (2010).
For my country, Kiribati, fisheries are our main source of revenue, comprising around 60% of our GDP. Our aspiration, consistent with target 14.7 of SDG14, is to maximize the returns from this resource to support our people for generations to come. We have started on this journey in our purse seine fisheries, where fishing days within our national waters are now capped, creating an access market within which we can maximize revenue from access fees. Through this arrangement, countries that are Parties to the Nauru Agreement collect approximately US $350 million under the vessel day scheme. This is a significant increase to the US $60 million that we were earning just five years ago.
It would be remiss of me to discuss development and not mention the existential threat that climate change poses to my country, and the inextricable links between ocean and climate. Ocean acidification is a real threat to our coral reefs; reefs we depend on for subsistence and livelihoods. As well, there are other ocean-climate interactions, such as sea-level rise and weather- and climate-related events, such as storm surges associated with tropical cyclones and other extreme-weather events that have dire implications for us. I frequently find myself watching my grandchildren and wondering what sort of a future we are leaving for them. For their sake, climate change is an issue I will continue to talk about for as long as I have breath in my body. For me, it is inherently important to build resilient oceans at all scales, so that we have the best chance possible to adapt to our rapidly changing climate.
The environment is a fundamental pillar of sustainable development; economic growth at all costs must not be our mantra. Maintaining the health and biodiversity of our oceans and ecosystems will be critical as we move into the next phase of development. Kiribati's contribution to these efforts is the Phoenix Islands Protected Area (PIPA), one of the world's largest marine protected areas, spanning over 400,000 km2. This is a part of our effort and contribution to implement the region's Framework for a Pacific Oceanscape, and our gift to humanity in recognition of the value of conserving marine biodiversity and the need to strengthen the ocean's resilience for the common good.
The sustainable development, management and conservation of the Pacific Ocean and its resources is not only important to Pacific people; it is of vital importance to the rest of the world and humankind. In that respect, I look to the future with hope, knowing that our Sustainable Development Goals are shared by all, by developed and developing countries alike. For the first time, as an international community, we will be striving for the same development goals. With this in mind, I call on the international community to support our efforts in the Pacific, not as a hand-out, but as a collective investment for this planet's future generations.
President Anote Tong is the fourth President of the Republic of Kiribati and has been in office since 2003. President Tong is a renowned spokesman for climate change and good ocean governance, recognized through a number of international awards including the David B. Stone Award from the New England Aquarium, the Peter Benchley Ocean Award from the Blue Frontier Campaign for Excellence in National Stewardship of the Ocean, and the 2012 Hilary Laureate Award for Leadership in "Climate Equity". Recognizing the importance of the ocean to the Pacific, President Tong spearheaded the region's Framework for a Pacific Oceanscape, which is a catalyst for action for the region's Pacific Islands Regional Ocean Policy to sustainably develop, manage and conserve our Ocean for Pacific ancestors and future generations.
This post is part of a series produced by The Huffington Post, "What's Working: Sustainable Development Goals," in conjunction with the United Nations' Sustainable Development Goals (SDGs). The proposed set of milestones will be the subject of discussion at the UN General Assembly meeting on Sept. 25-27, 2015 in New York. The goals, which will replace the UN's Millennium Development Goals (2000-2015), cover 17 key areas of development -- including poverty, hunger, health, education, and gender equality, among many others. As part of The Huffington Post's commitment to solutions-oriented journalism, this What's Working SDG blog series will focus on one goal every weekday in September. This post addresses Goal 14.
Calling all HuffPost superfans!
Sign up for membership to become a founding member and help shape HuffPost's next chapter