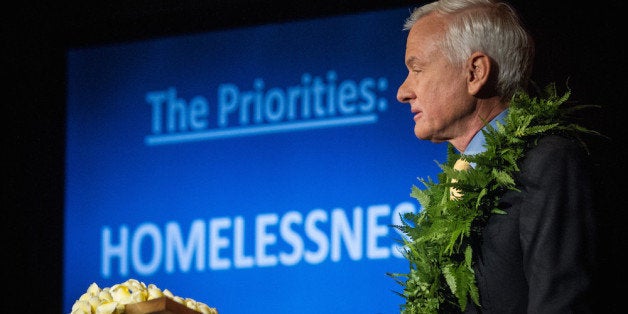 Homelessness has put Honolulu Mayor Kirk Caldwell in an unenviable bind.
He says it's important to empathize with and support those who are living on the streets by providing them with stable housing.
At the same time, he understands that as mayor he must respond to community angst over an increasingly visible crisis by clearing out the homeless from parks and sidewalks.
Lately, he's been pushing for stricter enforcement of city laws, which has led to the arrest of dozens of homeless people and raised questions about where his priorities lie. And on Sunday Caldwell announced it's time to be even tougher.
In an op-ed in the state's largest newspaper, the mayor declared a "war on homelessness" and proposed enacting even more rules that will allow the city to use police force against those living on the streets.