If you've ever enjoyed the thought of anti-gay bigot and former child star Kirk Cameron being part of some softcore gay erotica... well, you're in luck!
Mandy De Sandra's new book, called Kirk Cameron & The Crocoduck of Chaos Magick, re-imagines Cameron as the director of a "pray the gay away" camp. In the book, a young boy attending the camp utilizes "Chaos Magick" to enact revenge on Cameron's character by use of a "Crocoduck."
So what should one expect from Kirk Cameron & The Crocoduck of Chaos Magick? Apparently, nothing less than "hot gay orgy action, involving crockoducks, sexy holy cheese, Chaos Magick, oral sex, anal, clone 69ing, and Stigmata hand sex."
The Huffington Post chatted with De Sandra this week to learn more.
The Huffington Post: What was your overarching concept for this book? Is it intended to be subversive?
Mandy De Sandra: To write a bizarro erotica book that had Kirk Cameron hooking up with a Crocoduck. I just loved the idea and I felt it was timely after the gay marriage ruling. It was definitely meant to be subversive. I knew that once Cheese Jesus had sex with Kirk I was being really naughty.
Can you elaborate on the idea of a "Crocoduck" and the way that you decided to use it in this book?
I remember Kirk talking about a Crocoduck as a way to disprove evolution. I always thought it was a really stupid point he made to refute evolution. I am also a huge fan of Dinosaur Erotica and just thought: why not have a Crocoduck have sex with Kirk Cameron. It just felt poetic, fun, and ridiculous so I had to write it.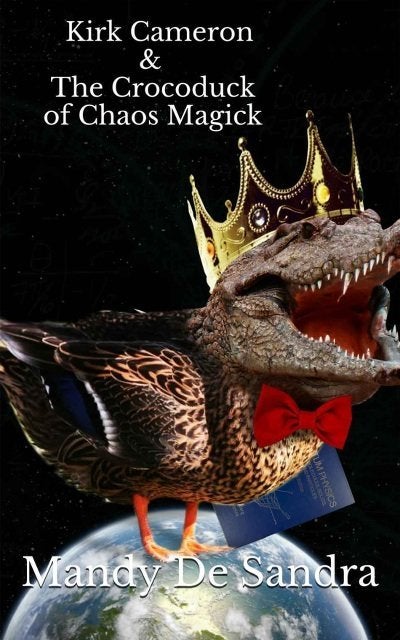 Where did you find your inspiration for this work?
My good friend and fan Raye posted a picture of Kirk and the Crocoduck and I had to write the idea. I also love Bizarro Fiction and bizarre erotica. I wanted to write one that combined the two, and I guess you could say that real Chaos Magick happened. The Supreme Court's ruling also inspired me, especially after seeing all of these idiots saying ignorant and hateful things about gay marriage. I suppose those feelings found their way into my fiction.
Were Cameron to read this what would you hope that he takes away?
To shut up and make a "Growing Pains" movie.
What do you want readers to take away from this work?
Where my first novelette "The Maskerade Ball of DC" was meant to be normal erotica about 'masking', I hope readers of this book just have fun with it. Whether they find it hot, transgressive, or just need a good laugh.
I think the only way to deal with the idiots like Kirk Cameron is to laugh at them.
Want to own Kirk Cameron & The Crocoduck of Chaos Magick for yourself? Head here to view the book on Amazon.

Note: The Huffington Post reached out to a rep for Cameron for a comment about the book but has not received a reply.
Popular in the Community