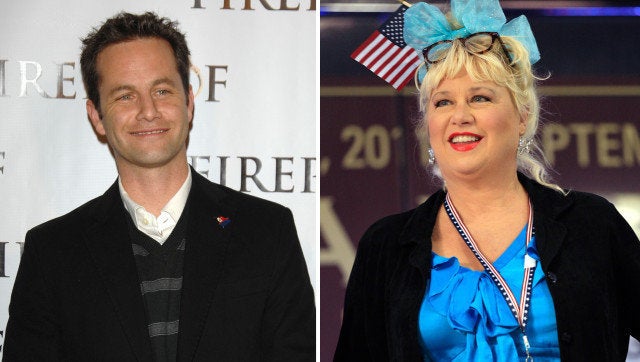 When I heard about Chuck Norris' support for the Boy Scouts's anti-gay policies, my first thought was, "I wonder how he and I never became friends." Lately I have come to realize that most of my closest "celebrity friends" have ended up making controversial anti-gay comments, and that's a dampening fact for this gay man.
I used to write for Christian magazines with über-positive, hopeful titles like Joy-Filled Jubilee!, Families of Faith!, and Biblical Beach Bodies! OK, that last one doesn't exist, but it should. I profiled Hollywood celebrities of the Christian faith throughout the years, trying to avoid the more radical ones (Gary Busey, Stephen Baldwin, et al.), but every now and then I became friends with actors who turned out to be "not good for the gays." These were real friendships, not phony Hollywood acquaintances.
Victoria Jackson was my first famous friend. We bonded over our love of Phil Hartman, our faith in Jesus, our fascination with David Sedaris books, and my appreciation for her blonde hair pieces. She was blunt and off-the-cuff, so we immediately hit it off.
Early on, I came out about my sexuality, and she was quite loving and accepting about the issue. She had questions for me, but she didn't seem to judge. She'd spent decades in show business, so I certainly wasn't the first gay friend of Victoria Jackson.
During my early years of struggle in Hollywood, Vicki actually FedEx'd me the keys to her SUV. She wasn't using it and wanted me to get off the buses and get around town with greater ease. For the next six months, until I could afford my own car, I drove her vehicle around L.A. That's the kind of generous friend she was. When I needed an actress to cameo in a Web series I had written, Vicki flew herself across the country (on her own dime) and worked for free. I attended many fancy dinners, public events, and trips to the Magic Castle with her. The most fun I ever had at a DMV was standing in line with her, watching two Hispanic women try to guess who she was. "¿Es Sally Struthers?" I overheard one ask another.
Things started to change in our relationship when Vicki began blogging -- in all seriousness -- that President Obama "bears traits that resemble the antichrist." Huh? People called me, asking what I thought of my friend's outrageous statements. One morning I awoke to an in-box full of emails asking if I had read her latest blog entry, reading:
This new al-Qaida magazine for women has beauty tips and suicide-bomber tips! Gimme a break! That is as ridiculous as two men kissing on the mouth! And I don't care what is politically correct. Everyone knows that two men on a wedding cake is a comedy skit, not an "alternate lifestyle!" There I said it! Ridiculous!
Um, no. Dear friend, two men kissing on the mouth is not ridiculous. It's romantic, a very loving gesture, and, if done with just the right mix of aggressiveness and sensuality, very hot.
That's when our friendship dissolved. We never officially broke up, but I did ask that I be removed from her Tea Party mailing list. The emails were just getting too bizarre. Fifteen years of friendship slipped away, into the vapors, as they sometimes do.
To be fair, many Christian celebrities I interviewed are the polar opposite of anti-gay. Zachary Levi gamely kisses Nathan Fillion and Adam Baldwin to the delight of Comic-Con fans, Amy Grant duets with Melissa Etheridge, Clay Aiken raises thousands on Celebrity Apprentice for his National Inclusion Project, and Kristin Chenoweth and Dolly Parton are both undisputed gay icons. Believing in Jesus doesn't corner these celebrities into a stereotypical box of religiosity.
Unfortunately, however, another friend of mine famously informed the world that homosexuality was "unnatural" and "destructive to so many of the foundations of civilization." I was stunned by Kirk Cameron's statement. The first thing I thought was, "I'm sorry, but when I came over to your house and played with your six children and shared laughs with you and your wife over glasses of wine and worked with you on various ministry projects, what part of my existence in your home undermined the foundation of your civilization? What part of me, being my likeable self in your living room, was 'unnatural'? What exactly about me 'destroys' you and your family?"
Kirk was, and still is, a caring, kindhearted guy. I truly believe him when he went on The Today Show to defend his comments: "I love all people. I hate no one. When you take a subject and reduce it to something like a four-second sound bite and a check mark on a ballot, I think that's inappropriate and insensitive. The truth is that these are issues that are very personal." I know he wasn't trying to hurt me personally when he shared his opinions on Piers Morgan, but that's just it: His comments were personal. They personally filled me with anger. Some might call it "righteous anger." As a passionate lover of free speech, I support anyone's right to share his or her interpretation of the Bible in a public forum. They have a voice and a platform and the right to share their points of view. But they need to know what my dad has said for many years: "Ideas have consequences." Sometimes our ideas misinterpret the context of Scripture. Some ideas lead young people to depression and even suicide. Often when we share our ideas, we lose friendships with people who love us.
When I came out of the closet, I was fortunate not to lose the love and support of my friends and family, most of whom were Bible-believing evangelical Christians. Over the years, though, I've had to defriend a few aunts, uncles, and former schoolmates. Even more unexpectedly, I'm learning to say goodbye to friends, even famous friends I used to have a crush on in my teen years. Oh, well. I'll always have the 150 Amy Grant songs I love on my iPod. She'll never let me down.
Life will be fine, as long as I never become close pals with Tracy Morgan or Brett Ratner or Blake Shelton or Patti Stanger. I just can't handle defriending another celebrity.
Take a look at other anti-LGBT comments made by celebrities, including Victoria Jackson and Kirk Cameron, below: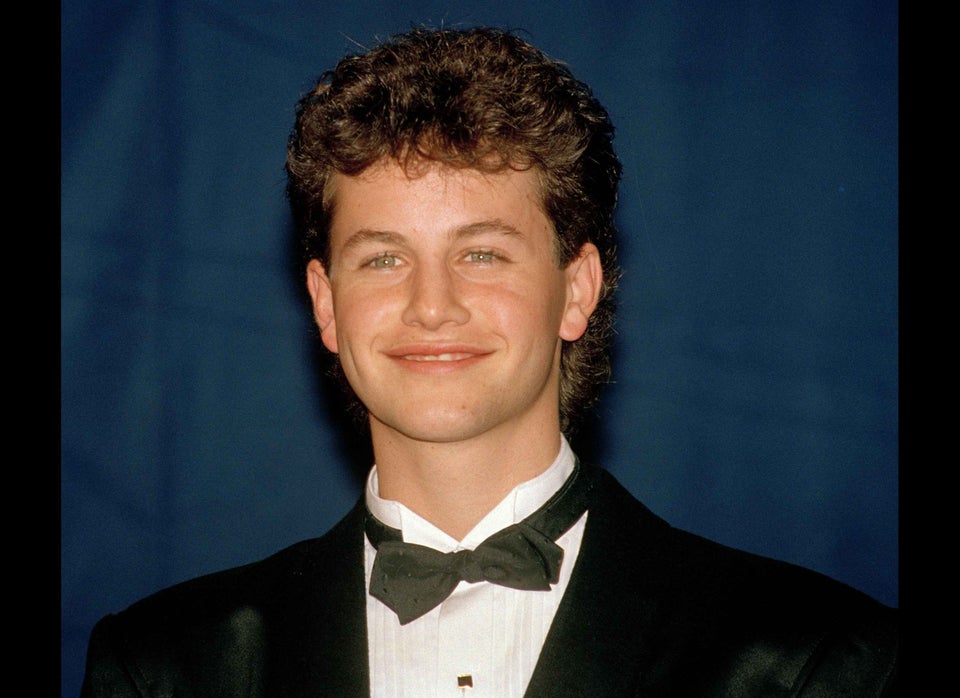 Anti-Gay Celebrity Statements
Popular in the Community