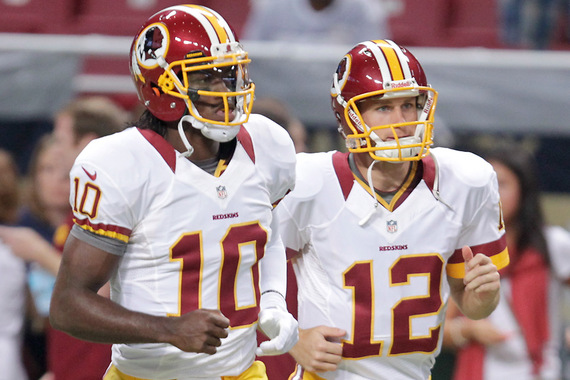 Jay Gruden finally got the opportunity to be a head coach in the NFL and in order to be successful, he very well may have to do what his predecessor could not -- name Kirk Cousins as the long-term solution at quarterback for the Washington Redskins.
Though Gruden has firmly committed to Robert Griffin III as his starter during a postgame press conference, things can change rather quickly in the NFL. Teams want to win. Owners want to win. First-time head coaches have to win if they want to stay in that position for long. Cousins, the quarterback that is the traditional drop-back passer Gruden's offense requires, is the man that can lead the offense, command the huddle and command the pocket, which Griffin has failed to do thus far.
Former Washington great Joe Theisman didn't hold back when discussing Griffin and Cousins, during the CSN SportsNet telecast of the Redskins' 23-17 loss to the Baltimore Ravens.
Let's stop beating around the bush. Kirk Cousins has played much better at the quarterback position than Robert Griffin III has. Now, Robert is learning to work out of a pocket. He doesn't look as smooth or as comfortable throwing the football. I mean, your eyes will tell you everything you need to know.

It's going to be a decision that Jay Gruden is going to have to make. Right now, Robert Griffin III is his quarterback. Now, if there was a quarterback competition, it wouldn't be a competition. Kirk Cousins would be the man I believe he would have to go to, because of the efficiency with which he has run [the offense]. Now Kirk, like I said, is basically a drop-back quarterback. I see Andy Dalton in Cincinnati, I see Kirk Cousins that way.
It also seems that an issue, Griffin's ego and alienating teammates, that appeared to be directly linked to Griffin's distrust of former coaches Mike and Kyle Shanahan last year has potentially reared its ugly head once again, according to Bleacher Report's Matt Miller.
There is no scenario in which Cousins can win the starting job that doesn't involve Griffin going down with an injury, or Griffin truly losing the support of the locker room. That hasn't prevented Cousins from continuing to make every effort to prove to everyone watching that he's starting quarterback material though.
While Cousins has proven to be the consummate professional, graciously and humbly accepting the backup role afforded to him - is it a role that Griffin would readily accept if it turns out that Cousins is the quarterback this franchise needs and not him?
Another question is whether the front office would be willing to trade Griffin for anything less than several draft picks, considering the steep price they paid to draft him number two overall in 2012, to ensure a smooth transition to a post-Griffin era.
Popular in the Community