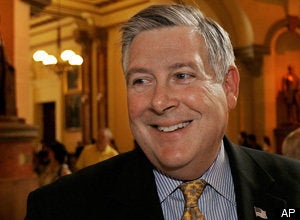 The Republican primary race for Illinois governor finally came to a close today, as Sen. Bill Brady was declared the winner after beating Sen. Kirk Dillard by 193 votes. Dillard conceded Friday afternoon and threw his support behind Brady.
"I will help Senator Brady in any way I can to ensure the Republican Party wins back the Governor's office in November," Dillard said in a statement. "As I've said countless times during the campaign, Illinois is a state in crisis. Pat Quinn cannot lead, and shows no urgency in putting people back to work."
Since the Feb. 2 primary, Dillard trailed Brady by only about 200 votes, but he was hoping late ballots would give him a boost he needed. "It was a hard-fought race, and it was close: less than .0002 of a percent," Dillard said. "But it is now clear to me that my friend and colleague Bill Brady has won the Illinois Republican Primary for Governor."
Illinois State Board of Elections declared Brady's 193 vote lead on Friday morning, giving him a .02 percent final lead over Dillard, according to the Daily Herald.
Dillard's campaign believed Friday morning that he was about 247 votes behind Brady, the paper reports.
"I will continue to fight for the Republican principles of Abraham Lincoln and Ronald Reagan," Dillard said. "I will continue to fight for a balanced budget and new jobs. And I will continue to fight for a state government that works for the people, not the politicians."
REAL LIFE. REAL NEWS. REAL VOICES.
Help us tell more of the stories that matter from voices that too often remain unheard.