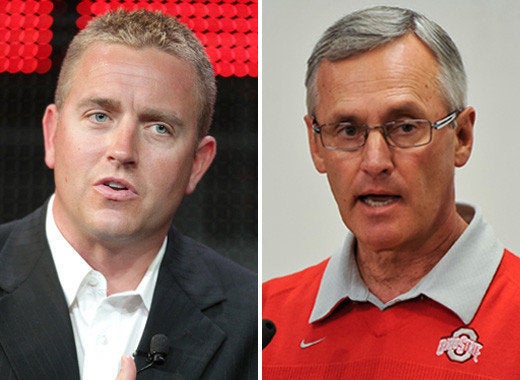 Herbstreit called the situation a "black eye" for the school and ripped the Buckeyes fan base for "blindly" supporting Ohio State and Tressel.
The NCAA sent a "notice of allegations" to the school on Monday, accusing Tressel of lying to hide violations by players.
"The bottom line is he broke the rules by the NCAA and it's very difficult after you do that to go into the future homes of recruits and try to recruit and try to say, 'Hey, we're going to try to do things the right way,' when you have this in your background," Herbstreit said.
Quarterback Terrelle Pryor and four teammates were suspended for the first five games of the 2011 season for selling championship rings, jerseys and awards to a tattoo parlor
Scroll down to watch the video.
Popular in the Community