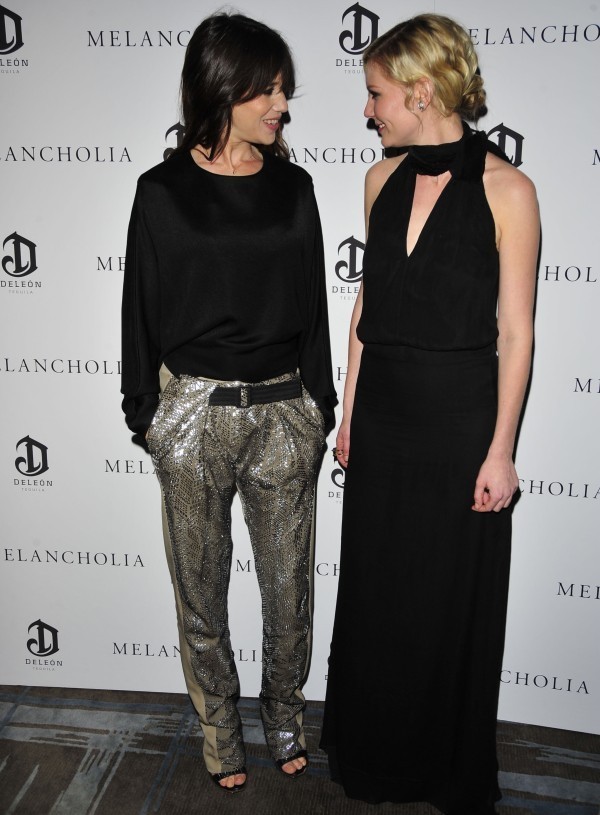 In Lars von Trier's award-winning film, Melancholia, Kirsten Dunst and Charlotte Gainsbourg play sisters who, in spite of debilitating mental illness, difficult parents and the impending end-of-the-world, love each other deeply.
In real life, Dunst and Gainsbourg greatly admire each other. At film premiere's DeLeon Tequila-hosted after party at Stone Rose Lounge in New York City, Gainsbourg said of Dunst, "I love her!" while Dunst referred to Gainsbourg as one of two "hot ladies" on set –- the other being Charlotte Rampling, who played their mother.
Melancholia is divided into two parts: the first is titled "Justine," named for Dunst's character, and chronicles the reception for her wedding to Michael (Alexander Skarsgård). For the party, Justine appropriately wears an over-the-top, white frilly (yet cleavage-revealing) wedding dress. "It was a dress that I didn't like, so that helped getting into character," Dunst explained. "I'm like tearing it around and getting filthy." The blonde actress actually prefers to dislike her costumes in films, "I always try not to do that [play characters who share my personal style] because I don't ever want to look like myself. I always stray away whenever I'm like, 'Oh, this is what I would wear.' I'm like, 'This isn't good for the character!'"
The second part of Melancholia, titled, "Claire," follows Gainsbourg's character as she prepares for the invented planet Melancholia to hit Earth. Although both halves of the film take place in the castle Claire lives in with her husband John (Kiefer Sutherland), Claire's costume couldn't be more different than Justine's: a cashmere, V-neck sweater paired with corduroy trousers and rain boots. "In the film, Claire's from the wealthy background so it was important to wear simple things," Gainsbourg explained. Simplicity is an aesthetic preference that Claire and Gainsbourg share: Although Gainsbourg attended the premiere in gold pants by Balenciaga, her hair and makeup were noticeably minimal, and yet completely perfect. What is her beauty routine? "I just hide imperfections –- spots, pimples." As if she has any. And for hair? She deadpanned, "I try not to wash it too much."
"Melancholia" opens in theaters in the U.S. on November 11, 2011.

Related