Gillibrand faced criticisms for her stance on Franken from some other members of their party, who argued his transgressions didn't warrant his resignation.
She and several of her fellow female Democratic senators spoke out only after eight women had come forward with stories of sexual misconduct by Franken, who ultimately resigned on Jan. 2.
Gillibrand, a leading advocate for victims of sexual misconduct, also defended her recent comment that former President Bill Clinton should have resigned over his affair with Monica Lewinsky and the history of sexual misconduct lodged against him. Similar to the way the #MeToo movement has catalyzed a national conversation about sexual harassment and assault, Gillibrand said that her own legislative work on sexual violence helped shift her views on such matters.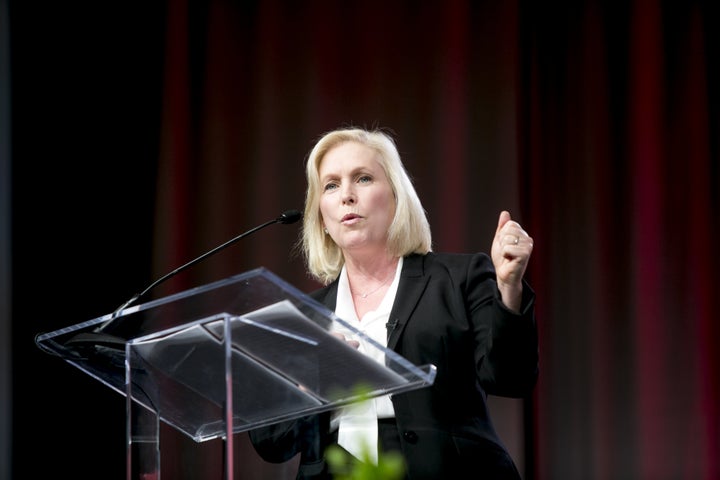 Some of Franken's defenders said that he faced unfair scrutiny, arguing that his alleged sexual misconduct was less severe than that of Republicans, particularly failed Alabama Senate candidate Roy Moore and President Donald Trump. The latter won the White House despite facing accusations of sexual misconduct from nearly 20 women and bragging about sexual assault.
While Gillibrand said that she agrees there is a distinction, particularly from a legal standpoint, no sexual misconduct is "entitled to my silence."
"I was asked, 'Should Al Franken resign?' And with the eighth allegation becoming public, enough was enough," she said. "I was not going to have the conversation of, 'Well, his behavior's not as bad as Roy Moore's behavior or President Trump's behavior,' at a moment that demands leadership. I was asked what my view was. And I gave my view. It doesn't mean Sen. Franken wasn't entitled to any bit of due process or ethics investigation that he wanted. He just wasn't entitled to my silence any longer."
Gillibrand also recalled a conversation she had with her teenage son as the furor grew around Franken.
I wasn't going to tell him, "It's OK to squeeze someone on their ass, it's OK to squeeze somebody on their boob, but it's not OK to squeeze somebody somewhere else, where President Trump did." That is not a conversation I want to have with my son, because it's not OK. And I don't think I should be protecting someone who has behaved that way. And I'm the leader of this debate about sexual assault, sexual harassment in the military, on college campuses, in Congress. And I couldn't stay silent any longer. It was literally that simple.
Gillibrand, frequently mentioned as a possible presidential contender in 2020, conceded that the decision to speak out her Democratic colleague "was exceedingly painful." But she said she had to do it, given the "multiple credible allegations" against Franken and her legislative efforts to combat sexual misconduct in the military and on college campuses.
She said she couldn't take the position that "I'll be a leader on this issue, as long as it's not about my friends."
"That's not moral clarity," she said. "That's not leadership."
As for her view that Clinton should have stepped down in that wake of the Lewinsky scandal 20 years ago, Gillibrand acknowledged that "we're in a very different place today," alluding to the #MeToo movement.
She recalled that it was through her own work with survivors of sexual assault in recent years that she reconsidered her views.
"I would have been somebody who would have blamed the victim, who said, 'Oh, she was drinking too much. She shouldn't have stayed out that late,'" she said. "The same excuses that a lot of people who are so uninformed make."
"I didn't hold President Clinton accountable, ever, because I was the person who didn't believe the survivors," she continued. "And so that's why in this #MeToo moment, when I'm asked this question, given all the allegations, should President Clinton have resigned?... I said, 'Yeah, he should have.'"
She added: "Yes, today's standards are different. And I didn't have that lens then, neither did most people I know. But today … our willingness to accept this kind of behavior is different. And we should be having a very different conversation."
Before You Go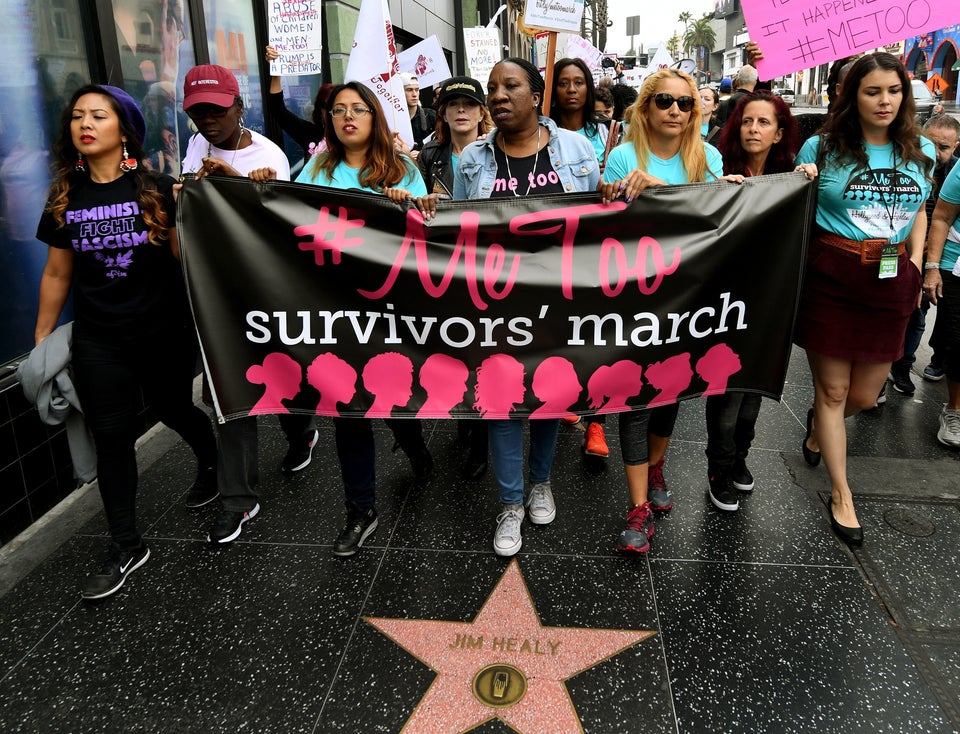 Hollywood #MeToo March
Popular in the Community