The Democratic lawmaker bashed the hefty financial incentives that likely played a major role in bringing the e-commerce corporation to Long Island City in Queens ― an area already struggling with rising housing prices and rapid gentrification.
"While I'm glad that Amazon recognizes that Queens is a great place to do business, I'm concerned about the lack of community input and the incentives that Amazon received in order to convince them to bring these jobs to New York," Gillibrand tweeted Wednesday.
She continued: "One of the wealthiest companies in history should not be receiving financial assistance from the taxpayers while too many New York families struggle to make ends meet."
Amazon announced Tuesday that it had selected New York and Arlington, Virginia, as the locations for its new headquarters after a highly competitive, more-than-a-year-long contest that started with 238 candidate cities. Its original headquarters is located in Seattle.
The company said it plans to create more than 50,000 jobs across the two new headquarters locations, with more than 25,000 employees each in New York City and Arlington.
But the new jobs come at a price. New York Gov. Andrew Cuomo (D) and New York City Mayor Bill de Blasio (D) agreed to provide tax credits worth $1.5 billion, including a taxpayer-funded helicopter pad.
Local leaders and residents in Queens on Wednesday protested outside the site of the future HQ2 location, calling on Amazon to invest in the city's affordable housing and overcrowded subway system.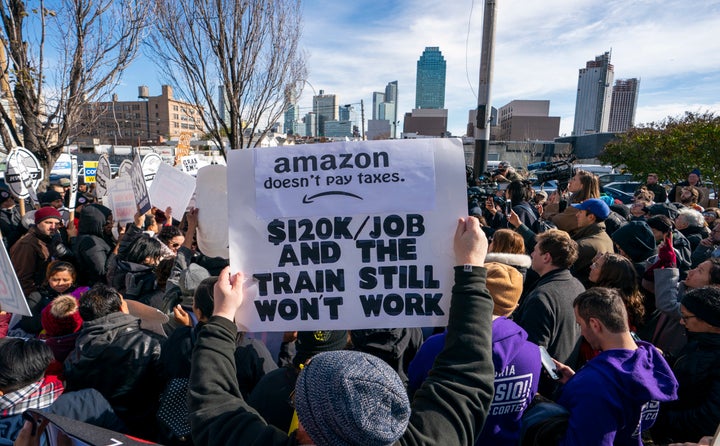 Though the vast majority of elected officials in New York City signed a letter in October 2017 inviting Amazon to build its new headquarters in the city, several of them have blasted the deal since its public reveal on Tuesday.
Representative-elect Alexandria Ocasio-Cortez (D), who will represent parts of Queens and the Bronx when she is sworn into office in January, tore into the controversial deal in a Twitter thread on Monday.
She is one the city's few elected officials who did not sign the letter, which preceded her June win in the Democratic primary for New York's 14th Congressional District.
"Amazon is a billion-dollar company," Ocasio-Cortez tweeted Monday. "The idea that it will receive hundreds of millions of dollars in tax breaks at a time when our subway is crumbling and our communities need MORE investment, not less, is extremely concerning to residents here."
Popular in the Community