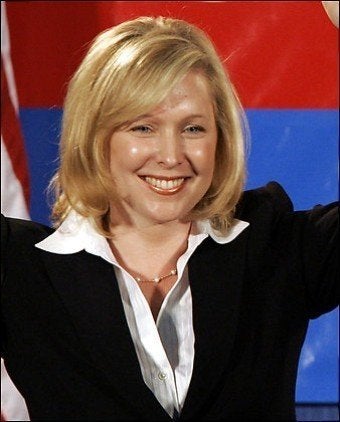 One of the first acts that Kirsten Gillibrand took upon learning that she would succeed Hillary Clinton as New York Senator was to reach out to the state's leading gay rights advocacy organization.
According to a source at Empire State Pride Agenda, the upstate Democrat placed a call to the organization last night to discuss her approach on LGBT issues. A subsequent statement from the group, issued this morning, suggests that Gillibrand will be an allied voice.
"After talking to Kirsten Gillibrand, I am very happy to say that New York is poised to have its first U.S. Senator who supports marriage equality for same-sex couples," said Van Capelle. "She also supports the full repeal of the federal DOMA (Defense of Marriage Act) law, repeal of Don't Ask Don't Tell (DADT) and passage of legislation outlawing discrimination against transgender people. While we had a productive discussion about a whole range of LGBT concerns, I was particularly happy to hear where she stands on these issues."
The elucidation of her stance on gay rights is likely to be one of several steps that the soon-to-be Senator will take as she enters higher office. Elected to Congress in a hotly contested 2006 race, Gillibrand has a short political resume. Known as a fiscal hawk in the House, she voted against the TARP funds but also rankled some of the more progressive voices in the Democratic Party. Various groups are rushing to shed light on her positions. Public Campaign Action Fund, for example, sent out an email showing that Gillibrand is a proponent of publicly financed elections.
"She's for public financing," wrote David Donnelly of the affiliated Campaign Money Watch, "and we have pictures to prove it."

Popular in the Community