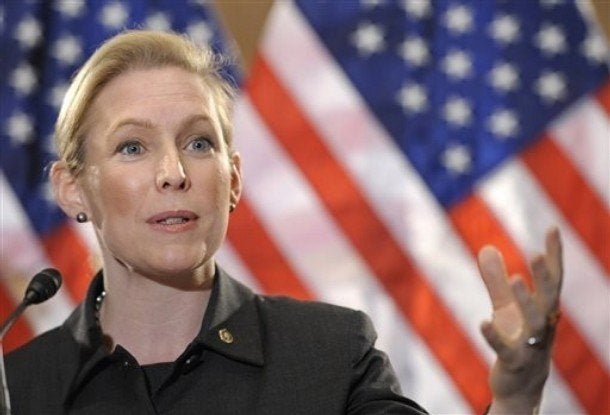 WASHINGTON -- Sen. Kirsten Gillibrand has emerged as one of the Senate's leading voices pressing for a withdrawal of U.S. troops in Afghanistan, using her position on the Armed Services Committee to draw attention to the military's stretched resources.
In a speech to be delivered Tuesday afternoon at the Center for American Progress (CAP), the Democratic senator from New York will make clear that pushing for a drawdown in Afghanistan will increasingly be a priority of hers in the coming months. Gillibrand plans to call for a refocusing of America's military strategy toward al Qaeda networks in regions where the terrorist group is more of a threat.
"While exact combat troop withdrawal numbers should be decided solely by our military commanders on the ground, let me be clear -- I want to see more troops rather than less, return sooner rather than later," she will state, according to her prepared remarks. "I will urge for an aggressive drawdown of combat troops as rapidly as feasible."
"To ensure we have a firm completion date, which is essential to creating a sense of urgency for Afghan leaders to take security into their own hands, I have written to Secretary Clinton and Secretary Gates requesting the negotiation of a Strategic Redeployment Agreement with Afghanistan that includes a date certain for full combat troop withdrawal," she plans to say.
Gillibrand is a co-sponsor of the Safe and Responsible Redeployment of United States Combat Forces from Afghanistan Act, which would put lawmakers' backing behind the withdrawal of U.S. combat forces beginning on July 1. The bill would also require President Barack Obama to submit a plan to Congress by July 31 for the phased redeployment of U.S. combat forces, including a completion day. The measure was first proposed by Russ Feingold when he was in the Senate and is now co-sponsored by Sens. Barbara Boxer (D-Calif.), Dick Durbin (D-Ill.) and Sherrod Brown (D-Ohio).
Obama has called for withdrawal to begin in July and be completed by 2014, but he has not yet released an exact timeline with the pace of withdrawal. A recent Wall Street Journal report said that U.S. military officers in Afghanistan have drawn up "preliminary proposals to withdraw as many as 5,000 troops from the country in July and as many as 5,000 more by the year's end" -- a small fraction of the 100,000 U.S. troops who are in Afghanistan now.
"The successful mission to bring Osama bin Laden to justice, proves an important point. We do not need 100,000 troops in Afghanistan to fight and kill terrorists, we need a nimble and aggressive counter-terrorism approach," Gillibrand will say in Tuesday's speech, an observation shared by many of her colleagues in Congress since the killing of the al Qaeda leader.
In her speech at CAP, Gillibrand also will point to the high cost of the U.S. commitment in Afghanistan -- more than $464 billion to fund the war and developing projects. Obama has requested over $100 billion for military operations and $18 billion in civilian assistance.
"That's hundreds of billions of American taxpayer dollars spent on a strategy whose long-term success is constantly undermined by a corrupt Afghanistan government, in addition to an unreliable ally in Pakistan, whose actions have posed as many questions as answers," she plans to add.
Gillibrand also will hold out the possibility for "a continued, modest, non-combat mission in Afghanistan" beyond the 2014 withdrawal date, which could include "ongoing counter-terrorism missions, along with the training of Afghan forces and civilian security, healthcare, education and development projects."
Popular in the Community