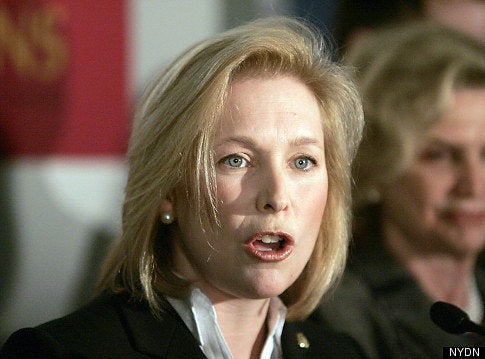 Kirsten Gillibrand is the Rodney Dangerfield of New York politics.
More than a year after she was appointed to replace Hillary Clinton, New York's junior senator is still getting no respect, at least as far as most polls go. A recent Siena College survey showed that when Gillibrand's opponent is listed as "someone else," she loses by a margin of 40-27 percent.
Meanwhile, in the much-watched Marist Poll, the former upstate Congresswoman's approval rating has increased by only nine points over the course of a year, from 18 percent to 27 percent. At the same time, those voters who were unsure about the new senator dropped from 50 percent to 22 percent.
"So the number of unsure voters has fallen by 28 percent, but her approval rating had only gone up by nine," Marist pollster Lee Miringoff said of Gillibrand's failure to connect with voters.
Ordinary voters aren't the only folks who don't show Gillibrand much respect. The New York Post has sneeringly derided her as Sen. Chuck Schumer's "hapless little poodle." New York Mayor Michael Bloomberg has also shown scant regard for Sen. Gillibrand. The mayor has yet to schedule a get-to-know-you dinner -- the closest Gillibrand came was a seat at the mayor's table during the Inner Circle show.
"Just me, him and a thousand of his closest friends," she said of the annual gathering of New York political reporters and notables.
But despite her evident vulnerability, no serious rival in either party has emerged to challenge Gillibrand and it now appears very likely that she'll be elected in November to fill out the remaining two years of Clinton's term.
The list of would- and could-be challengers goes and on: Rudy Giuliani, George Pataki, Harold Ford Jr., Mort Zuckerman, Rep. Carolyn Maloney, Eliot Spitzer, Dan Senor, Rep. Peter King. Even Bloomberg's girlfriend, Diana Taylor, was briefly mentioned as a possible Gillibrand opponent.
All have fallen by the political wayside, leaving Gillibrand as the last woman standing.
"I think I've been underestimated," Gillibrand toldHuffPost. "I have always been outspent but I've never been outworked. I have built a very strong (political) network around the state and I am not going to take a back seat to anybody."
Still, the absence of a serious challenger baffles many observers. Al Sharpton wonders whether Gillibrand has "mystical powers."
Strong support for Gillbrand from the White House and Schumer help explain why no Democrat has entered the field. But in the year of Scott Brown, the GOP is another matter.
"New York is a huge prize," said pollster Miringoff. "This takes us deep into the realm of political mystery. The absence of marquee opposition is rather astounding."
In a state with more than its share of not-exactly-normal politicians (think Ed Koch, Eliot Spitzer, David Paterson, Al D'Amato, Mike Bloomberg, Pedro Espada and Rudy Giuliani) the 43-year-old mother of two small children looks to be a heaping helping of plain vanilla, especially when seen through downstate eyes.
"She doesn't look like (Congressman Jerrold) Nadler or act like Schumer," said NYU's Mitchell Moss. "She really has a Midwest personality."
Gillibrand begins her day in Washington between 6 and 7 a.m. by making breakfast for her sons (Henry, age 2; Theo, age 6) and getting them ready for school.
"We usually do something together in the morning," the senator explained. "This morning, we frosted the brownies we made last night for Theo's class."
After dropping off the boys at school, Gillibrand goes to her job. At the end of the day, ("I try to finish between 5:30 and 6") she'll pick up the boys, make them dinner and read to them. If there is work to be done in the Senate or a night event to attend, she ventures forth after putting the boys to bed.
This certainly isn't the kind of daily schedule one associates with, say, Rudy Giuliani. But if her predecessor (and role model) Hillary Clinton proved anything, it was that working hard and being excruciatingly boring can pay handsome political dividends.
Upon leaving the Senate, Clinton said: "I've had a lot fun: Eight state fairs, 45 parades, 62 counties, more than 4,600 events across the state."
It looks very much like the kind of "fun" legacy Gillibrand is shooting for.
"She'll probably wind up being an effective senator," said NYU's Moss. "And she's young. She'll be there forever."
REAL LIFE. REAL NEWS. REAL VOICES.
Help us tell more of the stories that matter from voices that too often remain unheard.