Kirsten Gillibrand is on the campaign trail looking to retain the Senate seat she was appointed to in 2009. After Vogue's recent glowing article, Gillibrand will undoubtedly at least have the vote of New York's politico-fashionistas.
The article, which describes Gillibrand as "a petite woman with pale-blue eyes and perfectly coiffed blonde hair" who is "essentially folksy and earnest" and "radiates kindness" is also accompanied by a stylish slideshow of the Senator.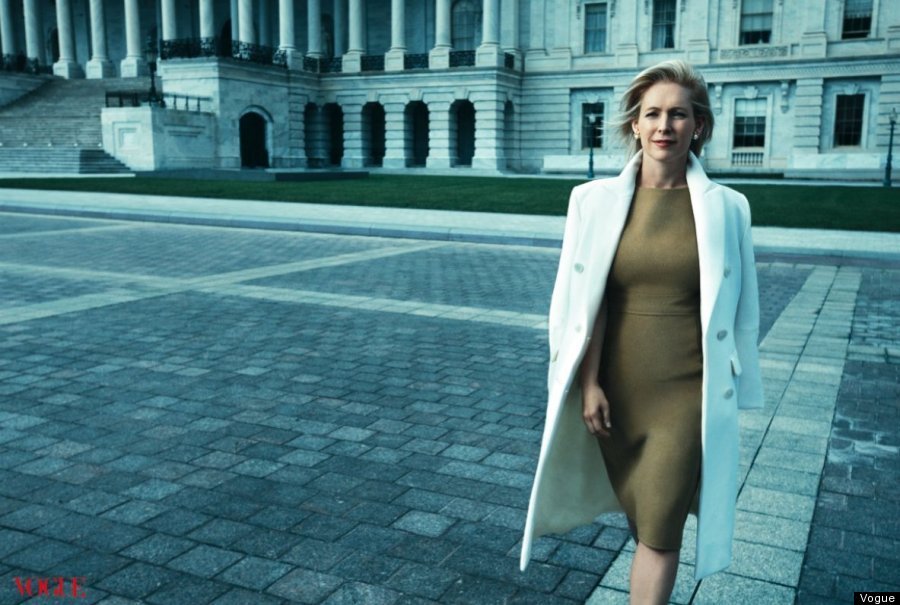 Given Vogue's bent, the piece highlights Gillibrand's singular fashion sensibility in a field not known to be stylish. The writer spends Fashion's Night Out with the Gillibrand:
I arrive before Gillibrand, and when she walks in I notice that she has changed into a different little black dress--a Nanette Lepore--and a different pair of heels. "We had the fitting for her on Saturday," says Jennifer Pinto, who does PR and marketing for Lepore. "I've done a lot of fittings but never with a senator. You know, skirt length, heel height, cleavage. Let's just say there are different . . . rules. Such a time warp in Washington."
She also talked about her weight loss, saying she shed 40 pounds total after her second pregnancy:
"I am going to recommend this to your readers," she says, laughing. "I had saved all my 4s and 6s from before I had children, but when I started this diet I said, 'I'm going to give away all my clothes because I want to start fresh' and I wanted to reward myself; if I ever get back to that size, I can buy new clothes. I gave away every stitch of clothing that I was not wearing. I started at a size 16, and now I am back at a 4/6."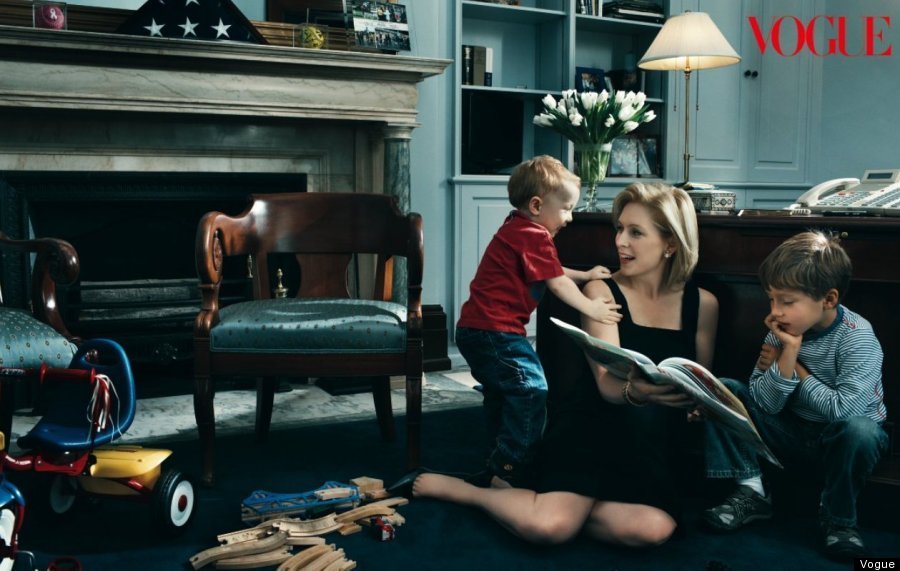 The piece delves into Gillibrand's 'voice' ("a girly voice that reminds me of Renée Zellweger's," writes Jonathan Van Meter) and why more women don't enter politics. "Very few women want to be in a profession where you will have an opponent who says mean things about you every day," she says. "It's such an adversarial profession."
Visit Vogue to see more photos.
Kirsten's clothing credits:
Michael Kors White Wool Melton Double Breasted Coat With Elbow Cut-Outs, Retail Value: $2,795, Available At: Select Michael Kors Stores (call 1. 866. 709. KORS for locations)
Michael Kors Double Face Stretch Plush Cashgora Boatneck Dress with Pleated A-line skirt, Retail value: $1,795, Available At: Select Michael Kors Stores (call 1. 866. 709. KORS for locations)
Michael Kors Seamed Sheath Dress, Retail: $895
Calling all HuffPost superfans!
Sign up for membership to become a founding member and help shape HuffPost's next chapter