She added that the Education Secretary's announcement was made during the most dangerous time of the year for students, known as the "red zone."
According to Gillibrand, the "red zone" is the first few weeks of the school year when students are still getting used to their new surroundings and new communities, which leaves students more vulnerable to sexual assault.  
"With so many sexual assaults still happening on college campuses all over the country, we should be doing everything we can to make our sexual assault prevention and enforcement policies stronger ― not weakening them, not jeopardizing them, and certainly not taking them away."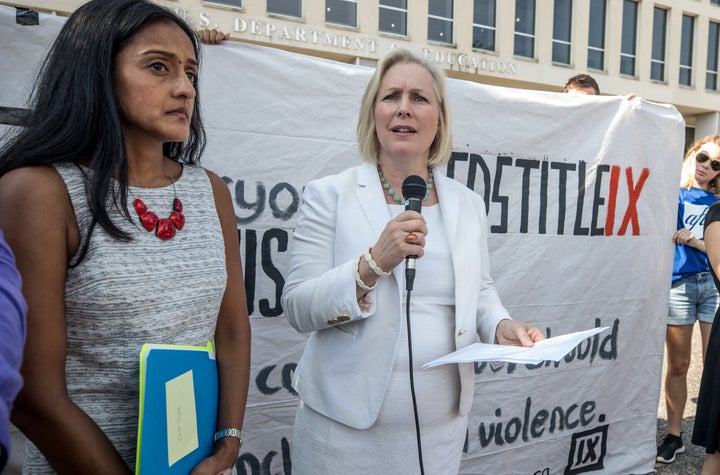 Gillibrand broke down the multiple ways the Dear Colleague Letter guidelines make the reporting process easier, namely that they helped universities adhere to the Title IX law. The senator also noted that these Title IX guidelines gave students the tools to hold their universities accountable if need be. 
"The guidelines gave our schools a process with clear rules, so that both sides in a sexual assault case could finally have access to fair hearings," she wrote. "These are the guidelines that Secretary DeVos wants to take away. With an average of one in five undergraduate women in America experiencing sexual assault while in college, this is an enormous mistake." 
Gillibrand added that universities and colleges need "good, strong, and fair enforcement of Title IX" ― and DeVos is doing just the opposite by rescinding the Dear Colleague Letter. 
"By saying she plans to revoke or rescind the Title IX guidelines, Secretary DeVos has shown that she does not take the rights of survivors seriously," Gillibrand wrote. "But I will do everything in my power as a senator to fight to support our sexual assault survivors."
Calling all HuffPost superfans!
Sign up for membership to become a founding member and help shape HuffPost's next chapter