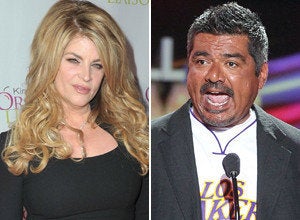 George Lopez made a childish taunt. Kirstie Alley hit back with a fairy tale.
On Tuesday, Lopez compared Alley to a pig in a series of insults based on her Monday night performance on "Dancing With The Stars." The digs were not subtle.
"She did a nice job, her little hooves tapping away," Lopez said. "Before the show she went to the market, then she had roast beef, and this is her going all the way home," he continued before cutting to a video of a pig squealing, from a recent Geico commercial.
Now, Alley has responded to the insults, hitting back via Twitter.
"Don't worry about George's comments...just remember what happens to the big bad, drunk woolf...falls in a boiling pot of vodka.Piggy laughs," Alley wrote Thursday afternoon.
Earlier on Thursday, Alley also acknowledged Lopez's dig in a brief exchange over Twitter with a fan.
@WestCoastGal88 wrote to Alley, "@kirstiealley If you read my stream -- I just called George Lopez a PIG :)," to which Alley responded, "@WestCoastGal88 lol...a drunk pig...hehe."
Alley has reason to shake off the insult; beyond her recent weight loss, she had the second highest rated routine in the first week of "Dancing," for her cha-cha with partner Maksim Chmerkovskiy, which you can watch here.
Popular in the Community