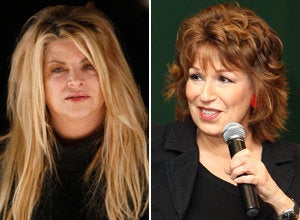 In the wasteland of Kirstie Alley's prolific Twitter activity lies a feud with Joy Behar, seemingly over the talk show host's coverage of Tiger Woods on 'The Joy Behar Show.'
"and WHY has Joy Behar turned into such a self righteous cooz head? OOOOooo that's right.....FOREVER!!!," Kirstie tweeted earlier this month. "CHEATING is between a husband and wife. Not TMZ and Joy Bewhore...God, I want to bash her in the vagina with her microphone."
Kirstie's followers let her know she sounded insane, to which Kirstie responded that Joy "already WENT after me several times."
Joy managed to ignore Kirstie's rant until Friday.
"Kirstie Alley calls me Joy Bewhore. Compliments! Compliments!" she tweeted.
This is not the first time Kirstie has gotten into it with a talk show host. She went after "Conan O'Bitch O'Brian" on Twitter in November after he poked fun at her weight.
Kirstie's loopy tweeting has targeted others, including former Cheers costar Kelsey Grammer.
"@Kelsey_Grammer Kelsey..come over and make out with me...tell your wife it's for old times sake..she'll be cool with it," she tweeted Monday night.
"Having fun watching my body melt away in a healthy fun way...this zone is the one I want to live in..THE GUILT FREE ZONE..ra ra aaa Roma Rom," she tweeted Monday. "My new show starts to air in March on A&E..you can watch the fat melt away for yourself...lol..."
Support HuffPost
The Stakes Have Never Been Higher
Popular in the Community