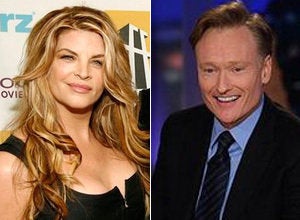 Conan O'Brien should watch out when he makes fat jokes. Kirstie Alley, now filming a reality series about her current weight loss venture and working on a line of products, went after the "Tonight Show" host on Twitter in a tweeted conversation with Star Jones, part of which is below. She says he "acts like I bit his dick off" and refers to him as Conan O'Bitch O'Brian [sic].
It's not the first time she's slammed him, as she also did back in July.
Star: Like I don't know what it is to be called FAT, UGLY & LAZY. Hell...people called me that on TV & in print! I'm not preaching...I'm sharing!

Kirstie: WHAT!!!! SOMEONE OUT THERE "ACTUALLY" MAKES FUN OF FAT CELEBRITIES? NOOOOOOO!!!!! I'M SHOCKED!!!! lol
Star: 1st laugh this morning! You NUT. LOL

Kirstie: I'll tell you ONE BITCH I'm gonna knck [sic] out next time I see her is CONAN O'BITCH O'BRIAN..that guy acts like I bit his dick off

Star: You know Conan probably "wanted some" and you chumped him...I know a few brothers from Brooklyn who owe me! LOL

Kirstie: lol...maybe it's because I wouldn't go on his late late late late night show..who knows..the bitten dick makes more sense..lol
Sample joke from Conan's "Tonight Show" this summer:
"Earlier today in California millions of people took part in a massive earth quake drill. Either that or Kirstie Alley's jazzercising again."
Popular in the Community