"I watch a lot of Disney," admits Kirstin Maldonado with her trademark laugh. "I'm pretty gloriously positive and naive in a way."
Quite often, that precious optimism has served her well, Maldonado told Party Foul Radio with Pollo & Pearl.  However, the member of three-time Grammy-winning Pentatonix's debut solo EP L•O•V•E is filled with lessons discovered when that naïveté was stripped away.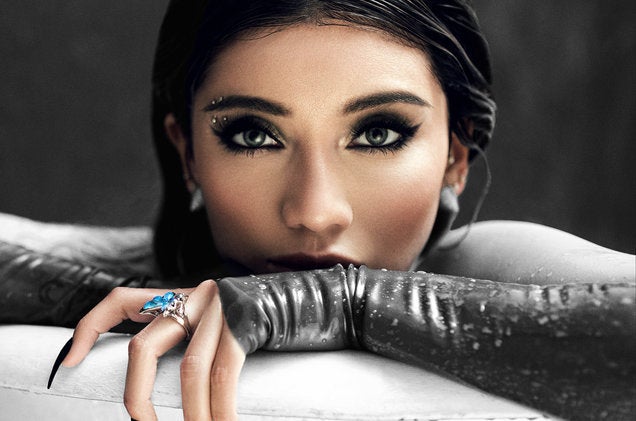 "A bully is going to be a bully, and you have to stand up for yourself," the singer told Podomatic's No. 1 LGBTQ Podcast. "You can't expect everyone else is going to come and run to your aid. You have to stand your ground; that's very important."
Maldonado formed Pentatonix with openly gay high school best friends Mitch Grassi and Scott Hoying in 2011. They were later joined by Avi Kaplan and Kevin Olusola, with whom they went on to win the third season of popular NBC competition series The Sing-Off. 
Since that time, the multi-platinum a capella quintet has released seven albums, two of which debuted at atop Billboard album charts. The group's televised holiday specials have proven ratings blockbusters, earning Emmy nominations to join three Grammy Awards.
The rise to success has had its rough patches, Maldonado intimated. Not one to enjoy conflict, the star's response was often "Well, I'll just keep being nice and maybe they won't be mean to me or won't say those things." That doesn't always work, she admitted. 
"I learned from experience you've got to take action," she said. "Not violent action, by any means, but you've got to take action in taking care of yourself and standing up for yourself."
According to Maldonado — cutesie "Kirstie" on The Sing-Off, now rebranded as sultry "Kirstin" — her new attitude is strongly reflected on the album. "See It," for example, describes her moment of clarity. 
"You can't just hope for the best" in times of conflict, she stated. "I want to really empower my listeners to feel that. It takes more than just wishful thinking sometimes."
WATCH: Kirstin's Debut Single "Break a Little"
Likewise, "Bad Weather" packs a similar message in dealing with haters. She says "the anthem for everyone" reflects both her own life experiences and perspective gained from watching how others treat her friends. 
"I always see people being really shitty on social media and just hate on each other whether it's because of who they love or who they identify as or people being just so dumb or mean or hateful for no reason," said Maldonado.
"It's important to accept yourself and believe in who you are and not let all that hateful talk bring you down and ruin how special each person is," continued the Mexican-American, whose childhood friendship with Hoying and Grassi has made her a long-time LGBTQ ally.
For Maldonado, her first musical project outside Pentatonix proved "exciting and freeing." Whereas "the group umbrella" is often "daunting" — as songs must be both a cappella and pop, she pointed out — L•O•V•E came with none of those confines.
"I love being able to fulfill such a huge and special part of myself with Pentatonix," she related, "But there is still so much more to me that, honestly, people don't get to see because we're in a group."
Working from a wide array of influences, Maldonado says she first expected the album to have a more electronic edge. Instead, the six songs on L•O•V•E cover pop and R&B with elements of dance, each infused with the singer's own lyrical views.
"It was really lovely and really therapeutic to be writing about my own experiences or about things I'm passionate about," she said.  "It was really awesome to discover myself without limitations and see that person and what that was."
It was a revelation she might not have had without her own Prince Charming,  Jeremy Michael Lewis, Maldonado admits. In very Disney fashion, the couple became engaged May 2017 in Paris.
"I'd never met someone who challenges me so much, and we are so different in so many ways," Maldonado said of her fiancé, who interestingly enough also competed on The Sing-Off two years after Pentatonix. "He challenges me every day to be better. I owe pretty much all of the start of this album to him."
WATCH: Kirstin's "Naked," Dedicated to Her Fiancé
After helping arrange the team who ultimately produced L•O•V•E, Lewis even drove Maldonado to her first recording session — then stayed to make sure she "wasn't freaked out." The first song penned for the record, not by accident, was single "Naked." She admits it is something of a love letter to her future husband.
"He's just been so crucial in my journey, honestly, of finding myself as a person and an artist," she said.
With Maldonado's solo release, and Hoying and Grassi doing their own side-project as Superfruit, fans started to worry about Pentatonix's future. When Kaplan announced his departure over the summer, speculation that the collective was finished reached fever pitch. Maldonado is quick to squash such concern.  
"No, Pentatonix is not done," she stated emphatically.
RCA Records, the group's home, agrees. On Aug. 22, the label announced the act will close 2017 with a dozen concert dates, kicking off Dec. 3 in Chicago.
Also on the slate is the Oct. 20 release of A Pentatonix Christmas Deluxe, an extended version of the chart-topping 2016 holiday set. After last year's A Pentatonix Christmas Special drew in excess of 10 million viewers for NBC, a second TV special is coming to The Peacock as well.
By then, Maldonado indicates, Pentatonix will have replaced its departed bass. In many ways, those shows could prove as much a reinvention of Pentatonix as this solo set was for Kirstin. 
"It'll be different," Maldonado concluded about the group's new line-up. "It should be different -- one of our members is leaving -- but we'll continue on."
With L•O•V•E now out for the world to hear, and more from Pentatonix to come, it seems a new chapter in Kirstin's fairytale is only just beginning.
LISTEN: Kirstin discusses L•O•V•E, online bullies, working with Dolly Parton on Party Foul Radio.
REAL LIFE. REAL NEWS. REAL VOICES.
Help us tell more of the stories that matter from voices that too often remain unheard.