Homeland Security Secretary Kirstjen Nielsen on Sunday bristled at the notion that her boss, President Donald Trump, is racist.
"I take a little offense to allegations that the president is racist," Nielsen said during an interview on "Fox News Sunday."
Trump sparked a firestorm of criticism this week when he reportedly questioned why the U.S. accepted immigrants from "shithole countries" in Africa as well as from Haiti and El Salvador during an immigration reform meeting with lawmakers at the White House. The quote was later confirmed by Sen. Dick Durbin (D-Ill.), who attended the meeting.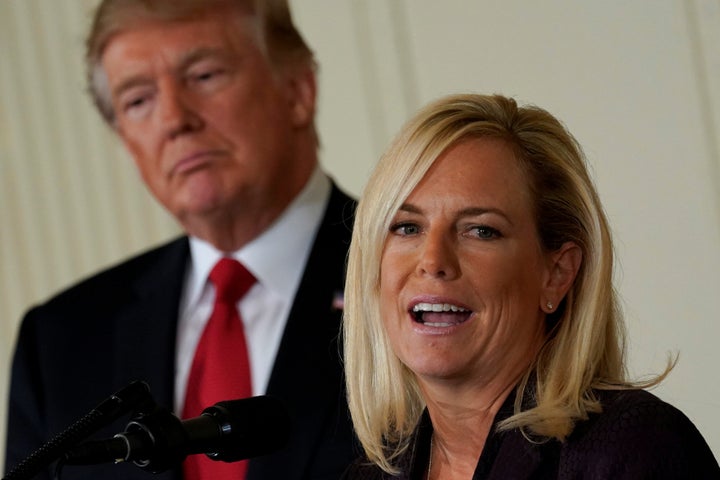 Nielsen, who was also in the meeting with Trump, said Sunday she could not recall him "using that exact phrase" to describe giving visas to individuals from certain countries.
"I think he has been clear, and I would certainly say undoubtedly the president will use ― continue to use ― strong language when it comes to this issue because he feels very passionately," Nielsen added.
Nielsen, a longtime aide to White House chief of staff John Kelly, was tapped to lead the Department of Homeland Security after Kelly was given the chief of staff role last year.
Sens. David Perdue (R-Ga.) and Tom Cotton (R-Ark.), other participants in the meeting, seemed to backtrack on a prior statement regarding the president's language in separate interviews on Sunday. While Perdue and Cotton initially said after the meeting that they could not recall whether Trump used the phrase, Perdue told ABC's "This Week" that Trump "did not say that word."
"This is a gross misrepresentation, and this is not the first time Sen. Durbin has done it," Perdue said, referring to his Democratic colleague.
Cotton told CBS's "Face the Nation" that he "didn't hear" the president say the word.
Trump's comment drew outrage from both Democrats and some Republican lawmakers, who criticized the president's choice of words and called for him to apologize.
Rep. Mia Love, a Utah Republican and the only Haitian-American in Congress, agreed Sunday that Trump's comments were racist.
"I think that they were unfortunate," Love said of Trump's comments during an interview on CNN's "State of the Union." "I don't know if they were taken ― I wasn't in the room. I know the comments were made. I don't know which context they were made. I'm looking forward to finding out what happened, but more importantly, I'm looking forward to trying to fix the problem. I think we need to ― we have to hold ourselves to a higher standard."
Rep. John Lewis (D-Ga.) went further during an interview on ABC's "This Week," however, stating that he thought Trump "is a racist." Asked if he will attend the president's first State of the Union address this month, the civil rights icon replied, "In good conscience, I cannot and will not sit there and listen at him as he gives the State of the Union address."
Trump, meanwhile, defended himself Sunday on Twitter.
Popular in the Community