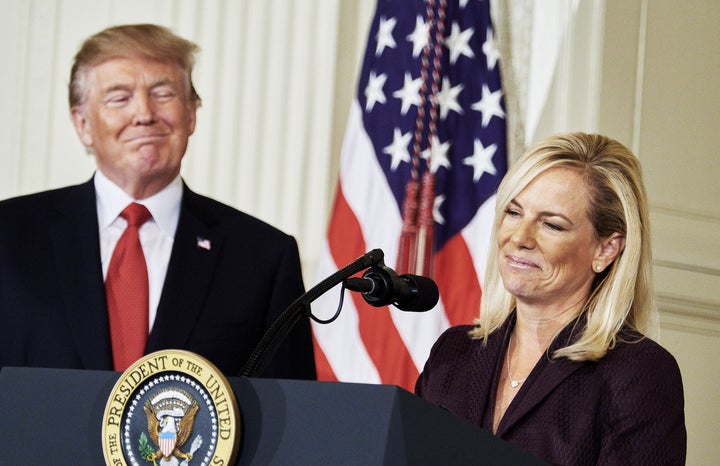 WASHINGTON ― Remember how presidential candidate Donald Trump repeatedly vowed to "drain the swamp" in Washington? His push to confirm the next homeland security secretary proves he's forgotten all about that.
The White House has been working with a top D.C. lobbyist to help confirm nominee Kirstjen Nielsen ― an unusually cozy arrangement that could give the lobbyist's firm a major advantage in helping clients land future government contracts.
HuffPost obtained copies of emails that show Stewart Verdery of Monument Policy Group, which touts its homeland security expertise to clients, coordinating dozens of former top officials with the Department of Homeland Security to sign onto a letter praising Nielsen. The letter was sent to the chairman and ranking member of the Senate Committee on Homeland Security and Governmental Affairs ahead of her Wednesday confirmation hearing.
Verdery, a former counsel to Sen. Orrin Hatch (R-Utah) and a former DHS official who worked with Nielsen, drafted the missive.
"Looks like we will be sending this letter either tomorrow or Tuesday so I wanted to make sure people saw all of the names on the letter before it goes," Verdery wrote in a Oct. 22 email to the group of signers. "There are 34 names here, including 4 former Deputy Secretaries. Thanks again for your help!"
Here's a batch of those emails, minus people's email addresses.
There's nothing illegal or particularly uncommon about a private sector lobbyist playing a role in helping to advance a nominee. What's notable here is how deeply involved Verdery appears to have been in a process typically managed by the White House and the nominee.
A former senior DHS official, who requested anonymity in order to speak freely, said the task of reaching out to peers to sign onto a letter of support usually goes to the nominee, not to a lobbyist who stands to benefit from the nominee's confirmation.
"There's a whole White House legislative affairs team with a Senate lead. There's a whole DHS legislative affairs team," said this former official. "They should be running this."
Scott Amey, general counsel at the Project On Government Oversight, said the emails show that Trump is doing precisely what he campaigned against: letting Washington insiders and other people owed favors steer the federal government.
"Essentially you have a lobbyist lobbying the Senate in the name of former senior DHS officials on behalf of the DHS nominee. I don't think anything spells swampy as much as that situation," said Amey. "I just wonder how many of those former officials, and how soon Verdery, will be booking meetings to see Nielsen if she is confirmed."
DHS, which oversees matters from border security to immigration to disaster response, hands out a tremendous amount of money in federal contracts. Between 2011 and 2014, the top five DHS contractors received $8.9 billion, according to MapLight, a nonpartisan nonprofit that examines the influence of money in politics.
Verdery's work in boosting the person who may very well be the next homeland security secretary could give Monument Policy Group's clients, present or future, better access and sympathetic ears at the department. The firm's current clients include DHS contractors Boeing and Northrop Grumman, and businesses like Toronto Pearson International Airport that regularly interact with DHS agencies.
Verdery told HuffPost he doesn't remember if the White House or DHS asked him to take the lead on the letter to the Senate committee, or if he volunteered to do it. He said he's known Nielsen for years and considers her a friend, so when it came to coordinating signatures on a White House-sanctioned letter to help her, he was "happy to do it."
Asked if he sees any conflicts of interest in working with the White House to push Nielsen's confirmation, Verdery said, "I couldn't comment on that."
Tyler Houlton, a spokesman for DHS, suggested there's nothing inappropriate about Verdery's role given that he and Nielsen were colleagues at the department during President George W. Bush's administration.
"It is common in every administration for former colleagues to enlist those who have worked with and respect the nominee in drafting a letter of support for Congress," Houlton said. "The strong bipartisan support of highly respected and established experts in the nominee's field, like Ms. Nielsen has received, is widely considered a positive."
A White House spokesman did not respond to a request for comment.
Verdery has already touted his access to the White House: A few weeks ago, he tweeted pictures from a White House party for Nielsen that he was invited to. Last week, he also boasted on Twitter that he was named one of the top "hired guns" among D.C. lobbyists by The Hill.
Brendan Fischer, an ethics attorney at the Campaign Legal Center, thought HuffPost wanted to talk about a different influence peddler helping to confirm Nielsen when we called for comment about Verdery. He noted that Thad Bingel, a consultant with Command Group who likewise has DHS contractors as clients, has been raising eyebrows for his role in assigning government staffers to prepare policy memos and coordinate Nielsen's paperwork for the Senate.
What is clear, Fischer said, is a pattern of private firms going to bat for Nielsen, which raises the likelihood that they will expect something in return if she gets confirmed.
"It certainly appears this nomination is going to make a lot of lobbyists very happy," he said. "It doesn't look good."
Before You Go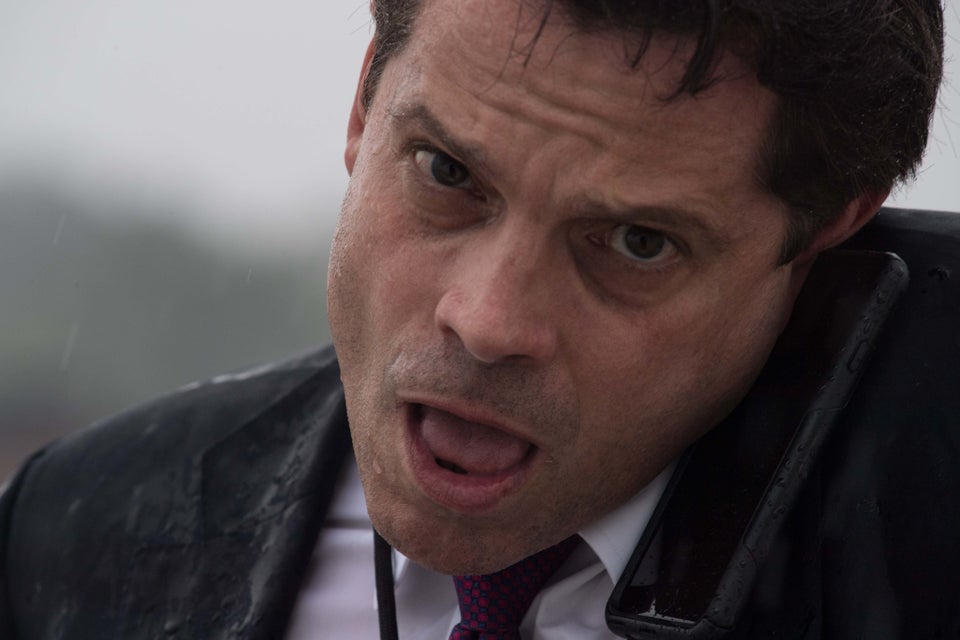 Anthony Scaramucci As White House Communications Director
Popular in the Community