Kirsty Mitchell is a former fashion designer who worked under both Alexander McQueen and Hussein Chalayan as a student. However, she found her ultimate calling in photography. Her imaginative series 'Wonderland' takes you to alternate worlds where umbrellas drip with lavenders, backs sprout wings and limbs get lost in tree branches. Yet this faraway world was inspired by someplace very close to Mitchell's heart. Scroll down for a slideshow of her work.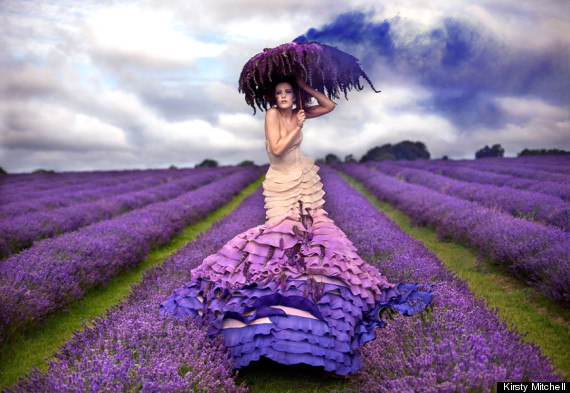 Mitchell's fondest childhood memories are of her mother Maureen, a schoolteacher, reading fairy tales aloud. These tales of imagination, beauty and love followed Mitchell throughout her life as she attended art school and began working in fashion. Her mother passed away of a brain tumor in 2008, leading Mitchell on a creative journey through ethereal lands and personal memories. The photographer has created a new world in her mother's memory, rich with intricate detail and drama. Her work reminds us that the real world is not the only world if you allow your imagination to take hold. Mitchell shared her story with us, as beautiful and inspirational as the works themselves.
HP: In your interview with the Daily Mail, you said, "I found myself retreating further into an alternative existence through the portal of my camera." Do your photographs tell specific stories or revive certain memories, or are they fully a product of your wild and wonderful imagination?
KM: The scenes just grew in my dreams, and took on a natural progression, until eventually they fell into a very definite story, which I have remained faithful to and doggedly reproduced one after another without compromise. The series is currently unfinished; there are still about 10 more pictures to come that will give Wonderland a proper ending for all the people that have been following it over the years. Imagining the scenes came naturally, the really hard part was to then try and build everything out of nothing, and spend months making the costumes and props (whilst working a full-time job)!
HP: How did working in Alexander McQueen's studio influence or affect your experience as an artist?

KM: Alexander McQueen was the reason I finished my costume studies at the London College of Fashion, and walked straight back into education to re-train for a further three years in fashion design. I found his way of blurring the lines between historical dress and modern clothing utterly inspiring and his showpieces in particular made me completely accept his work as wearable art. All the theatre of his catwalk shows, and the boundaries he pushed were more important to me than any film or art exhibition at the time. His 'dark romantic' edge, and gothic use of nature were the very thing I truly loved and wanted to be around. There are lots of little touches of his influence in my work, most aren't obvious to anyone, but my 'White Queen' costume (the dress made from wooden fans) is undoubtedly my humble little nod to his Spring/Summer 1999 collection.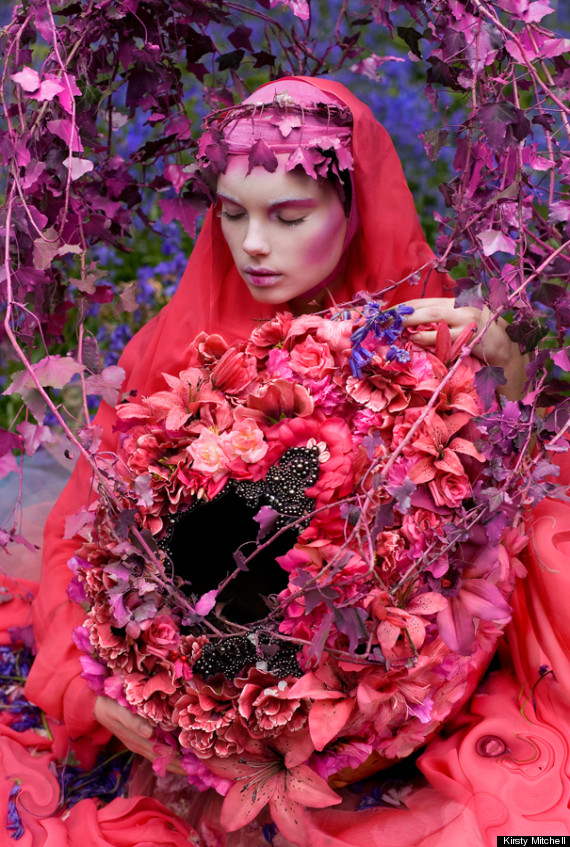 HP: In your artist statement about your photos, you write, "People mattered, how they sat, how they slept, how they looked when they thought no one else cared." What do you mean by this, exactly?
KM: I wrote this about an entirely different stage in my life when I first picked up a camera. I had been incredibly ill with chronic insomnia, and literally had not slept for four months. I had been prescribed heavy sleeping pills that didn't work and instead spent weeks moving through life like a zombie. After a lot of counseling and hypnotherapy, my sensitivity slowly came back, but it felt like it had returned in a more acute and heightened way. It's hard to explain without sounding clichéd, but I felt like I was suddenly seeing everything for the first time, and it was this 'hyper-awareness' that made me pick up a camera. All I had was a cheap little point and shoot I kept in my handbag, but I used it to photograph people on the trains and buses during my daily commute to London. I found myself lost in their details –- unbrushed hair, a cardigan button done up in the wrong hole... I loved the irregularities, and the softness of their faces when they fell asleep against the windows.
Some people get angry about street photography, thinking you are invading peoples privacy, but for me it was a strange little celebration of how I felt about them. I saw beauty in all types and I felt my camera gave me an enriched empathy and compassion I had never experienced before. I hope that makes sense, photography has always been deeply emotional for me.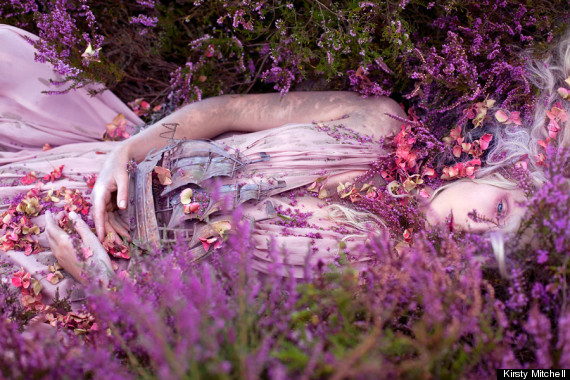 HP: Do you have any advice for others coping with loss?
KM: I don't think anyone can really give much advice as it is so painfully different for all of us. I suffered terribly as my mother was my best friend. I remember going to the doctors and her saying to me "You will get through this, I know right now it feels impossible, but you will..." then over two years later found myself saying the same words to a friend who lost her father. The thing about grief is you have no choice, and no matter what happens time will keep pushing you through each and every day that follows. When you think you can't go on, the sun will rise and set and put another 24 hours between you and that first initial pain. Slowly, those hours layer like a cushion, until you find you can breathe a little better, or you can say their name without falling apart. Telling someone it gets a little easier with time is true, although its not a quick process, you will have good days and very bad days and it will come in waves. My mother died over three years ago, and it is still so hard, but I'm getting much better, and doing this series for her, feels like I'm doing something to cherish the gift of imagination she gave me, and that helps a bit.
HP: Who is an artist or what is a work of art that inspires you?
KM: Alexander McQueen is probably my greatest inspiration, [but] I'm also heavily influenced by film and music –- usually these affect me more than anything else. My favorite albums are Jonsi and Alex 'Riceboy Sleeps,' Clem Leek 'Lifenotes,' and Epic45's 'May your heart be the Map.' Films would to be 'Pans Labyrinth,' 'The Village' and 'The Piano.'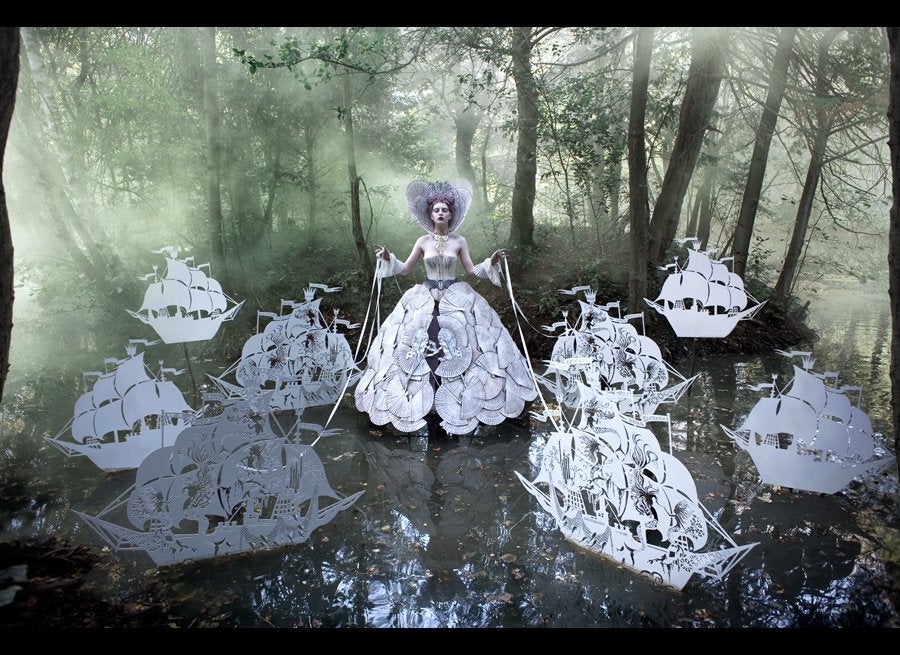 Gallery
Related
Popular in the Community