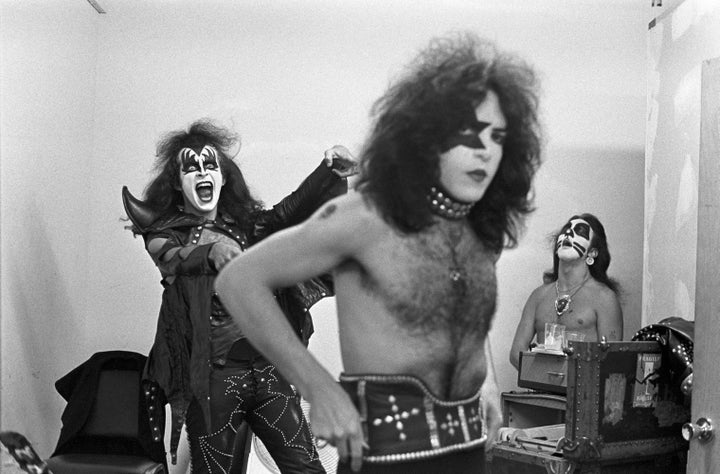 You've no doubt seen the KISS logo many, many times during your life. Since it first appeared on a New York City concert poster in the fall of 1973, it has become one of the most famous logos in not only rock history, but brand history, too.
But have you ever noticed that the two S's in the logo are just the slightest bit different from one another?
"The KISS logo, as it appears today, I did with a Sharpie and a ruler," guitarist and vocalist Paul Stanley, aka Starchild, recently told The Huffington Post over the phone. "If you look at the two S's, they're not perfectly parallel because I did it by eye."
"When we got our record deal," he continued, "the art department asked if we wanted it to be redrafted to be perfect and I said, 'It got us this far, let's leave well enough alone.'"
He added, "Our number one rule has always been no rules."
See for yourself: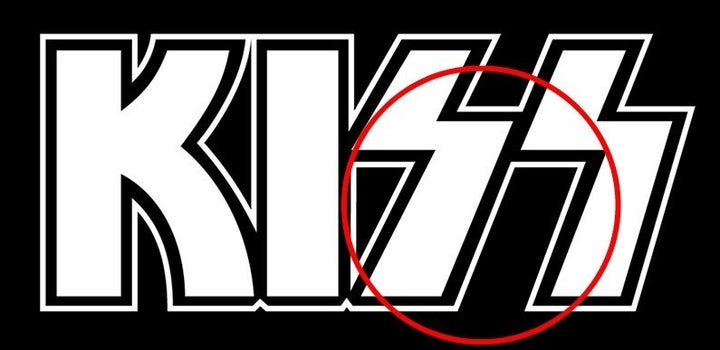 Stanley, who was stuck in traffic during our conversation, spoke with HuffPost to promote the band's latest venture: a worldwide movie theater release of their new concert film, "KISS Rocks Vegas."
The Las Vegas residency allowed the band to go after a new height of "sensory overload," as Stanley put it. The set location meant they didn't have to tear down the pyrotechnics, lasers and other theatrics at the end of every night, right after "the sacrificial guitar is broken."
"It's not much different than when you see one of those ships in a bottle and you go, 'How did they get that ship in a bottle?'" said Stanley, who added, "I would have to say, it's probably one of my favorite shows we've done in the last 40 years in terms of design concept."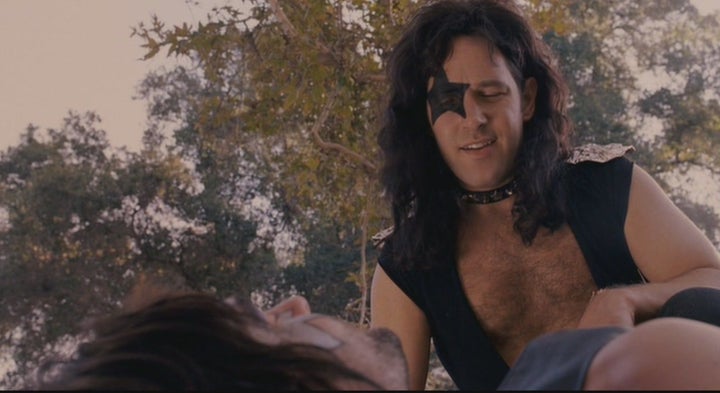 The last time KISS appeared on this many movie screens was in the 2008 flick "Role Models," starring Paul Rudd. Although the band didn't show up in the film themselves, the main characters dress up as the band to fight in a memorable live-action role-play (LARP) battle at the climax of the movie.
"Paul Rudd was hysterical," said Stanley of his reaction to the scene. "Anytime that we're referenced in a film only embeds us further in American culture. It was a tremendous compliment."
Since the band has prevailed for over four decades, I certainly wondered if Stanley believed his real self to be the version with makeup (Starchild) or without.
"The makeup for me is not to create a character or a disguise, it's really to fortify and amplify a part of who I am. There's a comfort in it," Stanley answered.
"You'd have to ask Superman the same question."
Before You Go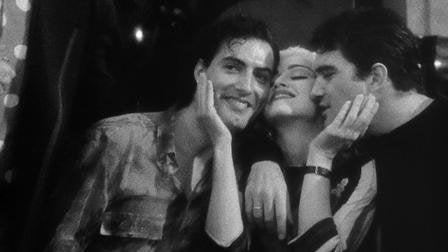 14 Music Documentaries Worth A Watch
Popular in the Community