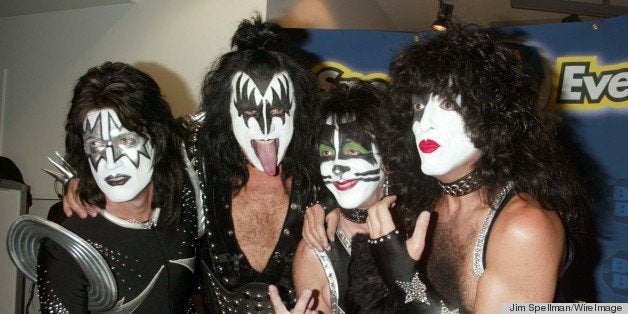 The revelation occurred this past weekend after a morning text message from my best friend Marsha in Tennessee. Her elementary-age boys play little-league baseball. I never did. I was a boy who didn't like sports.
Marsha: "Morning, doll. Sitting at first All Star B-ball Tourney of the summer. Yes, I do think I'll drag you to at least one of these games when you visit. Definitely a little perspective for you. HA HA HA HA. I soooo do not fit in with these moms. Geesh."
Me: "If YOU drag me to one of those sports-ball games it'll be with a cooler full of beer and me dialing up the "You go, girl!" factor. Consider yourself warned."
Marsha: "Oh, yes, yes, yes. You can endure one. We'll sneak in some vodka. Gurl, you'll be fine."
Me: "I'm serious. I'll wear cha-cha heels and a sundress! You better think long and hard about it."
Marsha: "You need a two-hour stent of what I endure on the weekends."
Marsha: "HA HA HA HA HA. But it's such an easy button to push with you. Giggling thinking about it. Especially you in cha-cha heels!"
Me in cha-cha heels, I thought.
Marsha knows I love drag queens. I mean they entertain me. She loves them too. I introduced her to her first. Together we've attended shows in many cities throughout the Midwest and south Florida. I've often wondered, Why my fascination? When did it begin? And that morning it hit me: My fascination began in 1977, when I removed the Charlie's Angels posters from my bedroom walls and joined the KISS Army.
My first KISS album was KISS Alive!, and I was hooked. I wanted to be Peter Criss. One Halloween I bought a box of KISS makeup at a local Main Street gift shop and painted up. That Christmas my parents gave me a set of drums purchased from J.C. Penney's catalogue. My fascination with the drums didn't last, but KISS had captivated me.
For my 10th birthday Mom took me to a KISS concert -- their Dynasty tour -- at Robert's Stadium in Evansville, Ind. Judas Priest was the opening act. Even though our seats were a good distance away from the stage, I remember feeling the heat from the pyrotechnics and my ears ringing afterwards during the hour drive home. I was in heaven! A few months later I bought another box of KISS makeup, and my cousins and I orchestrated our own KISS concert in my grandparents' basement. Family and neighbors served as our "fans" and feigned their excitement as they hooted and hollered, sounding more like country music fans than hard-rock fanatics, while my cousins and I lip-synched to the LPs and pretended to play borrowed guitars and my J.C. Penney drums.
As I grew into a teenager, my music interests branched into heavy-metal bands like Mötley Crüe, Whitesnake, Poison, RATT and of course Ozzy Osbourne. I was a hair-band head banger with a mullet and a secret: I was gay.
During my early 20s, after I finally found my first gay bar and the community I'd longed for, I witnessed my first drag show. Instantly I fell in love. The glitz and glamor, the theatrics and creativity: It all felt so familiar. It was as if I belonged. I watched the queens lip-synching and felt I knew a little bit about it. After all, I'd done the same in Peter Criss makeup. After that night I abandoned my heavy-metal world (and my mullet) and willingly entered one filled with Broadway show tunes and divas like Diana Ross, Tina Turner, Bette Midler, Cher and Madonna.
OK, I admit it: At age 10 I did own a few diva albums. Bette Midler was my favorite. Also Tina Turner. But I kept those records surreptitiously stashed between my KISS albums in my KISS poster-papered bedroom. In my small, southern Indiana hometown, KISS was for boys; the Divine Ms. M was not.
After Marsha's texts this weekend, I spent the afternoon perusing '80s heavy-metal videos on YouTube -- a sort of road trip through my youth -- and something else in me clicked. Standing there in that Evansville gay bar so many years ago, I unknowingly traded one form of drag for another. The hair, the makeup and the thigh high boots -- especially the thigh-high boots! My first drag show wasn't at age 23; it was at age 10: the KISS concert with my mom. My fascination with drag was born from KISS. I see it so clearly; even the heavy-metal band members in the YouTube videos look like drag queens, and so do their fans.
Perhaps this summer I will go with Marsha to her sons' little-league game and wear a sundress and cha-cha heels. If anyone asks, I'll blame KISS and my mother. "She took me to their concert when I was 10," I'll say. "She let me wear their makeup."
"Yes, it's true," Marsha will say, nodding. "KISS made him this way."
People in the Bible Belt will totally buy it.
After the little-league game, Marsha and I can go to a drag show. I'll let her wear my cha-cha heels.
Popular in the Community