Kiss me, Kate is classic Cole Porter! Originally premiering in 1948, the musical won five Tony awards and undoubtedly was the show that propelled Cole Porter into the spotlight. Kiss me, Kate is a parody of a backstage view of a whimsical version and production of Shakespeare's The Taming of the Shrew.
Pasadena Playhouse artistic director Sheldon Epps puts a unique slant on the beloved musical as he pays homage to African American theatre troupes from the '30s and '40s. These early theatrical pioneers presented adaptations of Shakespeare's legendary plays as they entertained audiences across the country. With his own adaptation, Epps honors these early pioneers with an updated and thoroughly enjoyable production.
There is no question that even this revised version of Kiss Me Kate cannot help but ask the audience to overlook some obvious un-PC moments written into Porter's original score and the script/book by Samuel & Bella Spewack...remember it was written in the '40s. But as an audience member and old time theatre lover, I can only speak from my own experience and say...it was not hard to overlook. At opening night, the audience surrounding me happily swallowed it hook, line, and sinker.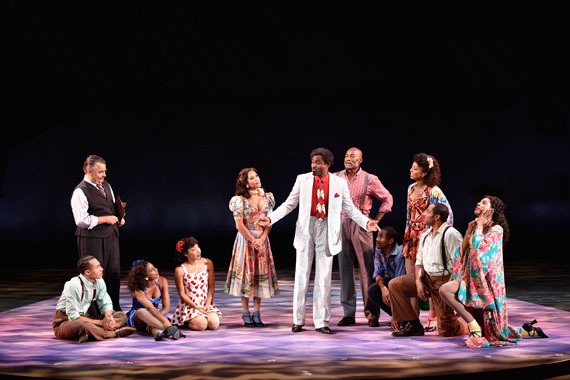 Photo by Earl Gibson III; (left to right) Armando Yearwood, Pat Towne, Kimberly Moore, Theresa Murray, Joanna A. Jones, Wayne Brady, Carlton Wilborn, Eric B. Anthony, Saudia Rashed, Jay Donnell, Shamicka Benn-Moser
Wayne Brady takes the stage by storm with his charming smile and dazzling musicality. Probably best known for his improvisational and musical talents through his work on Whose Line is it Anyway? the Emmy award winning actor gained more popularity with his talk show and current stint on the CBS prime time game show Let's Make a Deal.
Merle Dandridge plays a robust Lilli/Kate to Brady's boisterous Fred/Petruchio, all the while feeding the underlying magnetism as two divorcees that are still in love. With Brady's undeniably strong improv skills, one could not help but wonder if Brady was in fact sticking to the original script. Though the two leading players appeared to be on the same page most of the time, they did not always hit the mark at the same comedic moment.
Many musical hits came out of this show, and the styles of several of these well-known songs were adjusted for this production. Starting with an R&B arranged version of "Another Op'nin,' Another Show," actress Jenelle Lynn Randall (Hattie) steals the stage with her bright, yet bluesy vocals.
We are reminded of Randall's musical chops later in the show at the top of the second act, when she once again steps into the role of lead vocalist in "Too Darn Hot" with a comparable performance from actor Rogelio Douglas Jr. This steamy rendition was one of the peaks of the show featuring exceptional choreography by Jeffrey Polk.
But before I skip over the rest of the first act, kudos must be offered to Dandridge for her delivery of "I hate Men" in the first half of the show. Definitely a dated lyric, Dandridge reminds us (gleefully or not) that the gist of the lyric still holds up in these modern times. This was also true for "So In Love," when Dandridge delivered a touching performance.
The memorable cheater anthem, "I'm Always True to you Darlin' in my Fashion," un-leashed uproarious laughter from the audience as the character Lois Lane (played by Joanna A. Jones) seduced and charmed her lover (played flawlessly by Terrance Spencer) again and again, as she continued to reappear in the never-ending show stopper...Talk about milking it! It was an impeccable performance by Jones.
Actors Brad Blaisdell and David Kirk Grant play two mafia-style debt collectors who get bitten by the proverbial theatre bug. Softened by the warm glow of the theatre lights, the brusque comic duo performs their own thoroughly amusing version of "Brush Up Your Shakespeare."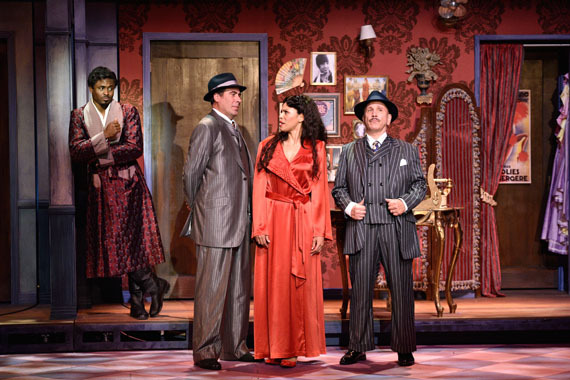 Photo by Earl Gibson III; (from left to right) Wayne Brady, David Kirk Grant, Merle Dandridge and Brad Blaisdell
The talented cast provided a top-notch performance with excellent musical direction by Rahn Coleman. Beautiful sets and lighting by John Iacovelli and Jared Sayeg. Brilliantly adorned costumes by David K. Mickelsen enhanced the presentation. And finally, as I mentioned before...the outstanding choreography by Jeffrey Polk was one of the highlights of the show.
Kiss Me, Kate runs through October 12; Tuesdays through Fridays at 8pm; Saturdays at 4pm and 8pm; Sundays at 2pm and 7pm. Tickets range from $57 - $145; For more info, call (626) 356-7529.
Popular in the Community