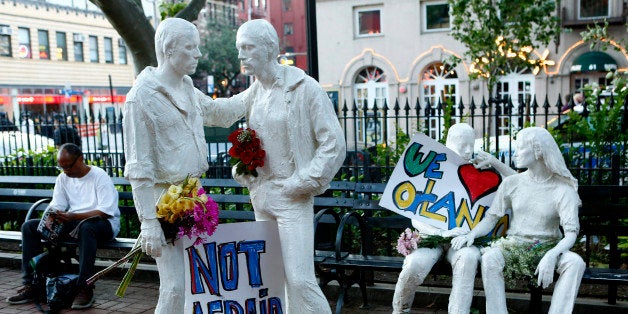 I was 23 when I set foot in a gay club for the first time. I had just arrived in New York City, from India, a place where my attraction to men was just not wrong, it was so far on the wrong side of wrong that I didn't have a word for it. Stepping into this club in NYC and seeing men kissing and dancing was a bit like realizing that I had been carrying my world upside down until now and suddenly, in one swoop, someone had corrected it. Here, this way is up!
Weekend after weekend, as I crossed that threshold, it made me feel less wrong. It is where I began to start loving myself. For me, those places were sacred. Sacred in a way that even the most understanding of my straight friends may not fully understand, simply because they have not felt what it is like to fear holding the hand of someone you love in public.
Sanctuaries. Temples. Havens. Safe spaces.
These are the words that come to mind when I think of a gay bar or club. These are places that have saved lives. Countless lives that may have otherwise meandered in unthinkably bleak directions.
Places that have allowed generations of queer people to meet who they love and choose to call family. To dance with the people they love, without fear that their simple acts of love will be met with hatred and violence. In a world of many wrongs, these are spaces where, for a few hours, for a night, everything is right.
Because here, this way is up!
An attack on a place like this is, in no uncertain terms, a desecration. The mass shooting at Pulse in Orlando cut short 49 lives, and injured many others, leaving scores of families scarred for life. Just for living their truth. And they were doing this in the most life affirming way possible. With dance and music.

On a day like today, I am a bit more proud to be gay, and a bit less proud to be human.

Even though this was the work of a lone gunman, to muster the hatred to do what he did, he was standing on the shoulders of countless homophobic politicians, and religious zealots, both at home and abroad. And today, along with the NRA, they have blood on their hands, too.
To believe otherwise, is to be ignorant to the centuries-old structures of homophobia, patriarchy and intolerance. To believe that a lone 20-something would be driven to mass murder by the image of two men kissing, without first being conditioned by images of what is normal (and what is not), in the media, in advertising, in film, everywhere, is also to miss the point.
It is now, more than ever, that we as a community know, that in spite of many recent victories, the fight for equality and acceptance is far from complete -- here at home and for millions of LGBT people across the planet.
To fight that fight, we will love fiercely, kiss publicly, dance fearlessly and wave our rainbow flag even higher and harder.
On a day like today, I am a bit more proud to be gay, and a bit less proud to be human.
Calling all HuffPost superfans!
Sign up for membership to become a founding member and help shape HuffPost's next chapter