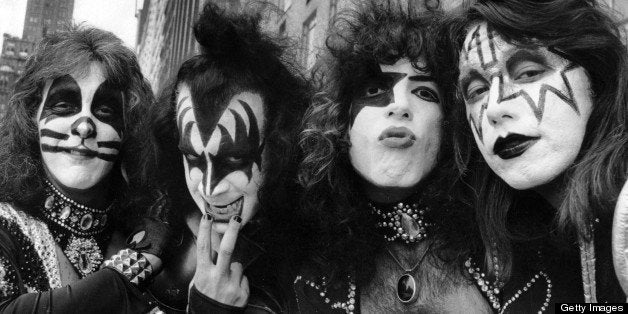 When this year's Rock and Roll Hall of Fame induction ceremony airs on HBO Saturday night, Rush, Heart, Public Enemy, Donna Summer and Randy Newman, among others, will be seen joining those already enshrined in the Cleveland museum. But one group that won't be represented, yet again, is the self-proclaimed "hottest band in the world," KISS.
Longtime fans can't believe the group that taught America how to rock and roll all night and party every day still hasn't made the cut. The Huffington Post asked lead singer Paul Stanley if there's hope of a reprieve.
"Well, it depends on who lives longer, us or Jann Wenner," Stanley said, referring to the Rolling Stone editor-in-chief who co-founded the Rock and Roll Hall of Fame back in the mid-1980s.
Stanley, who has been making the media rounds to publicize the opening of a new branch of his Rock & Brews restaurant chain, questioned the legitimacy of the hall itself.
"Look, the Rock and Roll Hall of Fame is marketing," he said. "You've got a bunch of faceless people in a back room who trademark a name that sounds very official. Well, if you had thought of it first, you would have been the Rock and Roll Hall of Fame."
Stanley, who turned 61 in January and has been playing with KISS for 40 years, also complained that artists who aren't generally considered rock 'n' rollers keep getting inducted, even as his group keeps getting overlooked.
"It's absurd for anybody to look around and hear the acts and artists who cite us as an inspiration, and then tell me that we're not in the Rock and Roll Hall of Fame," Stanley said.
Not that he cares! "I'm not here to make converts, and I think that the people who choose not to see things, I'm not missing their adoration."
If anything, Stanley said, he'd like to see KISS recognized for the sake of the fans. "I would certainly accept on their behalf because it seems to be a major sore spot for them," he said. "But I don't need the Rock and Roll Hall of Fame."
The third Rock & Brews restaurant opened on the Pacific Coast Highway in Los Angeles on May 8. According to a press release, Stanley and KISS co-founder Gene Simmons, who are partners in the franchise, plan to open "as many as 100 Rock & Brews restaurants over the next five years."
"I'm a real foodie," said Stanley, adding that he admires the chefs Thomas Keller and Julian Serrano. (KISS has deep roots in Brooklyn, but Stanley, who grew up in New York, admitted he hasn't yet sampled the borough's now-celebrated fare.)
It's tempting to assume that Stanley handles the food and Simmons, who once vied for the approval of Donald Trump on "Celebrity Apprentice," is the marketing whiz, but Stanley said that's not the case.
"I would say if somebody said to the two of us, 'You guys should make a cake,' Gene would tell me that it's gotta be six feet tall and what color it should be, and I'd say, 'Yeah, but there's gotta be a cake underneath it.' But we work great together," Stanley said. "Our track record together is far better than on our own."
The Rock & Brews restaurants promise to give rock fans a place to bring their kids and eat well. Asked if he and Simmons found the bring-the-whole-family angle awkward after four decades of selling themselves as skirt-chasing rock gods, Stanley said, "I am a rock god still, but I think the biggest change is what goes on when I'm not on stage."
Today, Stanley lives in Los Angeles with his wife and their three youngest children. Their oldest, a son, studies music at New York University.
"I look back with tremendous, tremendous fondness and great memories on a life of debauchery, but I sure as hell would find it sad to still be there," Stanley said. "There's nothing more pathetic than seeing the guy in the club who you think is a little past being there."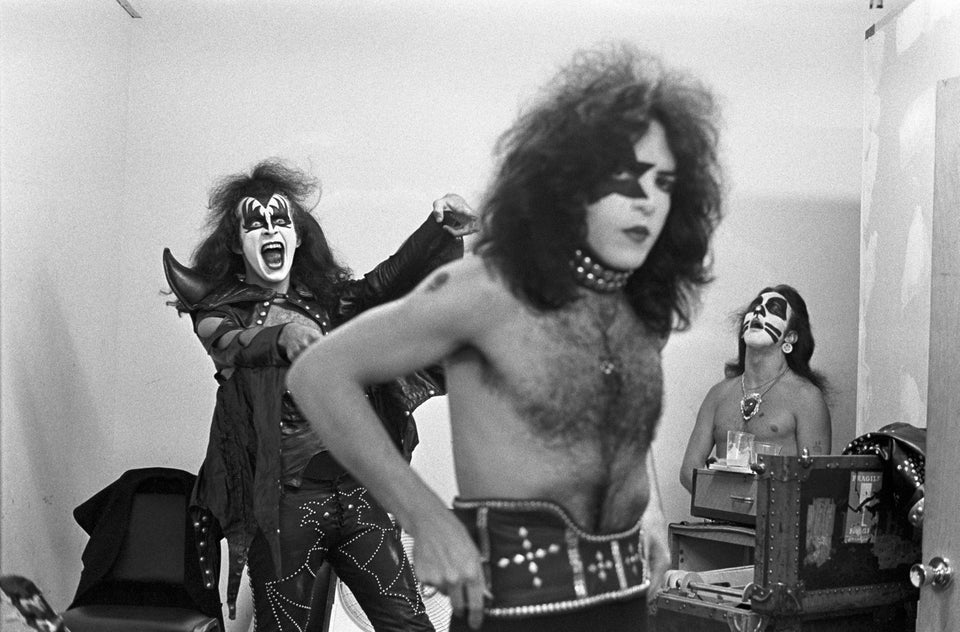 KISS' Wild And Crazy Moments
Popular in the Community