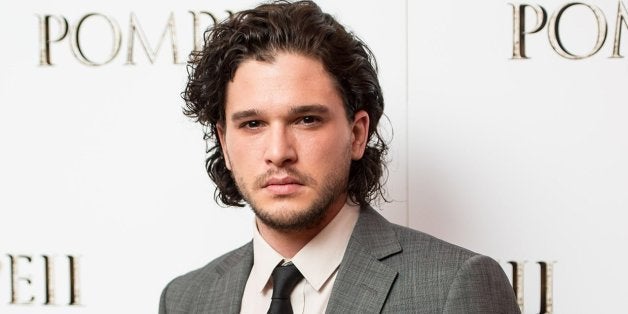 Spoiler Alert: This story contains possible spoilers for George R.R. Martin's "A Song of Ice and Fire" series. Don't read if you haven't read "A Dance With Dragons."
Kit Harington just proved he's even more like his "Game of Thrones" alter-ego than we thought.
The actor spoke with Vulture before the Season 4 finale of the hit HBO show and revealed he's as in the dark about Jon Snow's true parentage as everyone watching at home and part of that is because he's never built up the courage to ask the man in charge. "I've never even asked George [R.R. Martin] who Jon's mother is," Harington said. "But I've tried to trick [showrunners] David [Benioff] and Dan [Weiss] into telling me."
Martin has already admitted to revealing his master plan for the rest of the series to Benioff and Weiss with the hopes that the show catches up to the books before he's done writing them -- something that's looking more and more probable. There's also a fun little story of how Martin questioned the showrunners on who they thought Jon Snow's mother was before granting them the TV rights to his series, so it makes sense Harington would be looking to the two men for some answers.
Ultimately, the actor says he'd rather stay out-of-the-know when it comes to Jon Snow's origins, at least for now. "I genuinely don't want to know, whoever it is," Harington said. His reasoning: it might help him live longer. Book readers know that by the end of "A Dance With Dragons," Jon Snow's fate is still up in the air. Harington is hoping his character will at least get one answer before his time is done on the series. "I don't want to predict this, because George could just kill him, but I just think Jon's got to find out who his mother is. He's got to," Harington said. "It would be unfair if he didn't."
Martin has already proven that life in the Seven Kingdoms is more than unfair, but stay optimistic, for the sake of Jon Snow.
BEFORE YOU GO
PHOTO GALLERY
'Game Of Thrones' Season 4