It appears Jon Snow isn't the only one who knows nothing.
Kit Harington, who plays the beloved character on "Game of Thrones," stopped by AOL Build on Monday to chat with The Huffington Post about Sunday night's crazy plot twist, and what's to come in the final two episodes of the HBO series. But Harington, like everyone else, knows little about where George R.R. Martin, David Benioff and Dan Weiss will take Jon Snow, or any of the other characters. All he knows is that no one is safe.
"I think that's the thrilling thing about the TV show, is that we really don't fit by the norms and people are in danger and horrible things do happen to people and we don't shy away from that," Harington said. "You can't count on Jon Snow being safe or Tyrion being safe or anyone being safe, so it keeps people on the edge of their seat, and that's why it's good drama."
Actually, the anticipation is felt on the set every year as Benioff and Weiss give certain cast members "warnings" about their particular storylines by taking actors out for "a little walk or dinner." "It always reminds me of, anyone know 'The Sopranos'? When Tony Soprano would invite someone for a walk and you see this person going, 'No, I don't want to go for the walk!' Yup, we know all about that, don't we TV lovers?
Although viewers might have been nervous about Jon Snow's fate during that epic White Walker battle scene in "Hardhome," the Lord Commander made it through. But will he survive Season 5? Harington is not spilling any details, but he wants fans to get ready to freak out.
"I really enjoyed watching this season. It's been a really testing and challenging season and those building blocks that have been placed are going to really come to fruition with these last three. They're really big episodes, and I can't wait," he explained. "Other than that, I'm not going to say what happens, but there are some huge shocks some huge set pieces -- it's going to be epic. I can't tell you what shocks they involve or who they involve, but you'll enjoy it."
"Game of Thrones" airs Sunday at 9:00 p.m. ET on HBO.
Watch Harington's full interview on AOL Build, with "Testament of Youth" director James Kent:

Before You Go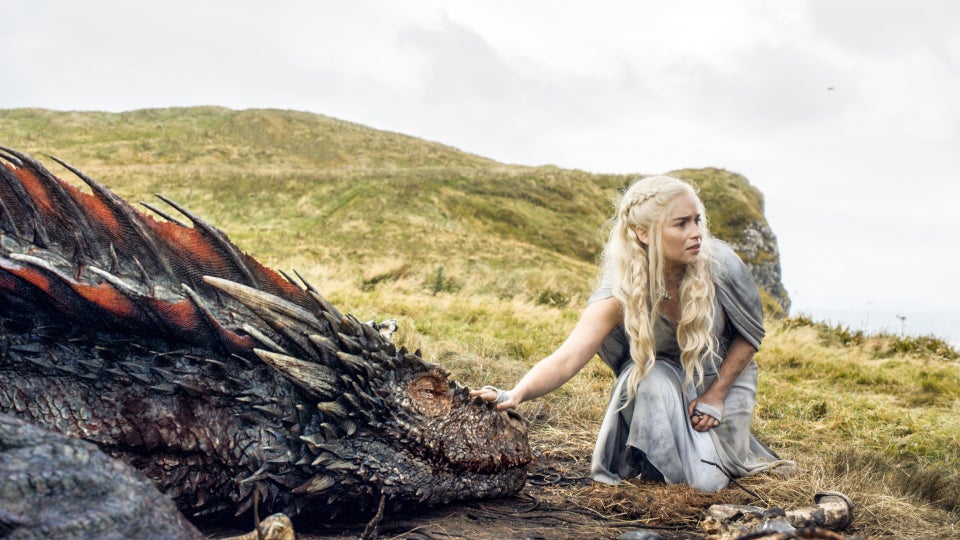 "Game Of Thrones" Photos
Popular in the Community