"Game of Thrones" delivered its best episode of the season on Sunday with "Hardhome," in which Jon Snow and company fought an insane battle against a never-ending army of the undead, led by the terrifying White Walkers. One day after fans collectively marveled at the scope of the action in the episode, Harington discussed the making of the sequence with HuffPost Live.
The complexity of the battle scene required the cast and crew to spend weeks "cold and wet" as they painstakingly filmed the scene amid terrible conditions.
"All the money on 'Thrones' is spent on the actual sequence or finishing the thing. None of it's spent on the actors' luxury. So we had this tiny cast tent with a river running through it, which is fine," Harington said. "You just muck in with 'Thrones.' It was great."
Because so much of the elaborate scene was designed through CGI in post-production, the most exciting part of it all for Harington was seeing the finished product.
"The really amazing bits were the bits where you said, 'Okay, now this giant is going to burst out of the hut, and then all these undead are going to fall off the cliff,' and those are the bits you obviously can't see. So you kind of really geek out about that stuff, and then getting to watch it afterward is really, really amazing," he said.
Harington slips out of Jon Snow's cloak in his latest film, "Testament of Youth," which chronicles a young woman who leaves Oxford University to work as a nurse during World War I. The movie, based on the life of Vera Brittain, hits theaters June 5.
Sign up here for Live Today, HuffPost Live's morning email that will let you know the newsmakers, celebrities and politicians joining us that day and give you the best clips from the day before.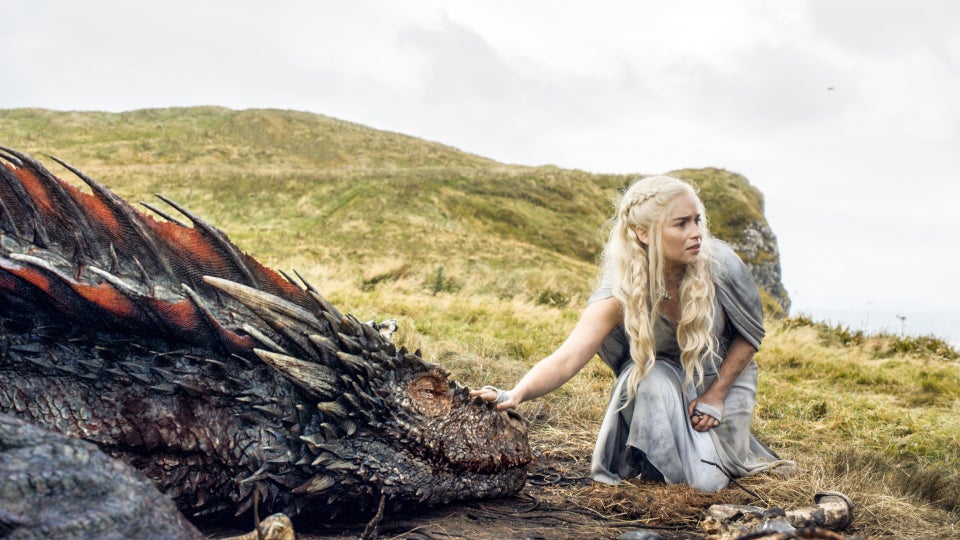 "Game Of Thrones" Photos