Do you find you're spending more time in your kitchen? Have you even used it for formal entertaining, not just for casual family dinners? If so, you're following one of the most important trends in kitchen design today.
As kitchen designer, I see how homeowners are embracing the kitchen like never before. They view it as an integral part of their home, not just for its resale value. Consequently, I'm using more extravagant materials to make the room special, as homeowners feel the investment is worthwhile.
When I began designing kitchens many of my clients would say, "Let's make the cabinets and tiles white so everyone will like them and my home will be easier to sell."
People aren't doing that any longer. They're telling me, "I want to love my kitchen and I want to entertain in it." So they're open to putting in statement pieces like a gorgeous emerald green island or custom blue hood.
The kitchen has become an entertaining area as opposed to just a gathering area. Nowadays people might have a small dinner party in their kitchen because they have beautiful exotic tabletops and wonderful light fixtures so they feel it's ready for prime time.
There are four trends in kitchen design you can take advantage of to make your kitchen entertainment-worthy:
Luxury finishes, such as the exotic quartz surfaces in this photo, were typically used in a living room where people entertained guests. Today, I'm seeing a lot of beautiful stone finishes in the kitchen, even semi-precious stones like amethyst and tiger's eye.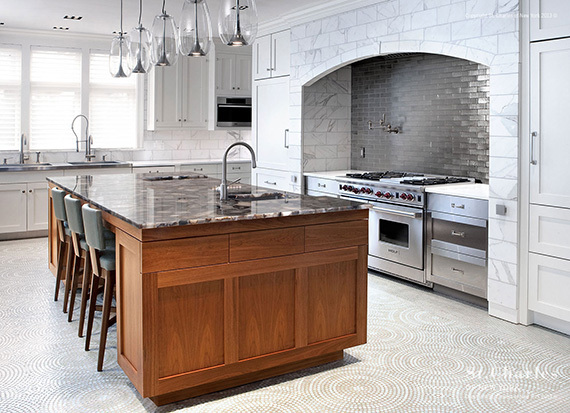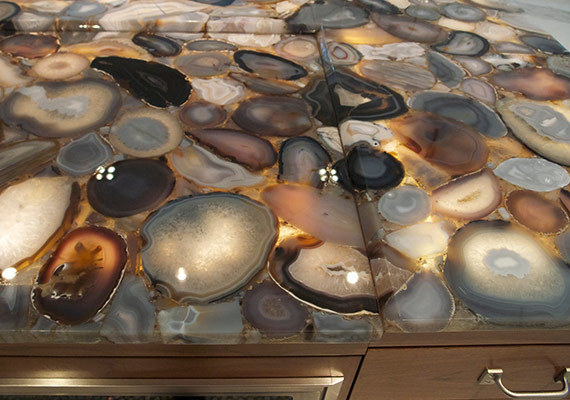 To me, hardware is like 'jewelry' for the kitchen, it can dress up a design and add glamour and style. I always find unique, one of a kind items like beautiful Parisian drawer pulls or handmade cabinet pulls as well as precious accessories like silver and pewter hardware to dress up the space.
Lighting has become a big part of the kitchen and designers are moving away from simple recessed lights. Like adding amazing lighting fixtures, both antique and contemporary, over an island where simple pendants would typically be used, as well as over tables and eating areas, in fact, in all kinds of places.
Homeowners are more willing to invest in appliances like La Cornue stoves and induction cooktops, which can be extravagant purchases, but offer value and make a strong design statement. Maybe you can't afford the full treatment, but, planned correctly, even one investment piece can make a huge difference.
As a result of all these design changes, which make for a more guest-friendly kitchen. So we're opening it up to the rest of the home. Not just to the family room, but even to more formal living and dining rooms.
Our lifestyles have changed over the years, and kitchen design has evolved, making the kitchen more versatile and luxurious, until it has become the most significant room in the home.
Popular in the Community